Sometimes it's best to keep things simple. You may have seen Mark Bittman's incredible list of 101 Simple Salads in the New York Times last summer or his 101 Fast Recipes for Grilling just a few weeks ago – in just a sentence or two he sketches out simple suggestions for preparing different types of foods. It got me thinking…out of the hundred or so panini recipes I've got under my belt a good number of them are super-simple and would lend themselves to a similarly useful list. So here you go: 27 Simple Panini.
Most of the panini on this list require little preparation and many of them are great for using up your leftovers. For those who would like more detailed guidance I've included links to my full write-ups for each sandwich. If you've got other simple panini ideas you'd like to share, please do so in the comments!
This just a small sample of the nearly 100 panini recipes to explore on this blog. See the Recipe Index for the full listing of all the panini I've grilled.
* * *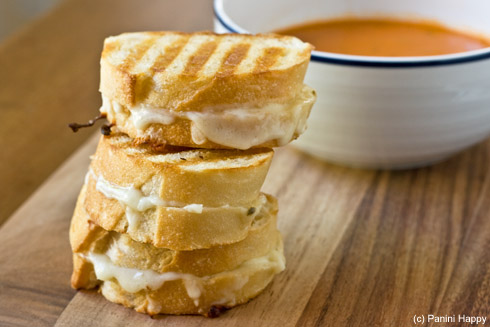 1. Simmer shredded leftover (or rotisserie) chicken in barbecue sauce, grill with fresh mozzarella and caramelized onions on Italian bread. Brush chili oil on the outside of the bread for extra flavor. (Pulled BBQ Chicken Panini)
2. Combine shredded pepper jack and mozzarella cheeses. Grill on slices of baguette, with chili oil brushed on the outside. (Spicy Grilled Cheese Sliders)
3. For a kicked up leftover turkey sandwich that doesn't taste too much like Thanksgiving – turkey, Monterey jack cheese, sliced jalapeños, sliced tomatoes and mayonnaise grilled on sliced sourdough. (Turkey Jalapeño Melt Panini)
4. Try a classic Reuben: corned beef, Swiss cheese, sauerkraut, Thousand Island or Russian dressing, grilled on rye. (Classic Reuben Panini)
5. Combine shredded leftover (or rotisserie) chicken in a bowl with halved grapes, chopped walnuts and mayonnaise. Season with salt and pepper. Grill with shaved Gruyère cheese on dark rye bread. (Chicken-Grape Salad & Gruyere Panini)
6. Simmer 1 1/2 lbs. of sliced boneless-skinless chicken thighs in a bottle of Buffalo wing sauce (the wing sauce, not the hot sauce) for about 15 minutes until cooked through. Combine with caramelized onions and crumbled blue cheese on pita breads (microwave the pitas for a few seconds to make them more malleable), fold over the pita and grill till toasty. (Buffalo Chicken Panini)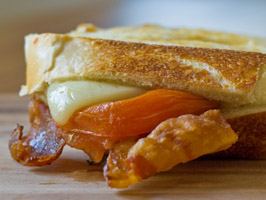 7. My favorite grilled cheese sandwich: sharp cheddar, grilled roma tomatoes, and thick-cut bacon grilled on sourdough. (Bacon, Cheddar & Grilled Tomatoes Panini)
8. Combine albacore tuna, celery and mayonnaise in a small bowl. Season with salt and pepper. Grill with cooked bacon, sliced tomatoes and mozzarella cheese on country-style bread. (Bacon Tuna Melt Panini)
9. Black Forest ham, sliced Emmental (or Swiss) cheese and a drizzle of honey grilled on a seeded French baguette. (Emmental, Honey & Ham Panini)
10. Big flavor, small bites: prosciutto, sliced smoked Gouda cheese and fig jam grilled on French baguette slices. (Fig, Smoked Gouda & Prosciutto Panini Stackers)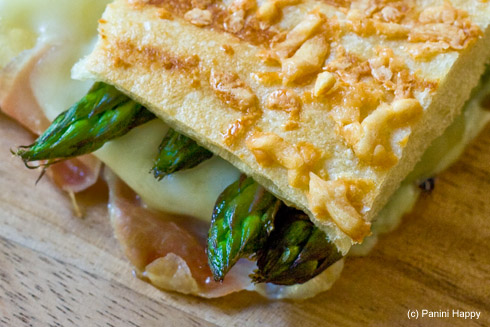 11. A spring and summer favorite: grilled asparagus, prosciutto and fresh mozzarella grilled on focaccia. (Grilled Asparagus & Prosciutto Panini)
12. Combine equal parts honey and Dijon mustard. Spread on rye bread with leftover ham, Brie and grilled onions. (Ham & Brie Panini)
13. Blend mayonnaise and sundried tomatoes in a food processor or blender. Spread on ciabatta. Top with prosciutto-wrapped leftover roasted turkey breast, sliced avocado and swiss cheese and grill. (Prosciutto-Wrapped Turkey, Avocado & Swiss Panini)
14. Combine chopped leftover roasted turkey with minced celery, diced Granny Smith apples, chopped pecans and mayonnaise. Season with salt and pepper. Grill with Swiss cheese on cranberry walnut bread. (Turkey-Apple Salad Melt Panini)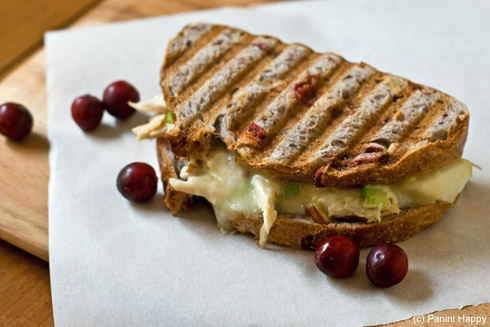 15. Leftover roasted turkey, Havarti cheese and whole berry cranberry sauce, grilled on a multigrain baguette. (Turkey, Cranberry & Havarti Panini)
16. Great for a snack or even dessert: layer thinly-sliced Brie cheese and halved (lengthwise) dried apricots on walnut bread. Brush a little melted butter on the outside and grill. (Brie & Dried Apricot Panini)
17. This might be a bit of a wild card, depending on what you have on hand: shred up all the different cheeses in your fridge and grill it on dark rye bread. (Grilled (All the) Cheese Panini on Dark Rye)
18. Grill Raclette cheese and a drizzle of honey on sliced French bread for an incredible sweet and savory combination. Brush melted butter on the outside for extra crispness and flavor. (Grilled Cheese & Honey Panini)
19. Grill sliced peaches on the panini press for about 2 minutes until caramelized. Grill with goat cheese and a few mint or basil leaves on a French baguette. (Grilled Peaches & Humboldt Fog Panini)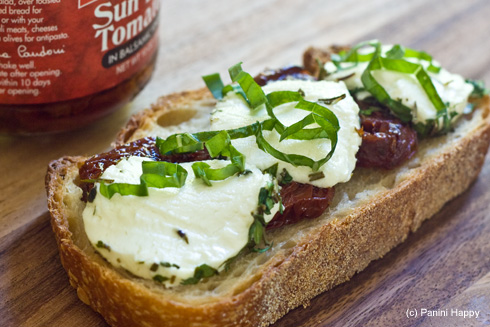 20. Roll a log of goat cheese in chopped fresh herbs (e.g., thyme, parsley, rosemary) and slice into thin medallions with a piece of unflavored dental floss or string. Layer herbed cheese slices with oil-packed sundried tomatoes on country bread and grill under the broiler. Garnish with chopped fresh basil. (Open-Faced Grilled Goat Cheese with Sundried Tomatoes and Herbs)
21. Roast sliced and cored Gala apples for 15-20 minutes at 400°F until they're soft, golden brown and caramelized on the bottom. Grill with slices of Brie and pecan halves on cinnamon raisin bread. (Roasted Apples, Brie & Pecan Panini)
22. Grill Golden or Red Delicious apples, grated sharp white cheddar cheese and horseradish mustard on country-style bread. Brush melted butter on the outside if desired, for extra flavor and crispness. (Cheddar, Apples & Horseradish Mustard Panini)
23. Hollow out a sourdough roll. Fill it with sour cream, red onions, leftover chili and shredded cheddar cheese. Grill until the cheese is melted and the bread is toasted. (Southwestern Chili Panini)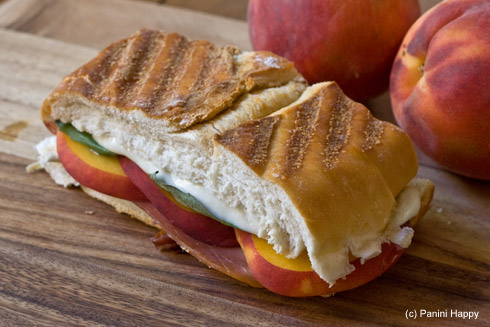 24. Layer a slice of prosciutto, sliced peaches, fresh mozzarella and fresh basil on Italian bread. Brush a little olive oil on top if desired. Grill until the cheese is melted and the bread is toasted. (Peach Caprese Panini)
25. Do the same as #25 but with fresh tomatoes instead of peaches – a classic combination.
26. Grill sliced fresh summer peaches, cooked bacon and fresh mozzarella on a baguette or ciabatta. (Peaches & Bacon Panini)
27. Layer Greek feta cheese and fresh tomatoes on one slice of olive bread. Drizzle with olive oil, season with salt and pepper and top with fresh oregano leaves. Close the sandwich with a second slice of olive bread; grill. (Tomato, Feta & Oregano Panini)
For all of the nearly 100 panini recipes I've shared on Panini Happy, be sure to visit the Recipe Index.