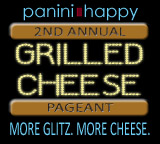 Shhhhh. There's a secret ingredient in these sliders that's virtually invisible, yet it "makes" these sandwiches.
It's chili oil…brushed on the outside of the bread.
I learned this little trick from a local pizza place. One of the waiters divulged to me that the kick of flavor I couldn't get enough of was actually a drizzle of chili oil on the pizza crust. It's amazing what a difference it makes – it brings in a little bit of heat while enhancing the overall flavor of the dish. As I contemplated different sandwich ideas to celebrate Grilled Cheese Month, I thought chili oil would be just the thing to (literally) spice things up.
I didn't stop there. To make things even spicier I shredded a blend of jalapeño pepper jack cheese and some nice, stretchy mozzarella. I made the sandwiches slider-sized a) because sliders are cute and b) just in case anyone was wary of spicy food and just wanted a little taster. A little tomato bisque on the side was just the right complement for this lunch with a kick!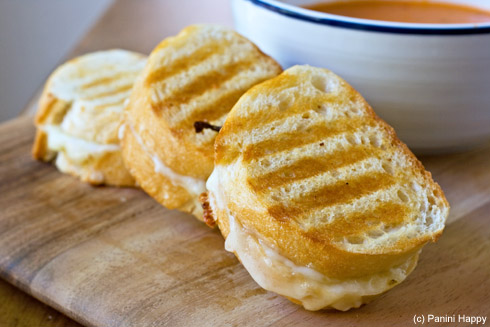 [print_this]
Spicy Grilled Cheese Sliders
Serves 4
INGREDIENTS:
4 ounces shredded pepper jack (I used Tillamook)
4 ounces shredded mozzarella
1 sourdough baguette (a larger one, about 3″ diameter, is great), sliced crosswise into 1/2″ slices
Chili oil for brushing
DIRECTIONS:
Preheat the panini grill to medium-high heat.
In a medium bowl, combine the pepper jack and mozzarella cheeses. Lay out half of the baguette slices. Place about half a handful of cheese on each baguette slice. Place the remaining baguette slices on top to form each sandwich. Brush a little bit of chili oil on top of each sandwich (give the oil a quick taste to gauge the amount of heat).
Place the sandwiches on the grill (depending on the size of your grill, you may need to work in batches). Grill for 3 to 4 minutes until the cheese is melted and golden grill marks appear. Serve immediately and enjoy!
[/print_this]