People ask me all the time for advice on buying a panini press. It's understandable that a lot of folks are a little stumped when it comes to shopping for them.  There are a slew of different models, with all different features, at price points ranging from $20 to more than $200. How do you know if you're getting a "good" one?
To help you navigate the sea of panini press options out there, I'm adding a new post – Panini Buying Advice: What to Look For – to my Panini 101 series. I've defined the key features that I've found to be most valuable in the grills I use and I've done a little of the legwork for you to find some models that offer them.
Just so we're all clear, I'm talking about presses or grills (manufacturers often use the word interchangeably) that are 1) electric and 2) specifically designed to make panini. Many of you will ask about George Foreman and other types of "indoor grills". I definitely think these are great to use and you can still use my feature recommendations as a guide to choosing one. But my focus will be on electric panini presses.
Please note: I'm recommending features to look for in a panini press, not endorsing any specific models. I've identified a handful of models that offer my recommended features to get you started with a few options as you choose a press.
FEATURES TO LOOK FOR
There are four key features that I really appreciate in a panini press:
Floating hinge
Adjustable thermostat
Grill surface area
Removable plates
I'll describe each feature, why you might or might not want it, and recommendations for models that offer it.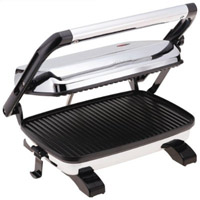 Floating Hinge
This sounds all hi-tech and fancy, but all it means is that you can close the grill at varying heights. So the grill can accommodate a tall sandwich made on a baguette as well as a shorter grilled cheese sandwich. If I'm grilling open-face panini, I can set the upper plate to hover above them without making direct contact. Most panini grills I've seen have this feature. The models I'll list under this feature are on the more affordable end of the spectrum, in the $40-$80 range. They have the floating hinge but none of the other key features I'll discuss later.
Basic models, with floating hinges, to consider: Breville Panini Duo Press, Cuisinart Griddler Panini and Sandwich Press and Hamilton Beach Gourmet Panini Press (pictured).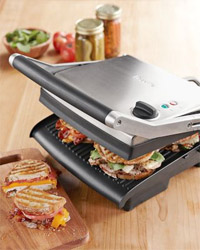 Adjustable Thermostat
Now we're getting into the features that are sometimes only available in the higher-end panini grill models. An adjustable thermostat is particularly helpful if you plan to grill a lot of different types of foods – perhaps beyond just panini. For example, I often use my panini grills to make burgers. I like to grill my burgers at a higher temperature than for sandwiches so that ability to adjust the temperature is key. If you are looking for a grill to make mostly just panini then you can save a little money and do just fine without the adjustable thermostat feature. But if you'd like the added versatility of being able to control the heat on a variety of foods consider a model that offers this feature.
Models to consider with adjustable thermostats: Breville Panini Press (pictured), Cuisinart Griddler 4-in-1 Grill/Griddle and Panini Press and DeLonghi U-Retro Panini Grill.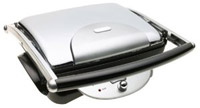 Grill Surface Area
Some folks will prefer a smaller grill due to space constraints in their kitchen. A large grill surface area is particularly desirable to those who like to make a lot of panini at once. Generally speaking, the most notable difference between an inexpensive grill and a higher-end one is its size. I tend to use my smaller grill most often as I usually make just one or two panini at a time. But when I'm grilling many sandwiches at once or a lot of vegetables I definitely appreciate the space my larger grill offers.
Models to consider, by grill surface area size: Cuisinart Griddler Panini and Sandwich Press is a smaller grill; Breville Panini Duo Press is mid-sized; and Breville Panini Press, Cuisinart Griddler 4-in-1 Grill/Griddle and Panini Press and DeLonghi U-Retro Panini Grill (pictured) are among the largest.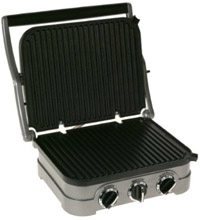 Removable Plates
This last feature isn't an absolute must-have, but it's definitely a nice-to-have. Panini fillings have a tendency to ooze out of the bread and onto the grill grates, so clean-up can sometimes be a bit of a chore. If your grill has removable plates, the job is much easier. Often you can just stick them into the dishwasher. You usually can find removable plates on some of the higher-end "indoor grills" (and also this George Foreman grill) but I only know of one machine actually labeled as a panini grill that currently offers it, and that's the Cuisinart Griddler 4-in-1 Grill/Griddle and Panini Press. Again, if you're looking at a grill doesn't have this feature it shouldn't be a deal breaker, but it's definitely helpful.
Model to consider with removable plates: Cuisinart Griddler 4-in-1 Grill/Griddle and Panini Press (pictured)
* * *
If you already own a panini press, which features and/or model(s) do you like most and why?
* * *