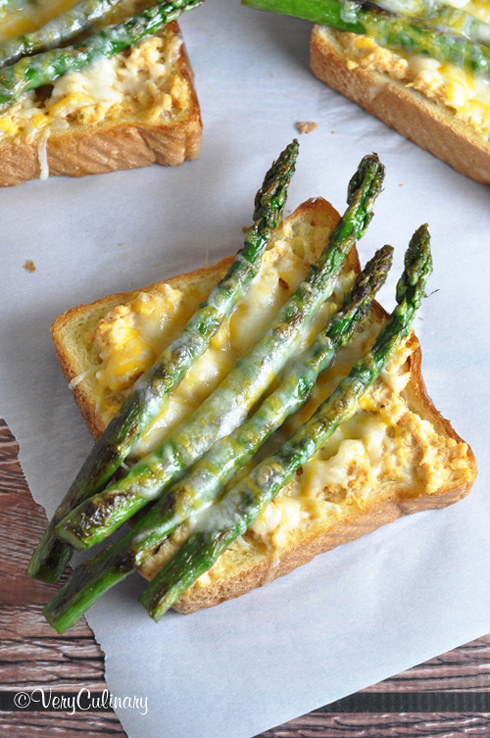 Hello everyone! While my world continues to be overtaken by THE MOVE (there's a gentleman shampooing the rugs at this very moment), my friend Amy Flanigan from Very Culinary is stopping by Panini Happy today to share her amazing grilled cheese — the Texas Toast Asparagus Crab Melt. She had me at Texas Toast…and asparagus…and crab…and melt. I absolutely love dressed-up toasts like this!
Amy and I have known each other through our blogs for many years. Beyond her treasure trove of delicious recipes, Very Culinary is also known for the extraordinarily creative and hilarious foodie parody videos that Amy and her husband produce. You can tell how much fun these guys have making them — definitely check them out!
* * *
Hi Gang! Happy to be filling in for Kathy today.
There's no question that we're pretty spoiled by the weather here in California. But that doesn't mean we don't have to wait for certain foods to come into season like everyone else. I'm so happy that asparagus is finally back – it's my favorite vegetable. Yay spring!
So, um, I know Kathy just recently posted an asparagus recipe. Hope you don't mind another one…I'm sort of putting it in everything. *and by sort of, I mean, totally.
This open-faced sandwich is reminiscent of an upscale tuna melt. I used canned crab meat, but if you've got the money, splurge on the real good stuff from the seafood counter.
It's rich in flavor and perfect for lunch or a light dinner. Or you could even cut it into quarters and serve it as an hors d'oeuvre for brunch.
I've made it several times in the last two weeks. When I fall in-love, I fall hard.
[print_this]
Texas Toast Asparagus Crab Melt
Prep time: 5 minutes | Cook time: 15 minutes Total time: 20 minutes
Yield: 4 open-faced sandwiches
INGREDIENTS:
2 tablespoons

mayonnaise

2 teaspoons

Dijon mustard

1/4 teaspoon

paprika

1/8 teaspoon

cayenne pepper

2 teaspoons

lemon juice

1 can (6 ounces)

lump crabmeat

Kosher salt

16

thin asparagus spears, tough ends removed

2 tablespoons

extra virgin olive oil

4 tablespoons

unsalted butter, softened

4 slices

Texas Toast

1/2 cup

shredded cheddar cheese

1/2 cup

shredded Monterey Jack cheese
DIRECTIONS:
In a medium bowl, whisk together the mayonnaise, mustard, paprika, cayenne, and lemon juice. Gently fold in the crab; season with a pinch of salt. Set aside.
Rub the asparagus spears with the olive oil and season with a little salt. Cook on a grill pan or sauté pan, turning often, until tender, about 3 minutes. Set aside.
Preheat your broiler with rack 6 inches from the heat. Butter both sides of each slice of Texas Toast. Place on a baking sheet and broil until golden; about 2 minutes (keep an eye on them so they don't burn.) Remove from the oven, flip the bread, and top with the crab mixture, spreading it to the edges. Lay 4 asparagus spears on each slice of toast, followed by a sprinkle of both cheeses. Return to the broiler for another 1-2 minutes until cheese and melted.
Serve immediately.
[/print_this]