How do you like that – GREEN grilled cheese for St. Patrick's Day! I made these sandwiches in homage to the salad dressing wonder that is the Green Goddess.
Bursting with bright, fresh green herbs and kicked up with the bold flavors of garlic and anchovies, Green Goddess salad dressing has been making a bit of a comeback in recent years. It was first created at the Palace Hotel in San Francisco back in the 1920's. Now it's once again popping up at restaurants, being bottled commercially by brands like Kraft and Annie's Naturals as well as making the rounds of the food blogs. As I toyed with ideas for making green panini for St. Patrick's Day it finally struck me to invent a grilled cheese version of this big-flavored classic.
Yes, I said invent. Googling Green Goddess Grilled Cheese did not turn up one single mention of anyone else ever having created this sandwich before. And who said there are no new ideas left in food?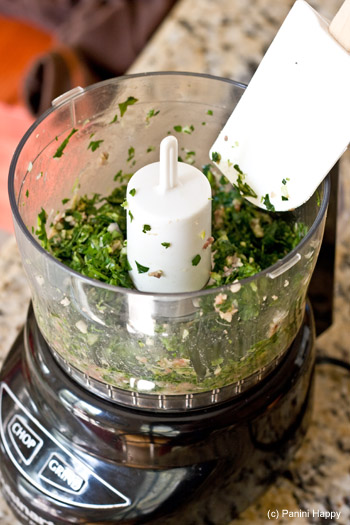 The green color in Green Goddess dressing, as well as in this grilled cheese version, all comes from a profusion of fresh herbs. Parsley, tarragon, cilantro and basil – plus some lime zest – are pulsed along with garlic and anchovies. If you go in for a taste at this stage in the game be prepared for a seriously concentrated flavor blast. It's probably best to wait until you mix in the cheeses, when all that bold, fresh flavor is distributed amongst the creamy and tangy cream cheese, sharp cheddar and mozzarella.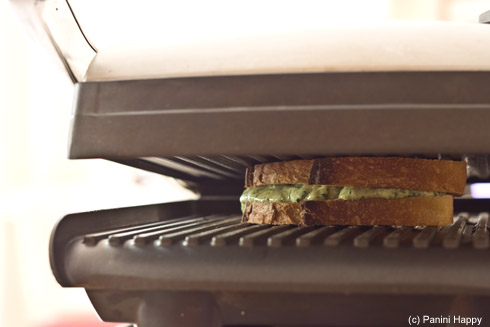 I chose the cheeses in this sandwich for both their flavors and melting qualities. Cream cheese and sharp cheddar both have that tangy-ness that you normally would get from the vinegar in the salad dressing. Meanwhile, melted mozzarella stretches like nothing else. The combination of the three gave just the right balance I wanted. Of course, I wouldn't dream of honoring a San Francisco classic in sandwich form without sourdough bread. Once you brush olive oil on the outside and grill it it's just like a crouton, which works perfectly when we're dealing with a salad dressing theme.
This sandwich came out exactly as I'd hoped – bold Green Goddess flavors, creamy stretch grilled cheese and GREEN. Keep a breath mint at the ready and give this one a try!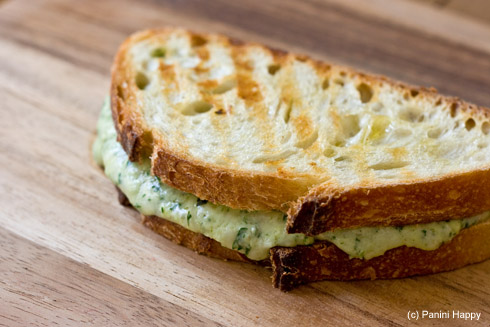 [print_this]
Green Goddess Grilled Cheese Panini
Inspired by the Green Goddess Dressing recipe by Molly Wizenberg in Bon Appétit, May 2009
Prep time: 15 min | Cook time: 15 min | Total time: 30 min
Yield: 4-6 panini
INGREDIENTS:
1 clove

garlic, finely chopped

1

oil-packed anchovy, finely chopped

1 teaspoon

lime zest (about 1 lime)

3 tablespoons

chopped fresh Italian parsley

2 tablespoons

chopped fresh tarragon

2 tablespoons

chopped fresh cilantro

1 tablespoon

chopped fresh basil

1 tablespoon

finely chopped shallot

1/4 teaspoon

Dijon mustard

2 ounces

cream cheese, cut into smaller cubes

1 cup

shredded mozzarella

1 cup

shredded sharp cheddar

8-12 slices

sourdough bread

2 tablespoons

extra-virgin olive oil
DIRECTIONS:
Add garlic and anchovies to a mini-prep food processor and pulse for a few seconds until it's really finely chopped, almost like a paste (if you don't have a food processor, you can always just chop the ingredients really well with a knife on a cutting board).
Add in the lime zest, parsley, tarragon, cilantro, basil, shallot, mustard and cream cheese and pulse again until well blended. Transfer to a medium-sized bowl and stir in the mozzarella and cheddar cheeses.
Preheat the panini grill to medium-high heat.
For each sandwich: Spread a generous amount of the cheese mixture onto one slice of bread. Close the sandwich with a second slice of bread. Brush a little olive oil on top. Grill for 5 to 6 minutes until the cheese is melted and oozy and the bread is toasted. Serve immediately and enjoy!
[/print_this]