Happy National Grilled Cheese Month! I know it's been a little quiet around here lately — my family is getting ready to bid a bittersweet farewell to San Diego and move back up to the Bay Area, so my time has been completely zapped by decluttering, packing, househunting and other relocation joys. Meanwhile, the cheesiest month of the year has been underway!
While I spackle and swiffer, a few friends of mine would love to share their best grilled cheese recipes with you. Today, we have Becky from Project Domestication with her Pickled Asparagus Grilled Cheese Sandwich. I happen to know that pickled vegetables make phenomenal grilled cheese ingredients, so Becky is definitely onto something good with this one!

From Becky:
Asparagus is gracing tables all over the US these days. You'll find this green veggie prepared in so many ways and in so many recipes. Many love them roasted, steamed, grilled and even raw. Earlier this week I played around in the kitchen by pickling asparagus. That's right, pickled asparagus! And you know what? My asparagus pickles were divine. So snackable, tangy and addicting that I had to feature them in a grilled cheese recipe for National Grilled Cheese Month!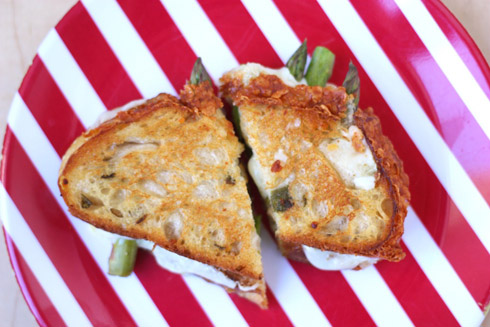 Besides the taste, what I love about this grilled cheese recipe is its simplicity: bread, cheese and pickled asparagus. Basically three ingredients that you can pull out of your fridge and pantry, making it easy for those late night grilled cheese hankerings that could come at any time. Try making your own pickled asparagus, I recommend it and it's absolutely worth it. Or chances are your local grocer may carry a bottle. I chose a baby Swiss cheese and roasted jalapeno and garlic bread, but you could go with your favorite combinations.
The star of the show is the pickled asparagus. Each bite has the perfect amount of crunch (and acidity) from them and it's all balanced out by that melty Swiss cheese. These would make a great spring snack or side dish to a spring soup. Here's to a delicious National Grilled Cheese Month. I hope you'll give my Pickled Asparagus Grilled Cheese Sandwich a try!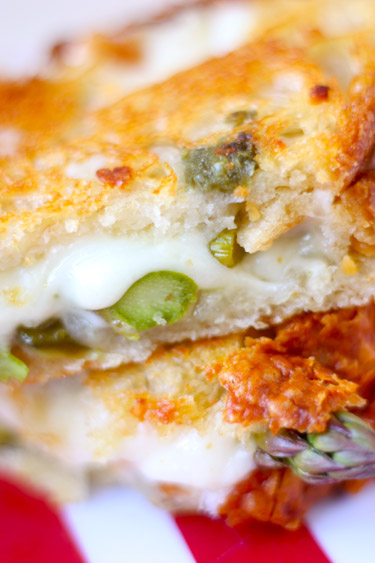 [print_this]
Pickled Asparagus Grilled Cheese Sandwich
Prep time: 5 minutes | Cook time: 10 minutes | Total time: 15 minutes
Yield: 1 sandwich
INGREDIENTS:
2

slices artisan bread (I like roasted jalapeno and cheddar from our local bakery)

2 slices

baby Swiss cheese

3

pickled asparagus spears, cut in halves or thirds (depending on bread size)

Sliced pickled garlic from pickled asparagus jar, if available (optional)

Butter for grilling
DIRECTIONS:
Heat griddle or panini press. (Griddle to 350°F.)
Generously spread butter on one side of each bread slice. When griddle is hot place one slice of buttered bread, buttered side down. Add one slice of cheese then asparagus spears, followed by the other slice of cheese. Top with other slice of bread, this time buttered side up.
Let sandwich grill on griddle for 3-5 minutes or until golden, crisp and brown. The cheese should be melting. Flip and cook for another 3-5 minutes. (If using a panini press, cook according to manufacturer's directions.)
[/print_this]
Becky is a Utah native and proud of it. She authors the blog, Project Domestication, which chronicles her journey in baking, cooking and all things domestic. Becky loves using high­-quality, local ingredients, especially if it means learning something new and enjoying a special treat with those she loves.