When I was six years old my best friend's family went away to Switzerland for several months. When she returned, the sandwiches her mom made for us on playdates at her house were upgraded to include an exciting new chocolate frosting-like ingredient. I could hardly believe we were allowed to have it. It came from a squat little jar with the letters "n-u-t-e-l-l-a" across the front.
To this day, I still feel…sly might be the word…whenever I dip into the little Nutella jar. It's seriously okay to just eat spreadable chocolate like that?  It just seems so wrong…yet so right! I even go so far as to store it in the back of my pantry to avoid the temptation. I guess that's why I've never shared a Nutella panini recipe until now (well, technically I have, but I haven't made a true sandwich on sliced bread with it). Maybe I wasn't ready to confess that a sandwich filled with chocolate spread was something in which I might, from time to time, delight.
Well, now my secret is out – I like Nutella. And when it's heated up with fresh strawberries and bananas between two slices of buttered and toasted multigrain bread…irresistible! To me, this is dessert but if you're among the many who unabashedly enjoy Nutella for breakfast, this will definitely make for a very happy start to your day.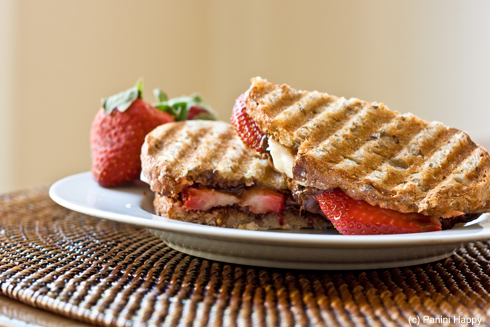 [print_this]
Strawberry, Banana & Nutella Panini
Prep time: 10 min | Cook time: 6 min (3 min per sandwich batch) | Total time: 17 min
Yield: 4 panini
INGREDIENTS:
8 slices

multigrain bread

3/4 cup

Nutella chocolate hazelnut spread

4-6

strawberries, hulled and sliced

1

banana, sliced

2 tablespoons

melted butter
DIRECTIONS:
Preheat the panini grill to medium-high heat.
For each sandwich: Spread 1-2 tablespoons of Nutella inside two slices of bread. Top one slice with strawberries and bananas in a single layer. Close the sandwich and brush melted butter on top.
Grill for 2-3 minutes until the sandwich is heated through and the bread is toasted. Slice in half, serve immediately and enjoy!
[/print_this]