Welcome to Grilled Cheese Month on Panini Happy! Throughout April we'll be celebrating the much beloved grilled cheese sandwich in all kinds of ways – a grilled cheese food truck (that's today!), a national grilled cheese competition, grilled cheese gadgets and, of course, a bunch of melty sandwich recipes. It's my favorite month on this blog!
What better way to kick off this month of celebration than a visit to LA's Grilled Cheese Truck. Food trucks are the new, hip thing in the foodie world these days and the Grilled Cheese Truck is right at the top of the heap. It's hard to imagine why throngs of people would wait upwards of an hour for a grilled cheese sandwich – nope, I'm not kidding – but as I discovered, there's more to the experience of catching up with this food truck than just the food.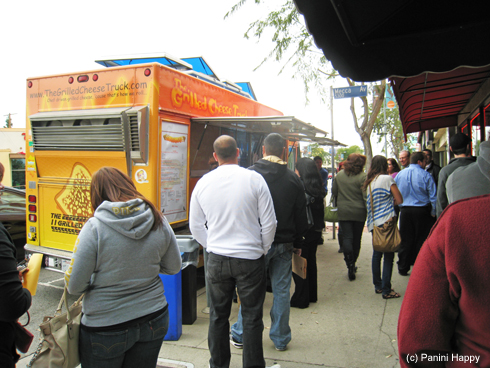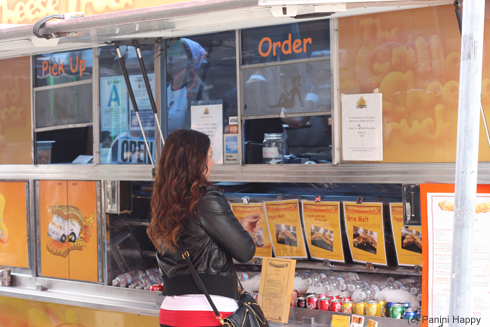 On a rare overcast afternoon in Southern California I drove up to the Valley where the Grilled Cheese Truck was scheduled to be stationed for lunch. This was my first time visiting one of these cool, new food trucks. I'd envisioned it in a big open parking lot with a smattering of folding tables and chairs set up, which is evidence that I've been living in the suburbs for way too long now. Nope, the big yellow truck was parallel parked right at the curb on Ventura Boulevard (outside a business whose name wouldn't be prudent to mention on my PG-rated blog – I can say it contains the word "toys"). No tables or chairs, this was a grab-and-go operation. All right, no big deal – I just went with the flow.

About ten minutes into lunch service, the line was already about 30 people deep. The line to order, that is. There was a second line where everyone waited to pick up their food. One by one, people happily departed from the second line with their little silver square pouches. It was all kind of hush-hush in a way. As an observer, I was given absolutely no clue what was inside these silver pouches. Obviously, it was grilled cheese sandwiches (they call them "melts"), but there was no way to actually catch a glimpse of them. This only added to my anticipation.
After thirty minutes in the order line it was my turn at the window. I ordered their #1 seller, the Cheesy Mac & Rib – macaroni and cheese with sharp cheddar, barbecue pork and caramelized onions for $7.50. And tater tots. I moved over to the pickup line.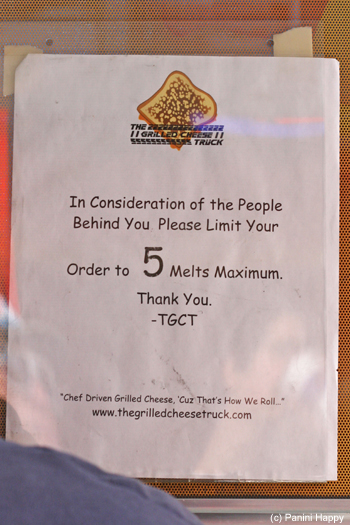 It's not every day that you see a business placing a cap on how many orders you can place with them, but a "5 melt maximum" policy is in effect at the Grilled Cheese Truck. I respect that. This truck attracts a ton of customers and, as fast as these guys are cranking out sandwiches, if someone came up to the window with an order for their whole office…well, it definitely would not be cool to be that next person in line. Good policy.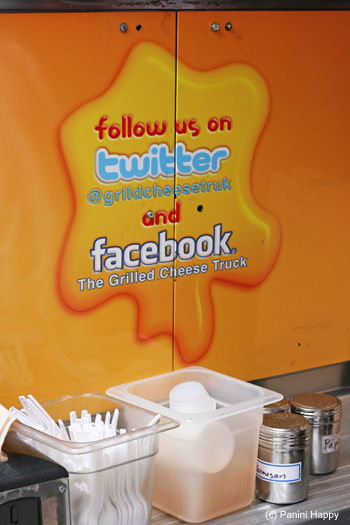 Tens of thousands follow The Grilled Cheese Truck's whereabouts on Twitter and Facebook. Most food trucks rely heavily on social media to spread the word about their location and to generate a community around their business. Don't you wish we had these tools when we were kids to know when the ice cream truck was coming?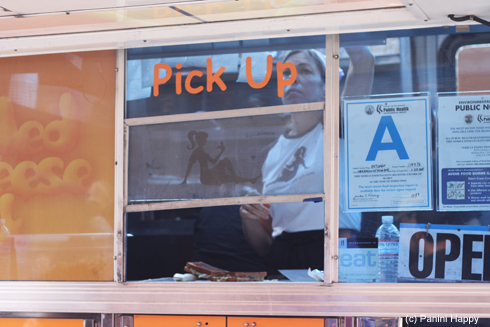 As busy as Michele Grant, the truck's "Cheese Executive Officer", was during lunch that day I couldn't help but be a little envious of the exciting venture she and her business partner Dave Danhi have embarked on. In less than two years they have harnessed the widespread enthusiasm for a childhood comfort food and channeled it into what appears to be a thriving business that puts smiles on people's faces. Michele herself appeared to be in an upbeat mood as she swiftly moved through tickets, distributing the little silver pouches to the queued up customers. I just love watching entrepreneurship in action.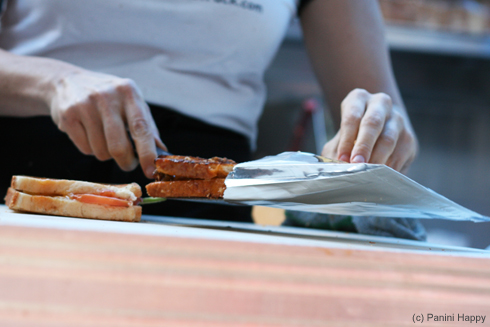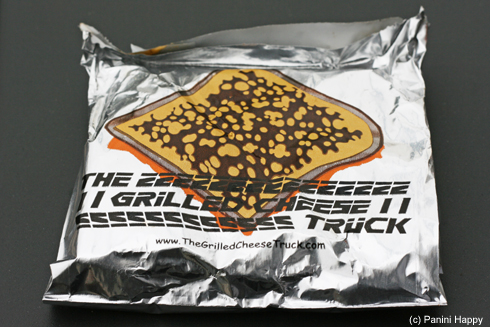 After forty-five minutes of waiting, it kind of felt like winning the lottery when I finally had a silver square Grilled Cheese Truck pouch in my hand. I wanted to get right down to business and dig into this thing immediately. But…I thought it might be nice if I photographed it first so you could what this Cheesy Mac & Rib sandwich that I waited forty-five minutes for in two lines on the sidewalk one hundred miles from my house up in Tarzana (did I mention it was cold out and I'd left my jacket in the car?) looked like.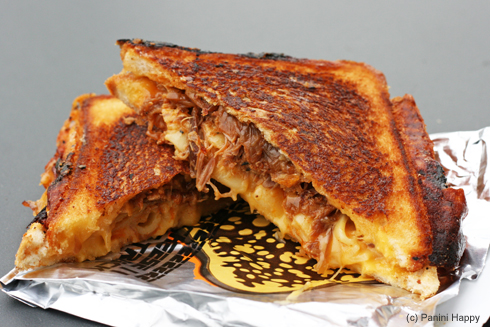 Yes, I found it to be delicious. Yes, I have much guilt over this. Yes, I did consume the entire thing.
Honestly, I expected that the combination of mac and cheese and pulled pork on a sandwich was going to be so over-the-top that I wouldn't finish it. But it really did work. The outside of the sandwich is extremely crispy, owing to a sweep of butter and mayonnaise on the bread before grilling (no one said it was healthy). Inside, the tangy flavors of the barbecue pork and sharp cheddar cheese melded perfectly. While my arteries probably can't afford to indulge in this sandwich more than once in a blue moon I believe in enjoying everything in moderation. This was one creative, great-tasting signature sandwich. And the experience as a whole was well worth the wait.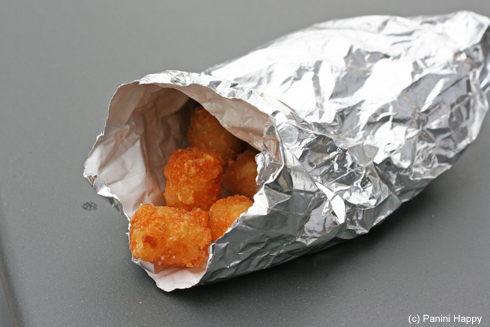 Let's not forget the crispy tots, cornucopia-style. 🙂
There's a lot more grilled cheese coming your way this month. The recipe for the Cheesy Mac & Rib appeared in this month's Food Network magazine, so you know I had to give it a try on the panini grill…stay tuned later this week!