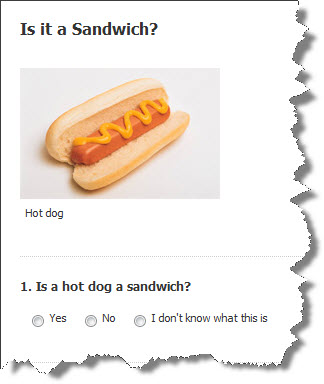 We all know a basic sandwich when we see one. Two slices of bread with some kind of filling in between. Simple, standard, no disagreements.
But what about a hamburger? It's a patty on a bun…a bun is bread, isn't it? Or a hot dog? It's meat(ish) on a bun too. Does that make it a sandwich? Pondering these questions can really make your mind spin.
About a week ago I asked Panini Happy readers to take a simple survey in which I asked whether the following food items were sandwiches: a hot dog, a hamburger, a quesadilla, a crepe and piroshki. I gave everyone the option to respond "I don't know what this is" if necessary. The goal was to see whether we have a consensus on the definition of a sandwich.
More than 200 people weighed in. Let's take a look at the results!
Is a Hamburger a Sandwich?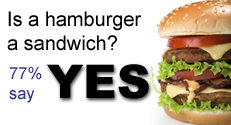 The general belief among Panini Happy readers who participated in the survey (77%) was that hamburgers are sandwiches. The savory filling layered between two pieces of bread, presented in a handheld manner, qualified them in most people's minds.
"A hamburger is a sandwich because it has fixings between the bun."
"Hamburger – meat products & veggie products between bread = sandwich"
What about the twenty-three percent of people who didn't deem a hamburger to be a sandwich? What's their beef (heh heh)? It turns out it's the bread. For people in this camp, a sandwich must contain leavened, sliced loaf bread. A hamburger bun doesn't count.
"A bonafide sandwich is two pieces of actual, traditional bread with ingredients in between."
"To me, a sandwich is something made with 2 pieces from a loaf of bread."
"I think a sandwhich [sic] is meat (or some other filling) between two pieces of bread.  Not a bun or a tortilla."
In fact, those who believed a hamburger was not a sandwich, for the most part, didn't think any of the five items in the survey were sandwiches. The presence of sliced bread, it seems, was a critical factor.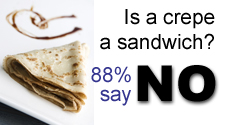 Is a Crepe a Sandwich?
While most readers considered hamburgers to be sandwiches, nearly everyone (88%) said crepes were not. Wrapped in pancakes rather than bread, perceived as dessert by many and consumed with a knife and fork, crepes fell short of meeting the generally accepted sandwich criteria. I threw that one in there just to see how far people were willing to stretch their definition.
"It's hard to tell exactly, but pancakes are not 'bread' so not a sandwich in my opinion."
"I associate this more with a thin pancake, folded with a filling. It doesn't qualify as a sandwich to me."
"If you're more likely to eat it with a fork, it's not a sandwich."
"…a crepe is a dessert."
Those who did feel that crepes were, in fact, sandwiches were the ones who ascribed to the broadest definition of a sandwich. To them, it's the state of being "sandwiched" that matters, not the actual sandwich components:
"All [of the items in the survey] are fillings encased/covered with bread.  The crepe fits this description as long as there is a filling."
"meat/dairy/veg on or in between some solid carb = sandwich"
"Generally something between two bread like pieces."
Is a Quesadilla a Sandwich?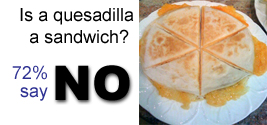 Largely for the same reasons they don't think crepes are sandwiches, Panini Happy readers also don't consider quesadillas to be sandwiches (72%). Just as with crepes, some readers didn't associate quesadillas with lunch:
"A quesadilla is more of an appetizer type of food…"
Then there was the question of bread again. Those who didn't consider a tortilla to be bread (technically, it is an unleavened flatbread) generally didn't think a quesadilla was a sandwich.
"The quesadilla is made of tortillas, not bread. It is not the same consistency of bread…"
"…tortillas are not bread, therefore not a sandwich…"
One reader, who did believe a tortilla was bread and thus a quesadilla was a sandwich, likened a quesadilla to a grilled cheese sandwich:
"If it's something sandwiched between two bread-like items, then it's a sandwich. I mean, how can you have grilled cheese but not a quesadilla in the sandwich category?"
Can you believe the question of whether a quesadilla is a sandwich actually made it to the superior court in Massachusetts? It's true (thanks to the reader who commented about this). In 2006, PR Restaurants was seeking to block a Qdoba Mexican Grill from opening a store in the same shopping center. PR Restaurants had an exclusive on selling sandwiches in the shopping center and claimed that Qdoba's burritos and quesadillas were sandwiches and therefore encroached on the exclusivity. The judge in the case denied PR's motion to block Qdoba, citing the Webster's dictionary definition of a sandwich, "two thin pieces of bread, usually buttered, with a thin layer (as of meat, cheese, or savory mixture) spread between them." He ruled that "the term 'sandwich' is not commonly understood to include burritos, tacos, and quesadillas, which are typically made with a single tortilla and stuffed with a choice filling of meat, rice, and beans."

Is a hot dog a sandwich?
We found a real gray area when it came to hot dogs. Although fifty-four percent of Panini Happy readers believed that hot dogs were not sandwiches, the majority was not overwhelming. A hot dog meets the general criteria for a sandwich but, as one reader suggested, it often isn't categorized as such on restaurant menus:
"In a restaurant all these things are considered a different part of the menu than the sandwiches."
Actually, menu categories aren't too consistent across restaurants, or so I discovered after a quick review of a handful of menus. For example, at Mel's Drive-In, a diner my friends and I used to frequent back in my San Francisco days, hot dogs are listed in their own menu category. But at Harbor House Café, back in our old Orange County stomping grounds, their chili dog as well as the patty melt are both listed under "Sandwiches."  It seems that restaurant owners are just as conflicted on this issue as we are.
Are piroshki sandwiches?

Fifty-seven percent of those who were familiar with piroshki, the Russian hand held stuffed pies, said they were not sandwiches. It was only a slight majority, so this one wasn't too clear cut either. As one reader put it, it may just come down to a personal preference:
"I'm not sure where a piroshki falls–it kind of reminds me of a stromboli–which in Indiana IS a sandwich–but other places is more like an enclosed pizza.  Just a mindset I guess!!"
Another reader suggested yet one more requirement for sandwiches – the bread has to be baked before assembly:

"A sandwich requires substantive contents within bread that is already baked. If cooking (as opposed to heating) is required after assembly, it isn't a sandwich."
"Please Don't Make Me Think This Hard Again"
Quite a little mind bender, isn't it? You can let your brain relax now. It's all just semantics (unless you're planning to open a sandwich shop in a strip mall in Massachusetts as mentioned above; in that case you'll want a lawyer). But it's interesting to see just how varied the interpretations are when you're talking about a ubiquitous food item that hundreds of millions of people make every day all over the world.
A special thanks to everyone who weighed in with their opinions!