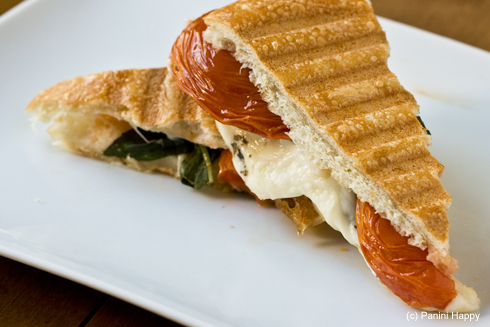 This is my second in a series of posts on Panini Happy that are sponsored by Panera Bread.
Remember those lovely Slow-Roasted Tomatoes I shared yesterday? Here's the very first thing I made with them: Roasted Tomatoes, Fresh Mozzarella & Basil Panini on ciabatta. It's a can't-miss classic – the sandwich version of an Italian caprese salad – with the added sweetness and character of the slow-roasted tomatoes. There's a reason you'll see this sandwich on almost any panini menu. It's simply that good.
It's actually rare that I make panini with ciabatta on this blog. It's not that I don't like ciabatta. Just the opposite, it's one of my favorite breads for panini. The problem is that my local grocery store is almost always sold out of it. They receive their artisan bakery delivery in the morning and once the loaves are gone that's it.
I don't know how it's eluded me all this time that I could be buying my ciabatta loaves from Panera. It's not like they hide the stuff – their wall of breads is showcased prominently right behind the cashiers – and it seems to be replenished throughout the day. I guess I've always been too caught up in deciding on my lunch order (or wrangling a toddler) to realize I've had this great bread resource nearby all this time.
Not surprisingly, since Panera uses their ciabatta for their own panini, I've found the bread is soft enough for sandwiches while still maintaining that crustiness I usually expect from a ciabatta. So get ready – a lot more ciabatta-based panini may be coming your way from me soon!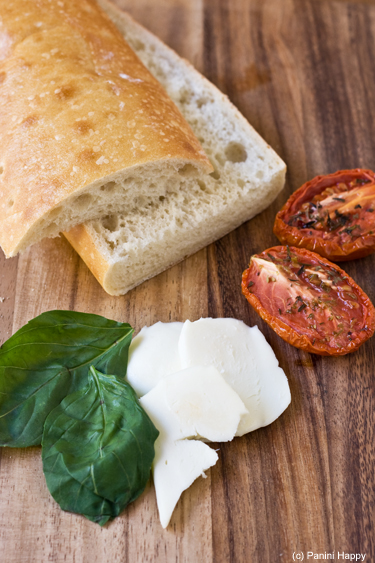 [print_this]
Roasted Tomatoes, Mozzarella & Basil Panini
Makes 4 panini
INGREDIENTS:
1 loaf ciabatta cut into 4 pieces, or 4 ciabatta rolls, split lengthwise
8 fresh basil leaves
8 ounces fresh mozzarella
8 Slow-Roasted Tomatoes (halved Roma tomatoes)
DIRECTIONS:
Preheat the panini grill to medium-high heat.
For each sandwich: Inside the bottom bread piece, layer on 2 slices of basil, 1/4 of the cheese and 2 tomatoes. Close the sandwich with the top bread piece. Grill the sandwich for 4 to 5 minutes until the cheese is melted and the bread is toasted. Slice in half, serve immediately and enjoy!
[/print_this]