Last weekend as we arrived at the movie theater to finally see The King's Speech (all those Academy Awards were well-deserved!), I noticed a big banner announcing "FARMER'S MARKET ~ SATURDAYS 8 AM – 12 PM". I was elated – at last, a local farmer's market that takes place on a day and time I can actually make!
So there I was this weekend, back at the theater parking lot. My three-year-old sidekick's primary goal: strawberries. They're a year-round local specialty here in San Diego. We bought her a basket of the red beauties (along with onions, broccoli, kale, Swiss chard, leeks, fresh pasta, pesto, ciabatta, macarons, lime curd and fresh-rolled sushi – whew!) and took our big bag of local goodies home.
When we got home, right away I pulled out the Southern Living Farmer's Market Cookbook, which the publisher sent to me a while back. It's organized by season, so I flipped to the Spring section and found a whole bunch of creative recipes to use all the items that were now maxing out my fridge crisper. Not surprisingly, the Turkey, Strawberries & Brie Panini recipe caught my eye.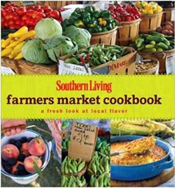 This recipe turned out to be fabulous. The strawberries, once they were heated within the sandwich, took on a kind of jammy flavor which was perfect with the rich, creamy Brie. There are actually a whole lot of great flavors going on in this sandwich – fresh basil, smoked turkey breast and red pepper jelly are all in the mix as well. It's a few more ingredients than I might normally choose but they all work so well together I wouldn't dream of leaving any out.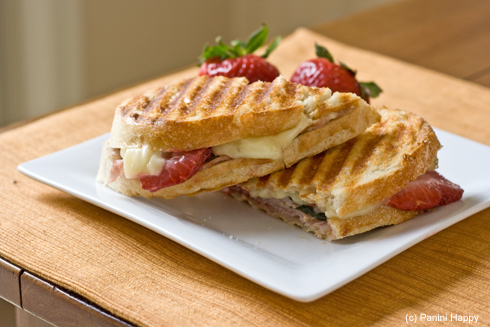 [print_this]
Turkey, Strawberries & Brie Panini
From the Strawberry-Turkey-Brie Panini recipe in the Southern Living Farmers Market Cookbook
Prep time: 15 min | Cook time: 3 min per batch | Total time: 21 min
Yield: 4 panini
INGREDIENTS:
1 (8 ounce)

Brie round

8

Italian bread slices

8 ounces

thinly sliced smoked turkey

8

fresh basil leaves

1/2 cup

sliced fresh strawberries

2 tablespoons

red pepper jelly

2 tablespoons

butter, melted

Garnish: strawberry halves
DIRECTIONS:
Trim and discard rind from Brie. Cut Brie into 1/2-inch-thick slices. Layer 4 bread slices evenly with turkey, basil leaves, strawberries and Brie.
Spread 1 1/2 teaspoons pepper jelly on 1 side of each remaining 4 bread slices; place bread slices, jelly sides down, on top of Brie. Brush sandwiches with melted butter.
Cook sandwiches, in batches, in a preheated panini press 2 to 3 minutes or until golden brown. Garnish, if desired.
[/print_this]