Get your skillets, grills and ovens ready – it's time to submit your best grilled cheese for Panini Happy's 2nd Annual Grilled Cheese Pageant!
Last year's pageant was such a cheesy blast. Thirty-six food bloggers and other grilled cheese fans, in celebration of National Grilled Cheese Month, paraded their tastiest and gooey-est grilled cheese sandwiches in fun pageant-themed categories such as "Best Evening Gown" (fancy sandwiches), "Harvest Queen" (grilled cheese sandwiches containing fruit) and, of course "Grand Supreme" (the overall winner). What will this year's categories be? That all depends on the sandwiches you guys make – you submit a sandwich, I'll assign you a sash.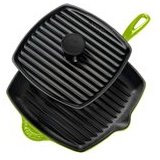 I've got a fantastic prize for this year's Grand Supreme winner (randomly selected from all participants) – the much sought-after Le Creuset Enameled Cast-Iron Panini Press and Grill Set in Kiwi (retails for $189.95 at Amazon), courtesy of the wonderful folks at Le Creuset. If you know and love Le Creuset like I do, I know you'll love this giveaway. I recently test-drove one (in gorgeous cobalt blue) – read all about it here.
The Pageant curtains open on Tuesday, April 20 – join the fun! See entry details below.
How to Enter:
Send me an e-mail, with Grilled Cheese Pageant in the subject line, to panini [DOT] happy [AT] yahoo [DOT] com (ONE entry per person, please!) with the following information by Friday, April 16 at 8 PM PDT:
First name
Blog name (or hometown if you don't have a blog)
Blog URL (if you have a blog)
Recipe post URL,

please include a link to this post within your post

(if you have a blog)
ONE photo of your grilled cheese sandwich, at least 490 px wide
A one-line description of your sandwich
I'll post a roundup of all the submissions (aka, The Pageant) on Tuesday, April 20. Anyone is welcome to share a sandwich in the Pageant – however, due to the cost associated with shipping a cast-iron grill, I'm afraid the giveaway is open to those with U.S. mailing addresses only.
Blog Badge:
Bloggers: If you'd like to include a Pageant badge on your grilled cheese post, here you go: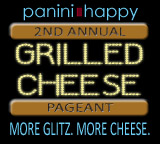 FAQ:
Is this a judged competition?
Absolutely not. It's a celebration of grilled cheese, plain and simple. As I mentioned earlier, there will be a prize awarded – a Le Creuset Enameled Cast-Iron Panini Press & Skillet Grill Set – to a participant selected at random.
Do I have to have a blog to participate?
No – anyone can submit a sandwich photo. Refer to the submission guidelines above.
What qualifies as "grilled cheese"?
If you think it's grilled cheese, it's grilled cheese. Ideally, we'll see something that's been grilled and contains cheese – beyond that is your own call. NOTE: Your sandwich does not have to be grilled on a panini press. Any grilling method is fine.
Can I submit a grilled cheese sandwich I posted on my blog a while back?
Yes. Please feel free to submit a sandwich (just one, please) that you've posted within the past 6 months.
~ HAPPY GRILLING! ~