A frequent question I receive in my e-mail inbox is for advice on using cast-iron panini presses. Having mainly grilled with electric grills, I haven't been able to offer too many insights…until now. Thanks to the folks at Le Creuset, I've had the opportunity to try out one of their gorgeous presses (and, yes, I've got one to give away soon too!) and learn the ins and outs of this style of grill. If you've got a cast-iron press at home – or are contemplating buying one – read on!
Heating the Press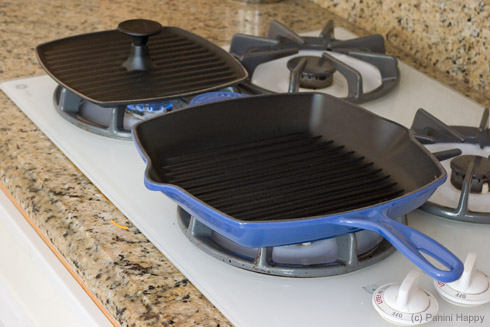 Cast-iron panini presses, in case you're not familiar with them, are comprised of a skillet and a separate press. I'd often wondered whether the press is used merely as a weight or if you can actually use it as a heat source to grill on both sides (like with an electric grill). It turns out that, at least with the Le Creuset press, you do heat it separately and use it to cook as well as weigh down the sandwich. So I preheated both the skillet and the press over medium heat for about 3 to 4 minutes. Since the press was placed over direct flame I made sure there was no oil on it whatsoever, to avoid possible flaring.
I flicked a few drops of water onto the ribs of both the press and skillet – seeing the drops spit from the surfaces let me know they were hot enough and ready to start grilling.
Prepping the Press Surfaces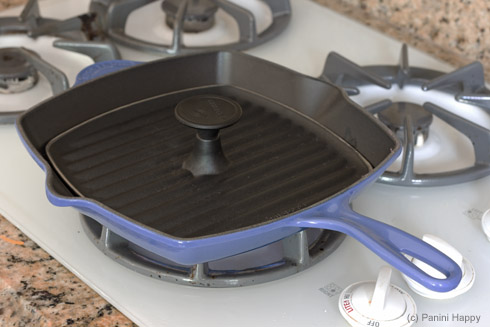 Once hot, I brushed the ribs of both pieces with a little vegetable oil. Then, I placed the press inside the skillet grill to maintain the two surface temperatures. Now that the press had oil on it I was extra careful not to return it to the direct flame. Again, the oil on the surface could create flaring if it were to make direct contact with the heat.
The first few times I heated the press and skillet I let them get a little too hot – I could see smoke from the oil starting to rise. Not a big deal, I just took them off the heat for a few minutes and allowed them to cool a little bit. Every stove is different, it just takes a little practice to get a feel for the right amount of heat.
Grilling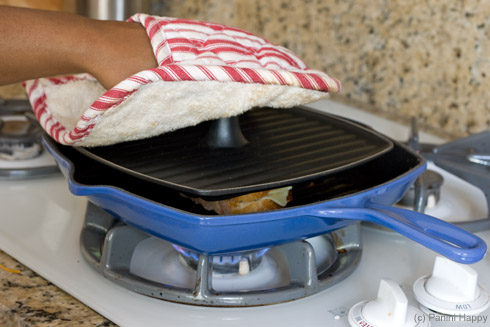 It's showtime! I brushed a little olive oil directly onto the surfaces of the bread on my sandwich, both to minimize sticking and for flavor (the manual advises not to use olive oil or other flavored oils on the ribbed surfaces of the press and skillet themselves, as the oils have a lower smoking point and might cause excessive smoking or burning). Then the sandwich went into the skillet. I pressed down on it lightly with the press for a few seconds then left it in place to cook. (By the way, this was Nancy Silverton's Grilled Cheese with Marinated Onions and Whole Grain Mustard sandwich – recipe to be posted soon!).
The Results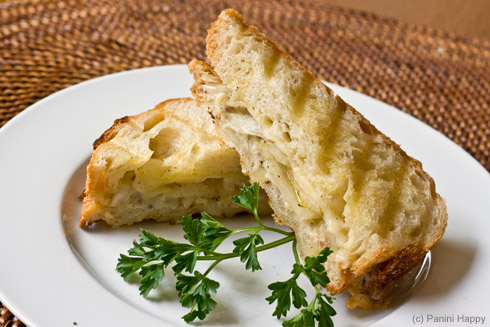 I got the same crisp-on-the-outside, soft-on-the-inside texture as I usually do with my electric grills. The cheese melted evenly and, thanks to the ribs on both the press and the skillet, I got grill marks!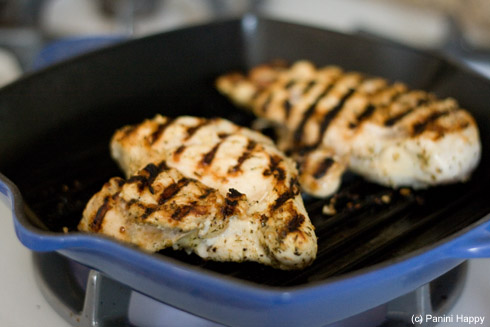 This type of panini press setup is ideal for grilling your sandwich fillings as well, such as the chicken breasts you see above (I made these for another recipe, also to be posted soon). I opted to use just the skillet on its own and flip the chicken halfway through, but you could also utilize the press to cook from both sides.
Cleaning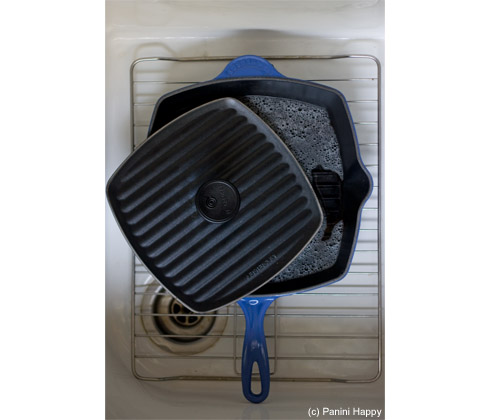 Good quality cast-iron equipment like Le Creuset can last you years and years…if you take proper care of it. I let the skillet and press cool down for a few minutes before rinsing, but I didn't allow them to get completely cold or it would have been harder to remove the stuck-on food. Nothing stuck when I grilled the panini but, as you might imagine, there were some little remnants after I cooked the chicken.
I allowed the skillet and press to soak in some warm water for about 15 minutes and then cleaned them with the scrubber side of a kitchen sponge. I took extra care to remove any oil from the press, as I know I'll be placing it over direct flame the next time I use it.
In summary
Making panini with a cast-iron press is pretty straightforward. It's just a matter of determining the right amount of heat. The cast-iron holds onto the heat incredibly well and the press provides gentle, consistent pressure on the sandwiches. Readers have mentioned in the past that they enjoy bringing their cast-iron presses on camping trips, since you don't need any electricity – that sounds like some pretty fancy campfires!
Thanks again to Le Creuset for providing this wonderful grill set for me to test drive. You can find them for sale at Amazon…or you can stay tuned for your chance to win one on Panini Happy very soon. 🙂
Whether your cast-iron panini press is made by Le Creuset or another manufacturer, I'd strongly recommend that you review your user manual before grilling.