I heard about jerk chicken panini not once, but twice in the past month. The first mention was on Twitter, by Natasha from @thatssoyummy:

When I replied to her that it sounded fantastic she followed up to let me know it was, in fact, delicious. I had just made a mental note to try it soon when reader Olivier left this note on the Panini Happy Facebook Fan Page:

That clinched it – I was definitely grilling some jerk chicken panini. If you're not familiar with jerk seasoning, it's an incredibly flavorful (and spicy!) blend – most notably including allspice and Scotch bonnet peppers – native to Jamaica. I don't know precisely how Tasha and Olivier made theirs but I was pretty pleased with how mine came out. I paired the spicy chicken with a sweet and fresh pineapple-black bean salsa and creamy Monterey Jack cheese. Talk about flavor!
If you've followed Panini Happy for a while you'll recognize the pita bread that I often use when I'm dealing with fillings – like, say, pineapple-black bean salsa – that are prone to falling out of the sandwich. After first trying this one first on ciabatta and winding up with more salsa on the plate than on the sandwich I switched to the pita with much better results. Amazingly, the bold flavors of the chicken and the salsa don't overpower each other – you can taste both and they really complement each other. I actually found myself enjoying spoonfuls of that salsa on its own, it's that good. Pretty colors too. 🙂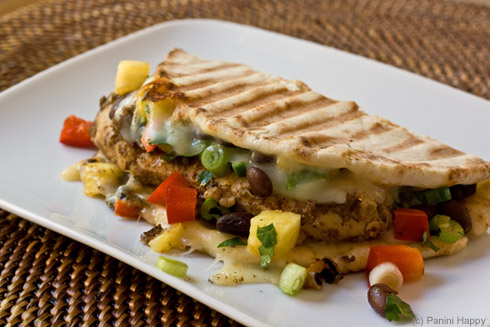 [print_this]
Jerk Chicken Panini with Pineapple Black Bean Salsa
Serves 4
INGREDIENTS:
4 pita breads
8 slices Monterey Jack Cheese
4 jerk chicken cutlets (see recipe below)
1 cup Pineapple-Black Bean Salsa (see recipe for BUSH'S® Black Bean Salsa with Pineapple at AllRecipes.com) – I used fresh pineapple
DIRECTIONS:
Preheat the panini grill to medium-high heat.
For each sandwich: Heat a pita bread in the microwave on High for 15 seconds (this will help prevent it from breaking when you fold it). Place two slices of cheese on top of the pita. Add a chicken cutlet and a few spoonfuls of pineapple-black bean salsa and carefully fold over the pita. Grill until cheese is melted and golden grill marks appear, about 3 to 4 minutes. Serve immediately and enjoy!

Jerk Chicken Cutlets
Adapted from the Jerk Chicken recipe on Simply Recipes
Makes 4 chicken cutlets
INGREDIENTS:
1/4 cup malt vinegar (or white vinegar)
1 tablespoon dark rum
1 Scotch bonnet pepper (or habanero), with seeds, chopped
1/2 red onion, chopped
2 green onion tops, chopped
1 1/2 teaspoons dried thyme or 1 tablespoon fresh thyme leaves, chopped
1 tablespoon olive oil
1 teaspoon salt
1 teaspoon freshly ground black pepper
2 teaspoons ground allspice
2 teaspoons ground cinnamon
2 teaspoons ground nutmeg
2 teaspoons ground ginger
1 teaspoon molasses
4 boneless, skinless chicken breast cutlets (or 2 chicken breasts cut in half lengthwise)
1/4 cup lime juice
Vegetable oil, for brushing grill grates
Safety note: Scotch Bonnet and Habanero chile peppers are very hot and can cause extreme pain if they come in contact with your eyes. Be sure to protective gloves while handling the chiles and the jerk paste.
DIRECTIONS:
Put vinegar, rum, hot peppers, onion, green onion tops, thyme, olive oil, salt, pepper, allspice, cinnamon, nutmeg, ginger, and molasses into a blender. Pulse until mostly smooth.
Place chicken in a large freezer bag, or in a large roasting pan or baking dish. Pour lime juice over the chicken and coat well. Add the jerk paste to the chicken pieces and coat well. Seal the bag or cover the chicken in the pan with plastic wrap. Refrigerate overnight.
Preheat the panini grill to medium-high heat.
Remove chicken from the marinade bag or pan. Brush vegetable oil onto the upper and lower grates to minimize sticking. Grill until cooked through, about 5-6 minutes.
[/print_this]