Welcome to the 2nd Annual Grilled Cheese Pageant!
From traditional cheese-and-bread to cheese-stuffed bison burgers, from sourdough to gluten-free lemon pound cake…more than 30 food bloggers and other grilled cheese fans submitted grilled cheese sandwiches comprised of all types of ingredients in this year's Pageant. Prepare to be allured, intrigued and inspired as you observe the procession of grilled cheese interpretations. And be sure to click the photos to view the recipes!
In the spirit of "cheesy-ness", I'm handing out 11 different pageant-themed titles this year – seven from last year plus four new ones. Go with it…these aren't easy to come up with! The list of sashes is as follows (click the links to jump ahead):
Harvest Queen • Best Personality • Best Swimsuit • Best Talent • Classic Beauty • Inner Beauty • Miss Congeniality • Most Chic •
Sweet & Sassy • Tiny Miss •
* GRAND SUPREME *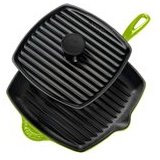 Our (randomly selected) Grand Supreme winner will be receiving a Le Creuset Enameled Cast-Iron Panini Press & Skillet Grill Set, courtesy of Le Creuset. The winner is announced at the end of the procession.
Let the show begin – bring on the cheese!
* * *

An interesting trend emerged among the Grilled Cheese Pageant entries last year: sandwiches featuring fruit. The Harvest Queen sash is awarded to those sandwiches that celebrate the classically delicious combination of fruit and cheese. From apples to pears to mangoes, Harvest Queens abounded once again this year.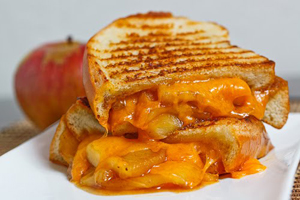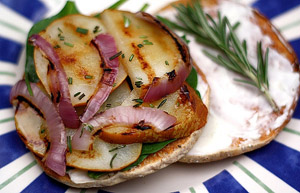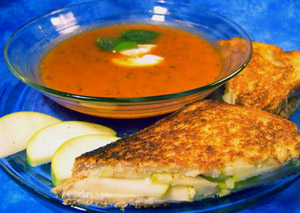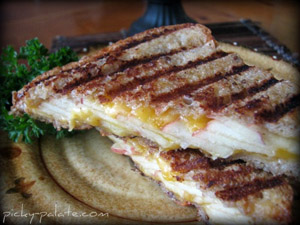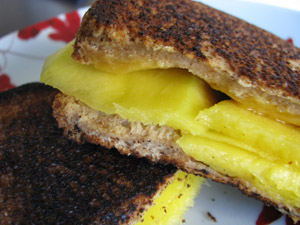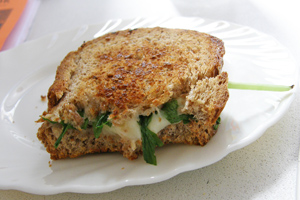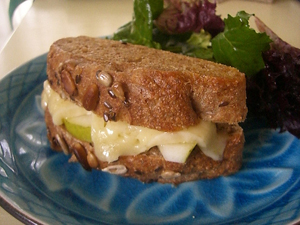 Everyone knows that to truly understand someone's personality you've got to peel back the layers. These two sandwiches are especially notable for their layers. Michael's features a cheese crisp (aka frico) "welded" to the bottom of his grilled cheese sandwich. Christine's are actually comprised of many thin, crispy layers, forming grilled cheese wafers.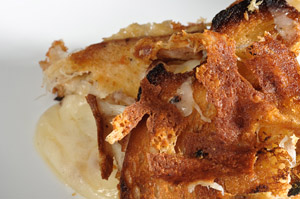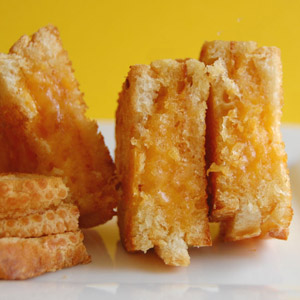 As I put it in last year's Pageant, "It's debatable whether adding healthy vegetables into a grilled cheese sandwich will help us to look good in our swimsuits but it's a nice thought to have as you digest these…vegetable-laden contestants." Just in time for bikini season, these sandwiches with asparagus, peppers, eggplant and onions are definitely worth diving into. Jenn's is even gluten-free! [NOTE: Just because I happen to be showing a sandwich in this category does not in any way mean that I'm swimsuit ready yet.]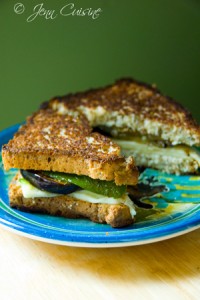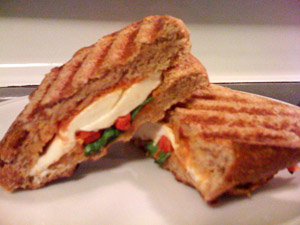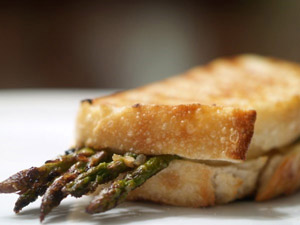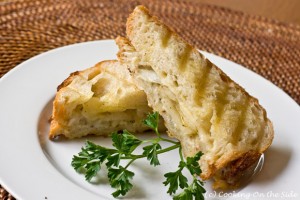 Last year's "Best Talent" recipients adorned their grilled cheese sandwiches with their own condiment spreads. This year's talent was all about homemade bread. Fresh-baked cornbread, semolina bread, wild rice and onion bread, challah – even a gluten-free lemon loaf – gave these sandwiches impressive flair.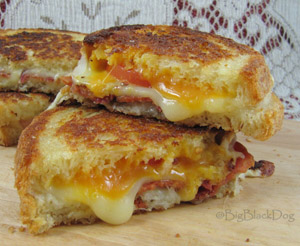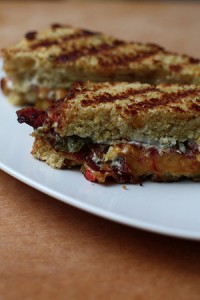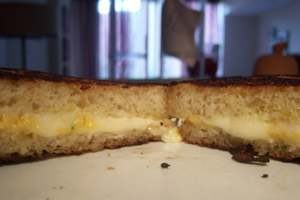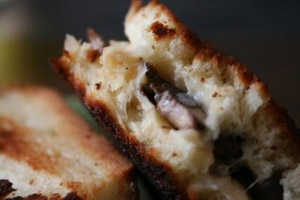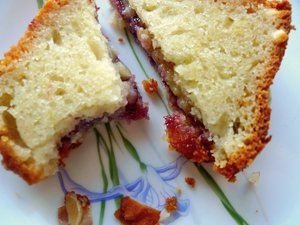 There are many different interpretations when it comes to one's notion of a "grilled cheese sandwich". But, of course, the classic version is comprised simply of cheese and bread. Each with their own delectable three-cheese blends, the following contestants are the purists.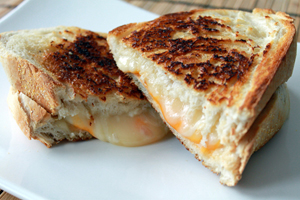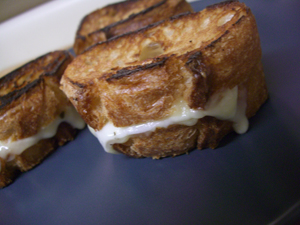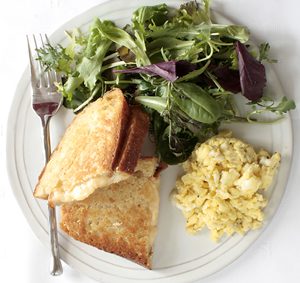 True beauty resides on the inside. This is definitely the case for the next two sandwiches, which are particularly notable for what's hidden inside. The cheese (and chutney) in Laurie's sandwich is actually ensconced within a bison burger! Meanwhile, Emilie offers a tuna surprise amidst the Emmental and Raclette on her baguette.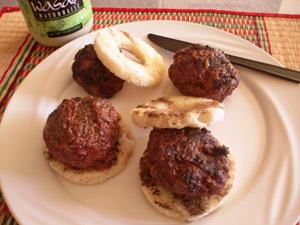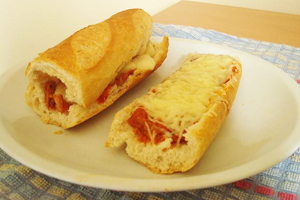 I just had to bring back my favorite title from last year's Pageant, Miss Congeniality: "The title of Miss Congeniality is bestowed upon contestants who are especially congenial and charismatic. The next sandwiches feature bacon – and bacon sure is nice." This year, I'm qualifying all pork products in the niceness category.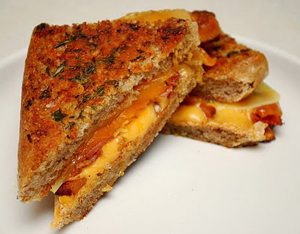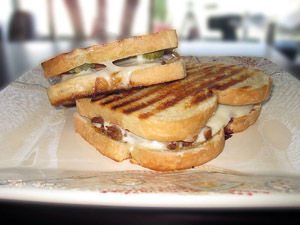 The following bold-flavored sandwiches all feature chicken. Chic… chicken…get it? That doesn't really make any sense, does it. Don't worry, I'm not quitting blogging for a stand-up comedy career anytime soon. 🙂 Anyway, the sandwiches all look really tasty – enjoy!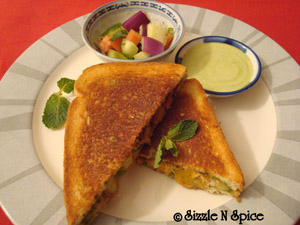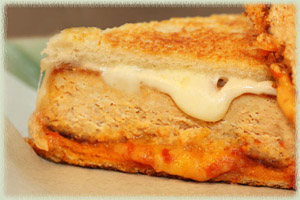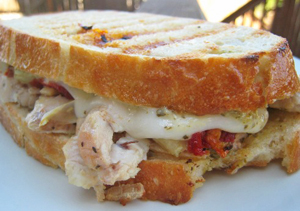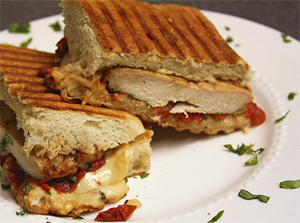 Spreading on flavorful condiments is an excellent way to kick up grilled cheese. The inclusion of such mouthwatering spreads as strawberry-cabernet jam, orange marmalade and pesto earned these sandwiches the title of Sweet & Sassy.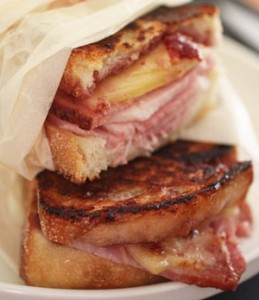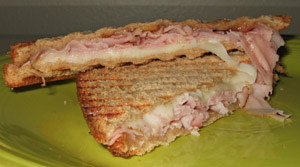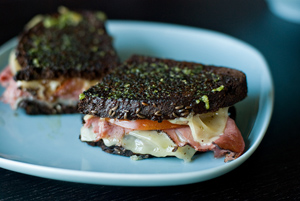 For the very youngest pageant competitors there is a crown for "Tiny Miss". Two of our grilled cheese contenders feature eggs – work with me here – it doesn't get much younger than that!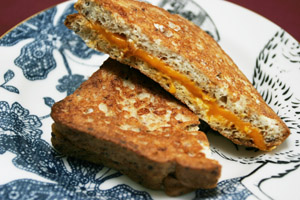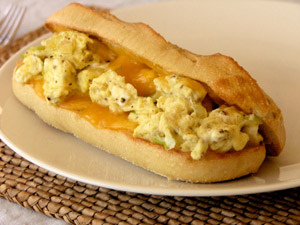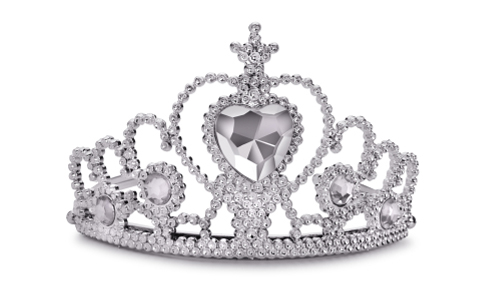 And now to award the most-esteemed title of the Grilled Cheese Pageant -the Grand Supreme tiara!
Ooooh…ahhhhh…
Random.org did the honors, and the winning entry was…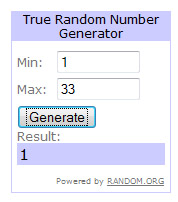 Congratulations to Entrant #1 – Cookie from Workout Then Cook. A gorgeous new Le Creuset Panini Press (in Kiwi) will be on its way to you shortly!
A big round of applause for all of this year's participants – you shared some pretty incredible grilled cheese sandwiches. And a big thanks to the audience for stopping by to share in the celebration.
Happy Grilled Cheese Month, everyone!