Curiosity got the best of me and I dared to conduct a little Panini Happy taste test of the four new panini they're selling at Starbucks.
Priced between $5.45 and $5.65 each, the Starbucks panini are part of the chain's recent efforts to introduce lower calorie options into their food menu, according to their website. The four sandwiches – Roasted Tomato and Mozzarella, Ham and Swiss, Chicken Santa Fe and Tuna Melt – are crowd-pleasing standards. I picked up one of each at my local store and brought them back home, where my friend Jami was arriving for our two-year olds to have a playdate. She was more than willing to join in my non-scientific evaluation.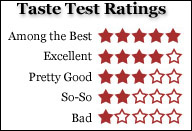 I cut up each of the sandwiches, we sat down at my kitchen table and got to sampling. In between bites we took turns recording voice notes into my iPhone (punctuated with a whole lot of toddler yelling in the background). Overall, we were pretty impressed by what we ate. Unlike with a lot of pre-made sandwiches, everything tasted "real" and fresh.
Does Starbucks make great panini? Read on for our ratings and reviews.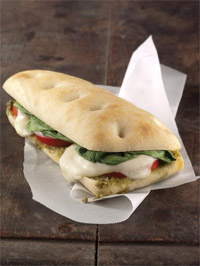 Roasted Tomato and Mozzarella Panini

"Richly flavored with the tastes of Italy, this Panini boasts basil pesto, roasted tomatoes, fresh spinach and mozzarella"
The Roasted Tomato and Mozzarella was our hands-down favorite of the four sandwiches. I loved the sweetness that came from roasting the tomatoes, and who doesn't love fresh mozzarella? Jami noted that the pesto, in particular, provided great flavor without being overpowering ("not in your face", as she put it).
We felt the focaccia was a winner here as well. Unlike the too-squishy flatbread on some of the other panini, this roll was nice and crisp on the outside, soft on the inside.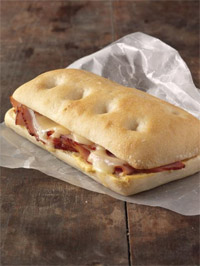 Ham and Swiss Panini

"The classic ham and Swiss sandwich is upgraded to a Panini on focaccia bread, with natural Black Forest ham, fresh tomato, Swiss cheese and tangy Grey Poupon® Dijon mustard"
Flowery marketing description notwithstanding ("upgraded to a Panini"? "natural Black Forest ham"?), this was a standard, decent ham and cheese sandwich. Nothing really to write home about – or write a blog post about, for that matter – but solid, nonetheless. I'd buy it again.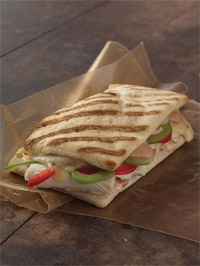 Chicken Santa Fe Panini

"Indulge without the guilt – natural chicken breast topped with a sour cream green chili spread, bell peppers and Pepper Jack cheese on flatbread"
This was Jami's second-favorite sandwich. She felt it "tasted real, not processed"…which, sadly, these days is a notable trait. It had a little bit more of a spicy kick than either of us expected, owing to the green chili spread, but that was kind of a good thing. The bold flavors were what really made this sandwich.
I might have preferred a bit more chicken. I didn't really see or taste much of it on the sandwich. It was sliced deli-style, and rather thinly at that.
Despite the appearance of grill marks on the outside, we both felt the flatbread was a little too soft…almost mushy. It seemed underbaked. Perhaps the intent was for the bread to finish baking when the Starbucks baristas heated up the sandwiches for customers. A toastier exterior would have made the sandwich a thousand times better.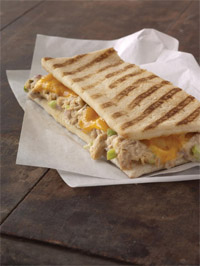 Tuna Melt Panini

"Savory and delicious, this Panini features dolphin-friendly tuna salad and Cheddar cheese on flatbread"
I'm kind of a connoisseur of tuna salad – it's my standard sandwich order – and I liked this tuna salad. It was flavorful, without being overly salty or mayonnaise-y. From a flavor standpoint, this sandwich was solid.
It was the texture that dropped this one down to two stars. I already mentioned our thoughts on the soft flatbread. Well, the mushiness is magnified here, as tuna salad is inherently mushy as well. The combination just wasn't mouth-pleasing.
It was fine, I'd get it again. But I'd get the others first.
* * *
So the answer is yes, Starbucks serves up decent panini, for the most part. Better than grilling your own? No way. But they were a cut above most pre-made sandwiches that Jami and I have ever tried.
I purchased all of the sandwiches for this taste test at my local Starbucks. The opinions expressed here are those of myself and my good friend Jami. Neither of us were compensated in any way.