Chocolate Bread. Not a cake or a brownie…actual yeast bread made with rich cocoa and dark chocolate chunks. I saw the recipe on DavidLebovitz.com and I couldn't stop thinking about it.
There are many good reasons to keep thinking about this bread:
The intoxicating chocolate aromas emanating from the oven, impossible to ignore (and who would want to?)
The melted chocolate chunks peeking out from the rugged loaf surface and smearing onto my hands as I turned the bread out of the pan (messy is good)
The ease with which my less-than-sharp bread knife slid through the soft loaf – it just went straight down cleanly, like a perfect steak
The inescapable opportunity to grill some extra-special panini with it
I'm declaring this week Chocolate Bread Panini Week. We'll start with the amazing bread itself and then I'll share the three panini I made with it: Brie & Basil Grilled Cheese on Chocolate Bread, Almond Butter & Raspberry Panini on Chocolate Bread and Open-Face Ice Cream Panini with Caramelized Bananas and Walnuts.
Suffice it to say, this was one of the better ideas I've had recently. 🙂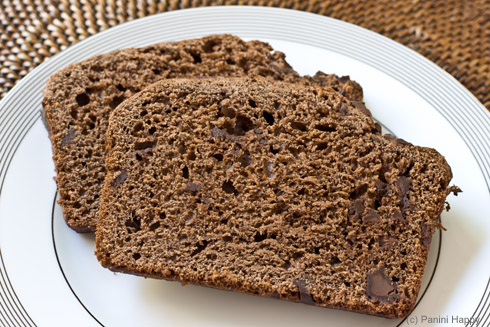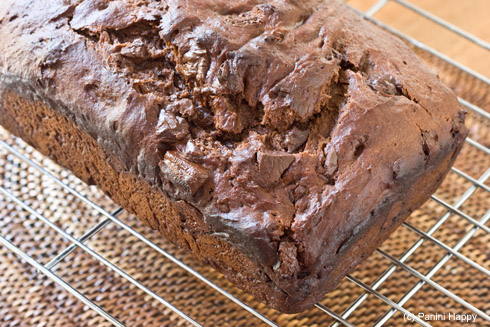 Visit DavidLebovitz.com for the Chocolate Bread recipe…and stay tuned for the three different panini I made with it!
Tomorrow: Brie & Basil Grilled Cheese on Chocolate Bread