As I mentioned yesterday, it's Chocolate Bread Panini Week on Panini Happy – one amazing homemade chocolate yeast bread plus three different panini made with it. Believe it or not, this Brie and basil grilled cheese was actually the very first panini idea that popped into my head to make with the chocolate bread. It's based on the Panini with Chocolate and Brie that Giada De Laurentiis made a year or so ago on her Food Network show, Everyday Italian. Not surprisingly, there was a bit of online buzz about this unusual-sounding flavor combination. Especially the basil…doesn't that seem kind of random? But people swore up and down that it was amazing, so I was intrigued.
Giada made hers on sourdough bread and added chocolate as a filling. Could I replace those ingredients with chocolate bread and still have a tasty result?
Of course, the answer is YES! I was especially surprised to discover that the basil is actually the real "star". It's this kind of unexpected bright, herby flavor amidst the pungent Brie and the rich chocolate bread. It really makes the sandwich – don't think for a minute about leaving it out (you might be able to substitute mint).
Scroll down for the Brie & Basil Grilled Cheese recipe…and stay tuned for tomorrow's Almond Butter and Raspberry Panini on Chocolate Bread!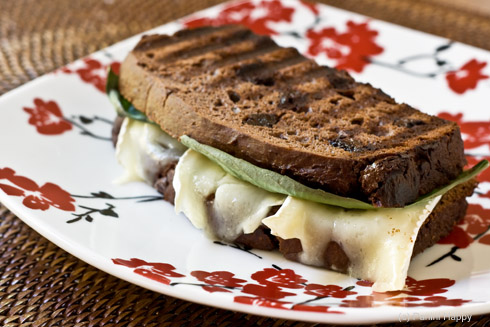 [print_this]
Brie & Basil Grilled Cheese on Chocolate Bread
Makes 4 panini
INGREDIENTS:
8 slices Chocolate Bread (recipe can be found here)
8 ounces Brie, thinly sliced
8 basil leaves
DIRECTIONS:
Preheat the panini grill to medium-high heat.
For each sandwich: Place 1/4 of the Brie on one slice of bread. Top with 2 slices of basil. Close the sandwich with another slice of bread. Grill for 3 to 4 minutes, until the cheese is melted and the bread is toasted. Serve immediately and enjoy!
[/print_this]