In the world of pop music, the remix is often better than the original. When it comes to the panini on this blog, the same holds true.
My tastes haven't necessarily changed that much over the years, but the more I learn about food the more I find my philosophies about it are evolving. Take, for instance, the Barbecued Chicken Panini I made two years ago (cut me some slack on those old photos, I was still relatively new at this). I'd still eat and enjoy a barbecue sauce-marinated chicken breast with mozzarella, red onions and cilantro on crusty bread today. But you know what I'd love even more? Shredded chicken from a whole-roasted bird, simmered in homemade barbecue sauce with fresh mozzarella and caramelized onions on chili-oil drizzled Italian bread.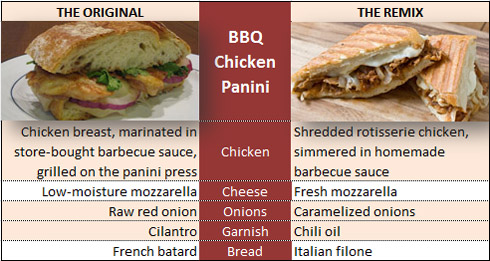 God made napkins so we could partake of sandwiches like this. I felt like I was in a Carl's Jr commercial, minus the bikini body. I savored every sloppy bite. Ellie Krieger's pulled BBQ chicken recipe is easy to prepare, especially with the help of a rotisserie chicken, and the sweet-smoky flavor of the homemade sauce is mouthwatering. I ate this chicken for several days in a row – it's the kind of dish that just gets better the longer the flavors meld together.
I try really hard to resist the temptation to go back to my early blog posts and update them to reflect my current thinking on panini and food in general. That's what makes this a "blog" and not just a "website" – it's an account of my cooking journey, embarrassing episodes and all. But while I don't want to change what I've done in the past, I think a little recipe remix every now and then is fair :-).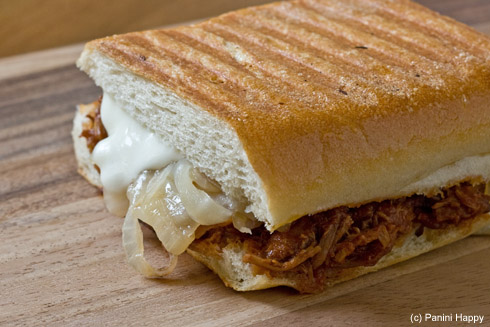 [print_this]
Pulled BBQ Chicken Panini
Adapted from Ellie Krieger's Pulled BBQ Chicken Sandwiches recipe on FoodNetwork.com
Serves 6
INGREDIENTS:
6 Italian rolls (I used filone), halved lengthwise
Pulled BBQ Chicken (see recipe below)
Caramelized Onions (see recipe below)
12 oz. fresh mozzarella, sliced thinly
Chili oil for brushing (optional)
DIRECTIONS:
Preheat the panini grill to medium-high heat.
For each sandwich: Add a generous amount of pulled BBQ chicken and caramelized onions to the bottom slice of bread. Top with several slices of mozzarella. Close the sandwich with the top slice of bread. Brush a little chili oil on top of the bread.
Grill for 3 to 4 minutes until the cheese is melted and bread is toasted on the outside. Slice in half, serve immediately and enjoy!
Caramelized Onions
INGREDIENTS:
4 medium yellow onions, halved and sliced thinly
3 tablespoons olive oil
Salt and pepper
DIRECTIONS:
In a skillet over medium-high heat, add the olive oil and onions and stir vigorously to avoid scorching. Season with salt and pepper. Continue stirring until the onions have a deep brown color. Reduce the heat and continue to cook until the onions are soft, 30 to 45 minutes.
Pulled BBQ Chicken
INGREDIENTS:
1 tablespoon vegetable oil
1 large onion, chopped
3 cloves garlic, minced
1 (14-ounce) can low-sodium tomato sauce
1/4 cup tomato paste
1/2 cup water
1/3 cup apple cider vinegar
5 tablespoons molasses
1/4 teaspoon ground black pepper
1/2 teaspoon liquid smoke
1 whole rotisserie chicken, skin removed, meat shredded into thin strips (about 4 to 4 1/2 cups)
DIRECTIONS:
Heat the oil in a large sauté pan over a medium heat. Add the onions and cook until they are soft and translucent, about 5 minutes. Add the garlic and cook for 1 minute more. Add tomato sauce, tomato paste, water, vinegar, molasses, pepper and liquid smoke and bring to a boil. Reduce heat to medium-low and simmer for 15 minutes. Add chopped chicken, return to a simmer, and cook an additional 10 minutes.
[/print_this]