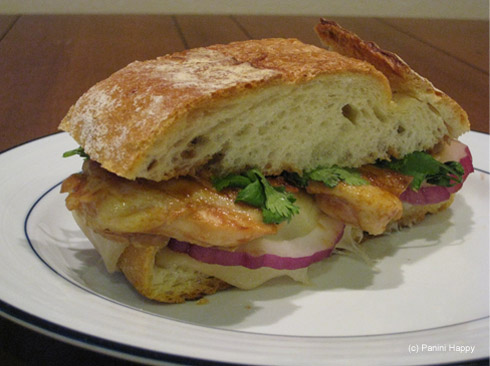 For weeks, I've been thinking about how I might put together barbecued chicken panini, but I always got stuck on the cheese part.  What kind of cheese goes with barbecue?  Well, somehow it totally escaped my consciousness that I do enjoy a barbecued chicken pizza every now and then.  That, of course, uses mozzarella.  Successfully so, in fact!  I must credit Gabi from The Feast Within and her gorgeous pulled chicken sandwiches post for jogging my memory about the virtues of barbecued chicken pizza.  If the flavors work well on a pizza, they should taste great in sandwich form too, right?
You could easily use leftovers from Gabi's delicious "low and slow" chicken recipe to make my Barbecued Chicken Panini, or grill some barbecue sauce-marinated boneless, skinless thighs in about 4 minutes on the panini grill, as I did.  The conversion from barbecued chicken pizza to panini was an easy – and delicious – one!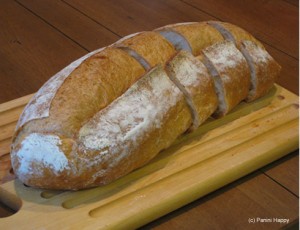 You're not going to believe it, but I actually purposely applied sauce directly to the bread this time – and I liked it!  Yes, really!  After going on at length over the past several months about my battle against soggy bread, I headed into it straight on.  I was inspired to take the plunge by Crabby Cook's "Shrek" sandwich, which I first saw on Food Gawker (my new favorite go-to site for food inspiration and general ogling) in which he spreads a balsamic vinaigrette directly onto Italian bread prior to adding the meats, cheeses and peppers and allows the flavors to meld together overnight in the fridge, pressed under a weight.  Something clicked in my mind – wet bread doesn't mean it's soggy per se if it's flavorful!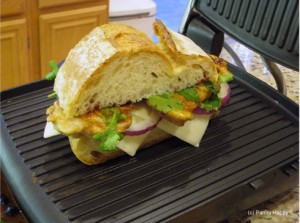 So I rolled the dice and spooned on a good amount of barbecue sauce on both halves of the bread, and was really pleased with the tasty outcome.  Crusty bread was definitely the way to go – I used a French white batard – as it could absorb a little sauce on the inside while remaining crispy on the outside.  The sandwich was moist and flavorful, without feeling soggy.  Bringing the flavor into the bread itself…I'm going to have to do this more often!
Barbecued Chicken Panini
Serves 2
INGREDIENTS:
4 boneless, skinless chicken thighs
Barbecue sauce (your choice: I used Jack Daniel's Honey Smokehouse)
1 French batard
4 slices mozzarella cheese
1 red onion, thinly sliced into rings
Cilantro, roughly chopped
DIRECTIONS:
Place chicken in a shallow dish or large plastic bag.  Pour in enough barbecue sauce to coat completely (be sure to retain some extra sauce to spread onto the bread later).  Seal and marinate in the refrigerator for 1 hour.
Preheat the panini grill to medium-high heat (375 degrees).
Place the chicken onto the hot grill (be careful – the marinade may splatter) and discard remaining marinade.  Close the lid and grill until cooked through, about 4 minutes.
Unplug grill, let it cool down, and carefully clean off the grates.  Reheat the grill to medium-high heat (375 degrees).
Slice bread cross-wise into two ~3″ pieces and then lengthwise to create top and bottom halves.  Spoon a generous amount of barbecue sauce onto the inner sides of each bread half.  On each bottom half, place 2 slices of cheese, 2 chicken thighs, 2-3 onion rings and cilantro to taste.  Place top halves on top and press down gently with your hand so that the sandwich stays together.
Position panini onto the panini grill vertically, in the same direction as the grates (this will help to keep the sandwich intact during grilling).  Grill for 4-5 minutes until the cheese is melted.  Serve immediately and enjoy!