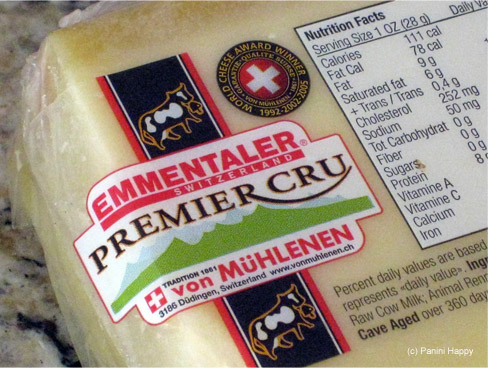 In my recent Panini Happy reader survey, I asked what your favorite sandwich ingredients were.  Would you believe how many of you responded, "Cheese, cheese and more cheese!"?  Wow! Well, I love cheese too.  Although sandwiches don't have to contain cheese to be deemed "panini", you've probably noticed that pretty much all of mine do.
So I've decided to make cheese the focus of my panini for a little while and start a new series called "Cheese, Please!".  I'm filing it under Panini 101, since an exploration of panini ingredients should definitely be part of one's panini education 🙂  My primary criterion: meltability.  If it tastes good and melts well, then it's probably a great candidate for inclusion in panini.  We'll learn a little about each cheese, where it's from, how it's made and what to pair it with.  And, of course, I'll do a panini recipe.  First up: Emmental!
In the U.S., what most of us know as Swiss cheese is actually Emmental…or at least a variation of it.  Purists would say that the sometimes rubbery, mild-flavored, hole-y cheese we call Swiss is not worthy of being called Emmental (maybe so, but I grew up on our Swiss and I don't mind it!).
Emmental (also known as Emmentaler or Emmenthal) is a hard cow's milk cheese that did, in fact, originate in Switzerland.  It's often described as having a fruity-nutty and slightly salty flavor. It's often used to top gratins and for fondue.  The Cook's Thesaurus suggests Jarlsberg, Beaufort, Gruyere, Swiss or Raclette as possible substitutions.  Emmental's most notable feature is its holes. Have you ever wondered how Swiss cheese got its holes?  According to the Fat Chance Media blog,
"The famous holes are a result of the specific way its starter bacteria works during the aging process. At certain temperatures, the starter gives off carbon dioxide, forming gaps by "pushing" the ripening cheese away. The holes are random in size, shape, and location."
So there you have it.  Go impress your friends.
As for pairings, my sister and I tasted it with Membrillo (quince paste), sundried tomatoes, fig jam and honey and found that we most preferred the honey accompaniment.  The honey was sweet enough to stand up to the sharp Emmental and the two seemed to complement each other really well.  While Emmental is typically aged a minimum of 4 months, the Premier Cru variety that we tasted was actually aged for 14 months, so it may have a been a touch sharper than the "original" Emmental.
Check out my Emmental, Honey & Ham Panini Recipe!