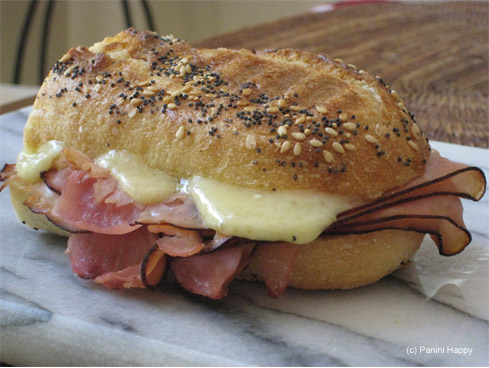 I may have a new favorite sandwich.  Now, I have enjoyed all of the panini on my blog or I wouldn't have written them up (trust me, there a number that will never be repeated!), but today's Emmental, Honey & Ham Panini was especially tasty.  Can't-put-it-down good.  And it all hinged on the terrific flavor and texture of the Emmental cheese.  I'm definitely glad I decided to expand my cheese repertoire and launch my "Cheese, Please!" series.  If you missed it, you can read my post about the wonderful Emmental here.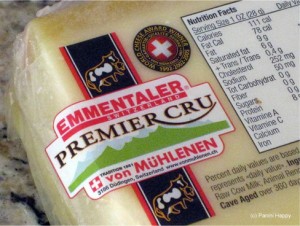 We hadn't planned on involving honey in our little cheese tasting on Sunday.  My sister was a willing participant as I trotted out the cheeses I had just purchased at Bristol Farms, along with an array of condiments: fig jam, quince paste, sun-dried tomatoes.  We sampled the Emmental with each accompaniment, but we didn't feel that any of them really stood up to the sharpness of the 14-month aged Premier Cru.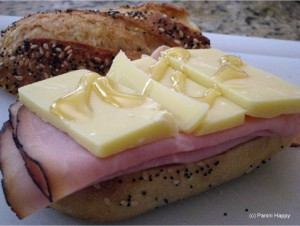 "How about honey?" my sister suggested.  It turns out she's been making my Grilled Cheese & Honey Panini, with Raclette cheese, like a little fiend over at her apartment and can't get enough of that sweet and savory combo.  That was the one!  The extra-sweetness of the honey was just the thing to mellow out the sharp Emmental.  The fig jam was close, but the honey was even better.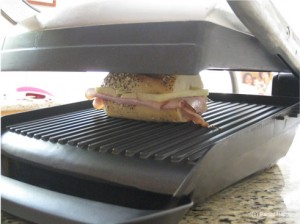 Honey and Emmental on a slice of baguette made a great little appetizer, but for a full panini I thought I'd need one more ingredient to give it some substance.  We first thought of prosciutto, but decided it would be too salty.  But Black Forest ham, with its mild saltiness, provided just the right flavor balance.
Finally, I'll mention that the seeded French baguette also proved to be the right choice for this sandwich.  In grilling, the baguette became very crisp on the outside while remaining gratifyingly soft on the inside.  The poppy and sesame seeds along the crust added a nice nutty finish.
Emmental, Honey & Ham Panini
Serves 4
INGREDIENTS:
1 seeded French baguette, cut into 5″ segments
Honey
12 slices Black Forest ham
Emmental cheese, sliced thinly
DIRECTIONS:
Preheat panini grill to medium-high heat (375 degrees).
Split each baguette segment in half lengthwise, forming top and bottom halves.
For each sandwich: Drizzle honey inside each baguette half.  On the bottom half, layer 3 slices of ham and several slices of cheese.  Place the top baguette half on top and press down gently to form the sandwich.
Grill each sandwich for 9-10 minutes (you may be able to fit them all on the grill at the same time, depending on the size of your grill) until the cheese has melted.  Serve immediately and enjoy!