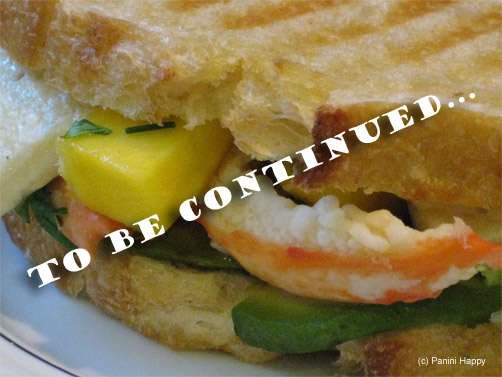 Well…I debated a variety of titles for this post:
"When Bad Panini Happen to Good People"
"What Went Wrong"
"Don't Try this at Home"
"Now, That Was %@#&ing Disgusting!"
But once I picked my ego up off the kitchen floor, I looked to the positive side and tried to learn from the experience of creating a major dud of a sandwich this past weekend. I now have a new category, called "Notes for Next Time". It's my sincere hope that this category doesn't fill up too quickly (!!), but the reality is that when you experiment a lot you're bound to have a few disasters. I'll spare you the recipes here, but you might at least feel a little better about your own cooking in reading about my occasional mishap 🙂
All I wanted to do was make a crab and avocado sandwich. I had this month's Food & Wine on the coffee table in front of me and I was drawn in by the tasty-looking crab and avocado cocktail appetizer on the cover. How great would that be in a sandwich? Now, if I'd stopped right there, kept it simple and added maybe just one more ingredient (like a mild cheese), this would have been a post about a wonderful new panini recipe. But noooooo. I had to get all carried away and the next thing you know I was chopping up mangoes, chives and cilantro for a little mango pico de gallo and layering on big slices of super-strong blue cheese. In short, I took leave of my senses.
Ummm…this was really gross. It tasted pretty bad, it looked pretty bad…I felt pretty bad that my ever-supporting poor husband had to have it for dinner with me ("It tastes okay…the crab is good!")! For starters, what was I thinking with the blue cheese? I'd seen a lot of recipes that had paired it with mangoes and with crab, so I thought the three together might work. Well, maybe it would have if I didn't use so dang much – it was really all I could taste on the sandwich. NEXT TIME: If I must use blue or other strong-flavored cheese, apply it sparingly, preferably in crumbles.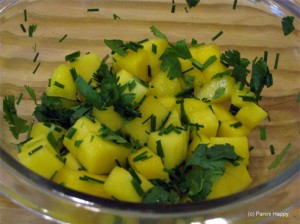 Then there was the piece-y nature of how this sandwich was constructed. Lump crab meat comes in big, loose chunks. My mango pico de gallo was also in chunk form. The only ingredient that lay down nicely and cooperated was my avocado. So everything kept tumbling out as I was grilling and then, of course, a substantial mess ensued once I cut the sandwich in half and tried to eat it. I don't demand that my panini meld 100% perfectly without any moving parts – the fillings need to be "free", to an extent – but I do believe they should remain reasonably intact. NEXT TIME: Favor ingredients that layer well, rather than try to pile a lot of chunky stuff.
Lastly, there was just way too much going on with this sandwich. What was I going to name this one anyway – Crab AND Avocado AND Mango AND Blue Cheese Panini?? I should have known from the start that I was cramming too much in. Had this been a dress I was making and I was a Project Runway contestant, Tim Gunn would have urged me to "Edit, edit, edit." Going forward, I'll heed his sage advice. NEXT TIME: If the name sounds too complicated, so will be the sandwich.
There it is. My secret is out: I make really bad panini every now and then. But I wear the bad ones as badges of honor – they show that I ventured to try something a little different! Plus, it makes it all the more gratifying when I come up with ideas that actually work 🙂