The early entries for my Grilled Cheese Pageant have been truly inspiring (have you entered yet?)! You'll be amazed to see how something as simple as the humble grilled cheese sandwich can be interpreted into so many different delicious incarnations. In keeping with this theme, I've decided to make exclusively grilled cheese panini this month (that is, all of the panini I make will be grilled cheese – I will be eating other things too).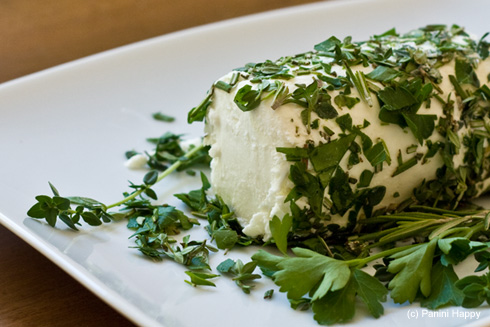 If you like goat cheese, my Open-Face Grilled Goat Cheese Panini with Sundried Tomatoes & Herbs are going to be a real treat for you. Slices of creamy, tangy goat cheese, enrobed in fresh herbs, is set atop zesty sundried tomatoes and grilled open-face on the panini press (an oven broiler works great too). I sprinkled some thinly sliced basil on top for even more flavor and some fresh color. As much as I loved this for lunch, I enjoyed it just as much the next day for breakfast (goat cheese is so good!) and I could envision downsizing them for a tasty appetizer sometime too.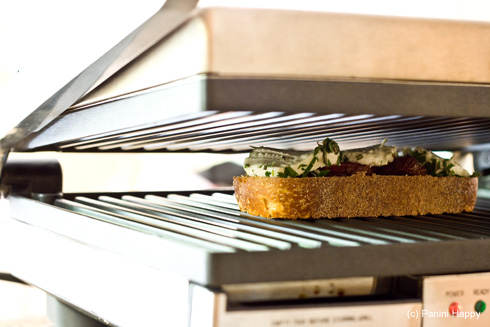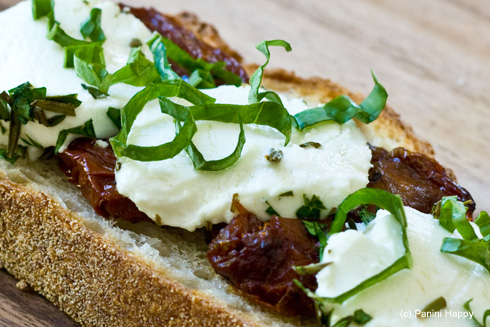 Open-Face Grilled Goat Cheese Panini with Sundried Tomatoes & Herbs
Serves 4
INGREDIENTS:
1 tablespoon chopped fresh thyme
1 tablespoon chopped fresh parsley
1 tablespoon chopped fresh rosemary
5 oz. log of goat cheese
4 slices country bread (I used sourdough)
Whole sundried tomatoes, packed in olive oil*
Basil, thinly sliced, for garnish
DIRECTIONS:
Preheat the panini grill to high heat (or set your oven to broil).
Combine thyme, parsley and rosemary in a shallow dish. Roll the goat cheese in the herbs to cover the log – you may want to lightly press in the herbs so they stay on. Draw a piece of dental floss (the non-flavored kind!) or string straight down through the herbed goat cheese to create little round slices (this is much easier and produces cleaner slices than using a knife).
For each open-face sandwich: Place two or three sundried tomatoes, drained of their oil, onto a slice of bread. Top with slices of herbed goat cheese. Place onto the grill (with the lid lowered, but not touching the cheese) or under the broiler until the cheese is softened and the bread is toasted.
Remove from the grill. Garnish with basil. Serve immediately and enjoy!
* Be sure to use sundried tomatoes that have been packed in oil rather than the completely dry ones. The latter may be too chewy to bite through easily on the panini.