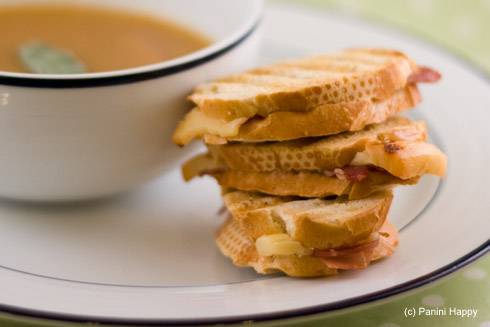 When you're at a restaurant, do you order your entrée based on the main item or the side dishes?  For me, it's almost always the sides – I bypass the star and look straight to the supporting players.  They just always seem to be more interesting.  Perhaps it's because you're only getting a small portion of the roast garlic noodle galette or artichoke risotto or smoked potato purée that chefs really make them count.  I would love to eat at a restaurant that served just side dishes.  I guess that is the whole "small plates" phenomenon. 🙂
Considering the name of my blog, I usually make panini the star of the plate but today I decided to give them "side status" for a change.  My Fig, Smoked Gouda & Prosciutto Panini Stackers are mini-panini, grilled on French baguette slices.  With their combination of sweet, salty and smoky flavors they're perfect companions to a nice hot autumn bowl of butternut squash soup (find some tasty ones at Simply Recipes, Andrea's Recipes, and Karina's Kitchen).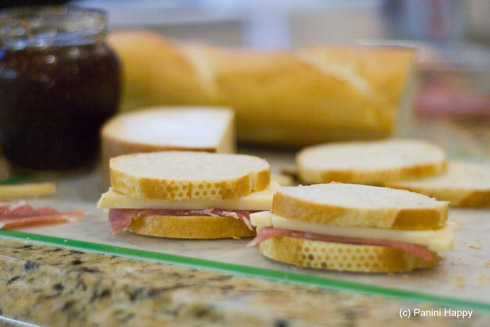 Fig, Smoked Gouda & Prosciutto Panini Stackers
INGREDIENTS:
French baguette, sliced into 1/4″ slices
Prosciutto, thinly sliced, torn into pieces roughly the same size as the baguette slices
Smoked Gouda, sliced into 1/8″ slices
Fig spread or jam
DIRECTIONS:
Preheat the panini grill to low heat.
Place prosciutto and Gouda on a baguette slice. Spread a very thin layer of fig spread on another baguette slice and press the baguette (fig side down) on top of the Gouda to close the sandwich. Repeat for each sandwich.
Grill panini for 10-12 minutes until cheese is softened (it may not completely melt). Serve immediately, with soup or as a snack on their own.