My husband tends to be more of an "appreciator" of food rather than a "creator", but if there's one thing he likes to make it's quesadillas.  And he'll make them out of anything.  Leftover hamburger in the fridge?  It goes in a quesadilla.  One more spoonful of peanut butter left in the jar?  Peanut butter quesadilla coming right up (don't worry, no cheese!).  Hard-boiled egg?  He slices it up with his little egg mandoline (bought from TV, I believe), mixes with an obscene amount of mayo, adds cheese and nukes it all in a tortilla.  James Beard hasn't come knocking on our door just yet over these, but you gotta give the guy points for creativity.
So when I had leftover shredded chipotle chicken from the delicious Slow-Cooker Chili Chicken Tacos recipe from Everyday Food I made the other day, I took a little inspiration from my better half and grilled up a quesadilla on my Breville.  The best part about it, aside from the succulent chicken (which was even more flavorful the next day), was the fact that it only took 3 minutes to grill on the panini press and I didn't have to undergo the perilous task of attempting to flip it!  I originally intended just to eat half and save the rest, but wouldn't you know – I took down the whole thing. 🙂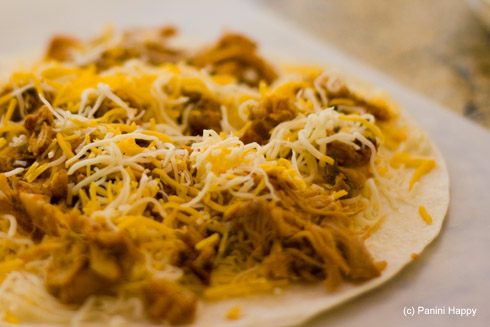 Chipotle Chicken (No-Flip!) Quesadilla
INGREDIENTS:
Slow-cooker Chili Chicken, shredded (see recipe at Everyday Food)*
Flour tortillas
Shredded cheese, such as mild cheddar or a Mexican blend
Sour cream
Salsa
Cilantro
DIRECTIONS:
Preheat the panini grill to medium-high heat (375 degrees).
Sprinkle a layer of cheese on top of one tortilla.  Add shredded chicken evenly over the cheese.  Add more cheese on top and close the quesadilla with a second tortilla.
Carefully transfer the quesadilla to the panini grill.  Grill 3-4 minutes until cheese is melted and tortillas are crisp.  Slice into wedges and top with sour cream and salsa and garnish with cilantro.  Serve immediately and enjoy!
* Alternatively, you could use any other leftover chicken or store-bought rotisserie chicken, shred it with two forks, and season with a little chili powder to taste and/or mix in a chopped chipotle chile in adobo (careful – they're spicy!)