[tweetmeme] Suffice it to say Southwestern Chili Panini aren't likely to win any sandwich beauty pageants. But while they might not be much of a feast for the eyes, let me assure you that your mouth will be very happy you decided to make them.
With the colder temperatures and football championships upon us, it's chili-making season. I just tried a new-to-me chili recipe (posted on my other blog, Cooking On the Side) earlier this week and it was so flavorful and satisfying I knew the leftovers would make a terrific sandwich filling. I added in other favorite chili toppings – shredded cheddar cheese, sour cream and red onions – and piled it all onto a hollowed-out sourdough roll. I could have stopped here and enjoyed a great sandwich, but taking the final step of grilling it allowed the bread to crisp on the outside and remain soft and piping hot on the inside. Sloppy, delicious heaven.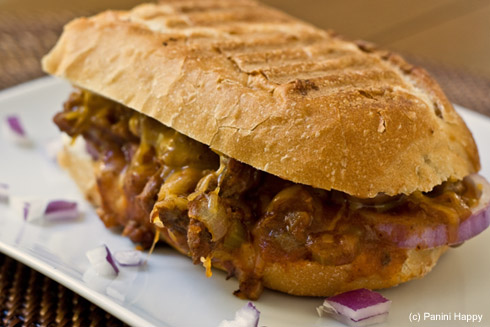 Southwestern Chili Panini
No specific ingredient quantities here – it all depends on how much chili you have on hand and how full you dare to stuff the bread. 🙂
INGREDIENTS:
Sourdough rolls, split lengthwise (don't cut all the way through, to leave a "hinge" intact)
Sour cream
Red onion, sliced thinly into rings
Chili (I've got a good recipe on Cooking On the Side)
Shredded sharp cheddar cheese
DIRECTIONS:
Preheat the panini grill to medium-high heat.
For each sandwich: Pull some of the crumbs out of the sourdough roll to make room for the fillings. Spread sour cream inside the bottom half of the roll. Top with red onions, chili and cheddar cheese. Close the sandwich and grill for 6-7 minutes until the cheese is melted and bread is toasted. Serve immediately and enjoy!