Two years and almost 80 panini ago I started this blog as a way to motivate myself to put my newly-received panini maker to good use. Beyond making panini I've also made a great number of friends among Panini Happy readers and other food bloggers. It always makes my day when I receive e-mails or tweets from you all that you've enjoyed my recipes or that the blog has inspired you to create new panini ideas of your own. Heading into my third year, I look forward to bringing you even more new recipes, (hopefully) an updated blog design and other features that will make Panini Happy an even more fun and engaging place to visit.

I had contemplated commemorating Panini Happy's 2nd birthday with a giveaway, but in light of recent events I've decided to instead make a donation to the Red Cross to help in the Haiti earthquake relief efforts and I hope you'll join me. My family has a personal connection to Haiti – my parents helped to found a nonprofit called the Center of Hope (Haiti), Inc a few years ago, which has been building an orphanage for 100 children and a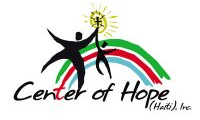 school for 200 in Hinche, Haiti. To date, they have not had any word from people in Hinche as to their well being or the status of the buildings. UPDATE from Center of Hope (Haiti) – 1/17/10: We received great news this morning from our construction manager. He is alive and well in Port Au Prince and is in the process of helping others. Our people on the ground in Hinche are all well. Our orphanage complex is intact with no known damage. The road between hinche and Port Au Prince is open, but is heavily burdened with people going in both directions. Thanks to everyone for their prayers and expressions of support.
If you pray, please pray for the millions who have been impacted by this devastating earthquake and for the relief workers. And if you have the means to make a financial donation to the Red Cross please do so on their website (click on the big red "Donate Now" button) or by texting "HAITI" to 90999 and $10 will be sent to the Red Cross, charged to your cell phone bill.