It's Super Bowl week which means it's time for my annual team-themed panini – that is, sandwiches inspired by the two cities' teams that are playing in the big game. First up: Indianapolis!

I've never been to Indy, but I'm pretty decent with the Google and it tells me that breaded pork tenderloin sandwiches are the local specialty in the home of the Colts. Pork tenderloin is pounded thin, breaded and deep fried, then placed on a bun with toppings such as onions, mustard and pickles. Believe it or not, there's actually more than one food blog dedicated to these sandwiches: Des Loines and the Pork Tenderloin Sandwich Blog (considering what I blog about, I can believe it!). After browsing these mouthwatering sites I felt confident enough to give my panini-fied version a go.
To make the breaded pork tenderloin itself I followed the detailed tutorial on the Pork Tenderloin Sandwich Blog. The secret, Davydd says, is to marinate the pork overnight in a buttermilk batter. I must concur – the resulting meat is incredibly tender and flavorful. He also suggests breading in panko, which I too like to use for an extra-crispy exterior. To turn these into panini I added in Provolone cheese  along with the more traditional toppings and grilled the sandwiches on an artisan white bread.
The folks in Indianapolis are really onto something. Between the crispy and tender breaded pork tenderloin and the bold flavors of the toppings these are some seriously tasty sandwiches.
Hungry for more breaded pork tenderloin? My fellow San Diego-based food blogging friend, Susan from Food Blogga, made a fantastic-looking traditional version earlier this football season.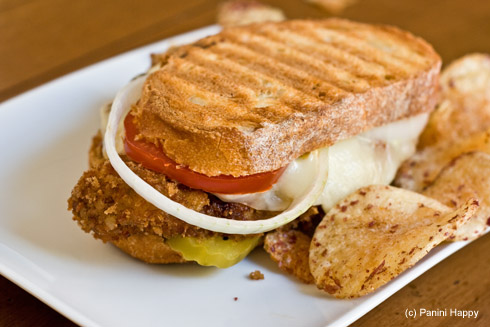 Breaded Pork Tenderloin Panini
Serves 4
INGREDIENTS:
8 slices artisan white bread
Mayonnaise
Pickles
Breaded pork tenderloin (see the recipe and tutorial at the Pork Tenderloin Sandwich Blog)
8 slices Provolone cheese
2 tomatoes, thinly sliced
1 small white onion, thinly sliced
Yellow mustard
DIRECTIONS:
Preheat the panini grill to medium high heat.
For each sandwich: Spread mayonnaise on a slice of bread. Top with pickles, breaded pork tenderloin, 2 slices of Provolone cheese, tomatoes and onions. Spread mustard on another slice of bread and place it, mustard side down, on top to close the sandwich.
Grill for 8 to 10 minutes until the cheese is melted and the bread is toasted with golden grill marks. Serve immediately and enjoy!