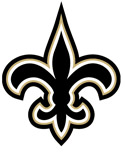 While New Orleans Saints fans are overjoyed that their team is finally headed to the Super Bowl for the first time I'm just excited that the occasion has given me the kick in the pants to finally try a muffuletta. If you don't already know, the muffuletta sandwich is a robust, flavorful New Orleans specialty, filled with Italian meats and cheeses and a zesty olive salad. It's not traditionally a grilled sandwich but based on what I tasted coming off the panini grill, wow, maybe it should be.
Flavor, flavor and more flavor – that's what this sandwich is all about. People talk about the importance of the olive salad in the muffuletta. They are so right! It's a sandwich filling and condiment in one, soaking into the bread and creating a flavor explosion with each bite. The recipe below makes a lot of it, but once you're done using it for the panini it also makes a great dip for some crusty bread.
In case you missed it…I made Breaded Pork Tenderloin Panini in honor of the Indianapolis Colts earlier this week.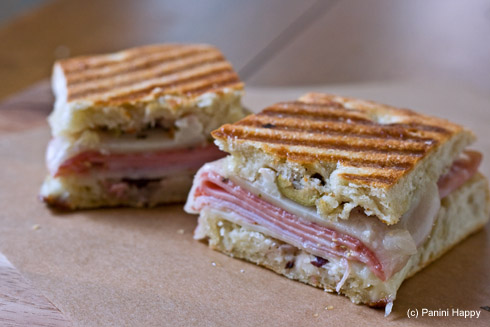 [print_this]
Muffuletta Panini
Adapted from the Real N'awlins Muffuletta recipe on AllRecipes
Serves 4
INGREDIENTS:
1 cup pimento-stuffed green olives, crushed
1/2 cup drained kalamata olives, crushed
2 cloves garlic, minced
1/4 cup roughly chopped pickled cauliflower florets
2 tablespoons drained capers
1 tablespoon chopped celery
1 tablespoon chopped carrot
1/2 cup pepperoncini, drained
1/4 cup marinated cocktail onions
1/2 teaspoon celery seed
1 teaspoon dried oregano
1 teaspoon dried basil
3/4 teaspoon ground black pepper
1/4 cup red wine vinegar
1/2 cup olive oil
1/4 cup canola oil
8 slices Italian bread (I used one similar to a focaccia)
4 slices Genoa salami
4 slices cooked ham
4 slices mortadella
4 slices mozzarella cheese
4 slices Provolone cheese
DIRECTIONS:
To Make Olive Salad: In a medium bowl, combine the green olives, kalamata olives, garlic, cauliflower, capers, celery, carrot, pepperoncini, cocktail onions, celery seed, oregano, basil, black pepper, vinegar, olive oil and canola oil. Mix together and transfer mixture into a glass jar (or other nonreactive container). If needed, pour in more oil to cover. Cover jar or container and refrigerate at least overnight.
Preheat the panini grill to medium-high heat.
For each sandwich: Hollow out some of the excess bread in two slices to make room for filling. Spread each piece of bread with equal amounts olive salad, including oil. Layer one slice with 1 slice each of Provolone, salami, ham, mortadella and mozzarella. Place the other slice of bread on top to form the sandwich.
Grill for 7-8 minutes until the cheeses are melted and the bread is toasted. Cut in half, serve immediately and enjoy!
[/print_this]