I'm back!
It's been a little while since I grilled new panini for you guys. Or, more accurately, it's been a trimester!  We're thrilled to be expecting our next little one in January. I'm happy to report I'm finally moving out of the "total exhaustion" stage on into "pretty tired." Now that the thought of food is at least moderately appealing I can finally get back to blogging.
The one thing I'm craving is fresh California peaches. Of course, I always look forward to sweet, juicy peaches every summer. In fact, I just realized that it was about this same time last year that I made my first peach panini. Instead of grilling them like last time, for my Peaches & Bacon Panini I kept the peaches fresh and paired them with some smoky bacon and stretchy fresh mozzarella. Ideally I would have grilled them on some crusty ciabatta but since I didn't find any in the bakery department that day a baguette was a worthy substitute.
I had a hunch that peaches would taste great with bacon and it turned out to be true. It's that sweet-savory thing I just can't get enough of. I actually think this combo would be great on a pizza (perhaps with a peach barbecue sauce – hmmm…I may need to try this!).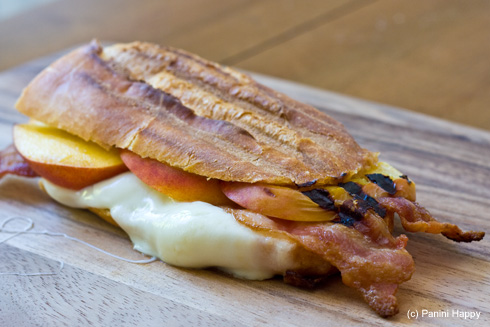 Peaches & Bacon Panini
Serves 2
INGREDIENTS:
1-2 large yellow peaches, pitted and sliced
4 slices bacon, fully cooked
Fresh mozzarella, thinly sliced (as much as you like)
French baguette, sliced crosswise into 5″ sections OR ciabatta rolls (I would not recommend sliced breads)
DIRECTIONS:
Preheat the panini grill to medium-high heat (375°F).
For each sandwich: Halve the bread lengthwise. In between the halves, layer on the cheese, two slices of bacon and as many peaches as will fit neatly inside the bread.
Grill 4-5 minutes until the cheese is melted and the bread is toasted. Serve immediately and enjoy!