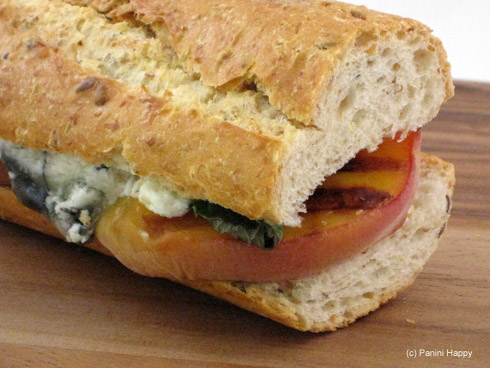 I didn't realize how much more enjoyment I stood to derive out of panini by expanding my cheese horizons!  You might remember I used a goat cheese called Humboldt Fog on those Burger Mini-Panini Sliders a few weeks back.  I'm telling you, from the first time I tasted Humboldt Fog I knew it was far and away better than the cheaper, mass-market goat cheese I'd been using for years.  Humboldt Fog was so much tangier and more flavorful – until another good one comes along, this is going to be my go-to goat from now on!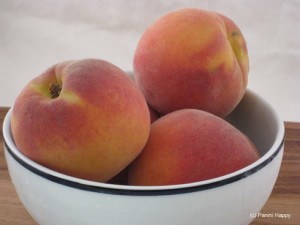 To complement the tangy Humboldt Fog in this panini recipe, I went for some sweet peaches, grilled on the panini press, and a little bit of mint on a multigrain baguette.  A wonderful sugary, caramel aroma filled the kitchen as the peaches sizzled away on the grill.  I decided to use just the center sections, mainly for aesthetics – plus the scraps were a great little snack as I was waiting for the sandwiches to finish grilling!  This sandwich definitely had more "grown-up" flavors than the ones I typically make – particularly with the mint – but it was quite tasty nonetheless.  Next time I think I might use basil rather than mint, but I'll leave that decision up to you.   Great minds think alike – I just saw yesterday that The Kitchn was also inspired to do a grilled peach and goat cheese sandwich!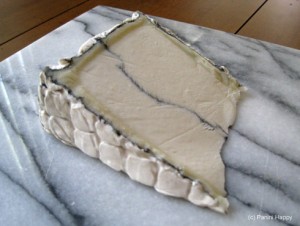 * * * * *
"Oh, really?!?" they exclaim, and their necks get a little straighter.  "Panini…like the sandwiches?  A blog about panini?  Hmmm…"
This is the reaction I got repeatedly on the elevators at BlogHer in San Francisco this past weekend when the inevitable question, "What do you blog about?" came up during the 30-second rides.  I was pretty much like, "Yup – I make 'em and I write about 'em."  Then their floor would come up and we'd part ways.  Niche as it may be, I'm glad I decided to blog about panini – there's no shortage of inspiration for sandwich ideas, plus I get to raise a few eyebrows every now and then. 🙂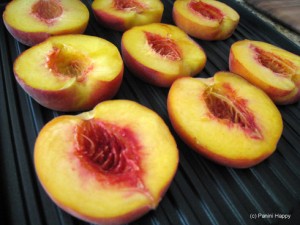 The best aspect of the conference was, without question, the opportunity to meet up with a whole bunch of fabulous food bloggers in person.  It was so great to finally meet the real folks behind so many of the blogs I already followed – like Kalyn from Kalyn's Kitchen, Elise from Simply Recipes, Sean from Hedonia, Andrea from Andrea's Recipes, Amy from Cooking with Amy and Claire from Cookthink.  I also had the chance to get introduced to a host of "new" (to me!) food bloggers – like Shuna from Eggbeater, Lydia from The Perfect Pantry, Biggie from Lunch in a Box, Susan from Food Blogga, Janice from Meal Makeover Moms, Genie from The Inadvertent Gardener and Sara from Ms. Adventures in Italy.
Now that I'm back home, it's time to start firing up the grill again and get working on some summery new panini recipes.  Stay tuned…I'm feeling inspired!!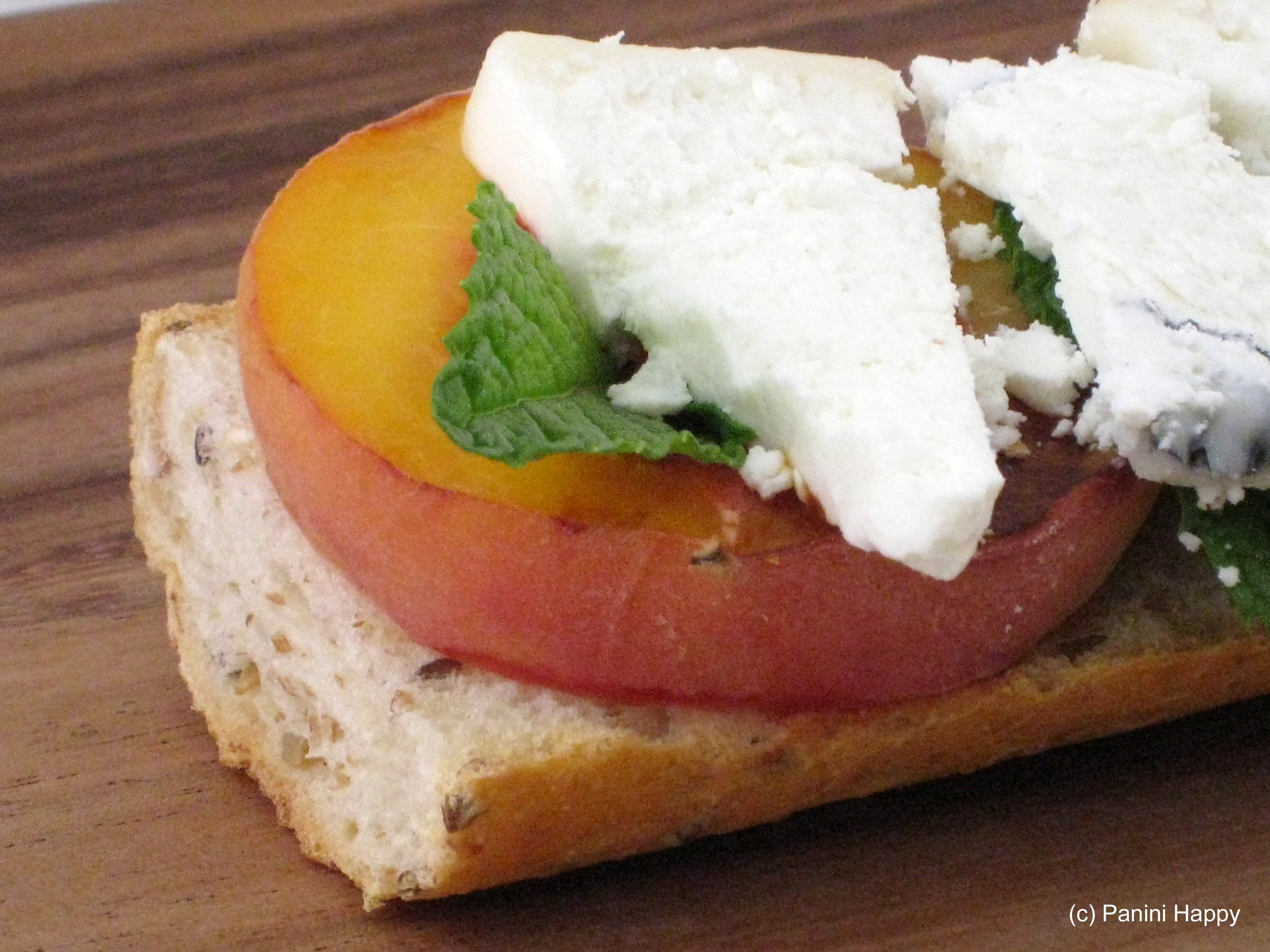 [print_link]
Grilled Peaches & Humboldt Fog Panini
Serves 4
INGREDIENTS:
4 large yellow peaches, pitted and sliced into 1/2″ slices
4 oz. goat cheese (I recommend Humboldt Fog!)
Mint or basil (optional)
Multigrain baguette, sliced crosswise into 5″ sections
DIRECTIONS:
Preheat the panini grill to medium-high heat (375 degrees).
Place the peach slices onto the grill (depending on the size of your grill, you may need to do this in batches) and grill for about 2 minutes until the peaches are caramelized.  Remove peaches from the grill.
Turn off the grill, allow it to cool down and carefully clean off the grates.  Once clean, reheat the grill to medium-high heat (375 degrees).
For each sandwich: Slice the baguette lengthwise to create top and bottom halves.  Layer 1/4 of the peaches (you might want to only use the larger, center-cut slices), a few of the mint or basil leaves to taste and 1/4 of the goat cheese in between the baguette halves.  Grill the sandwich for 4-5 minutes until the cheese melts.  Serve immediately and enjoy!