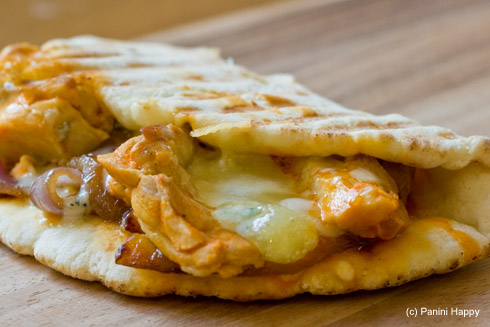 Here's a way to serve Buffalo chicken for the big game, panini-style! Simmered in wing sauce, the chicken has all the spicy and tangy flavors you love nestled with creamy melted blue cheese and sweet caramelized onions. All of this great taste is folded up inside a pita bread, grilled nice and toasty.
[print_this]
Buffalo Chicken Panini
4 servings
INGREDIENTS:
1-1/2 lbs. boneless, skinless chicken thighs, sliced into 1/2″ strips
12-oz. bottle of Buffalo wing sauce (i.e., Frank's Red Hot Buffalo Wing Sauce)
1 tablespoon butter
1 large red onion, sliced into thin rings
2 teaspoons granulated sugar
4-6″ pita breads
1/2 cup blue cheese, crumbled
DIRECTIONS:
Add chicken and Buffalo wing sauce to a large saucepan over medium-high heat. Bring to a boil, then lower heat, cover and simmer for 15 minutes or until chicken is cooked through well.
While the chicken is simmering, heat butter in a large saute pan over medium heat. Saute onions for 13 minutes until soft. Stir in sugar and saute for another 10 minutes or until onions are caramelized. Set aside.
Heat the panini grill to 350°F. (No panini grill? See "Oven Directions" below.)
Assemble and grill each sandwich one at a time to ensure the pita breads do not break. Microwave a pita on high for 15 seconds (it should be malleable enough to fold without breaking; if not, microwave for a few more seconds). Lay the pita flat on a clean work surface. Place 1/4 of the caramelized onions on half of the pita. Add chicken on top of the onions with a slotted spoon, draining most of the sauce through the spoon. Top the chicken with about 2 tablespoons of the blue cheese.
Carefully fold the pita over the filling and transfer it to the panini press. Grill for 5 minutes until cheese is melted and pita is toasted. Serve hot.
Oven directions: Preheat your oven or toaster oven to 350°F. Fill and fold panini according to directions above. Place folded panini onto a baking sheet and bake for 7-8 minutes until the cheese is melted the pita is toasted.
[/print_this]