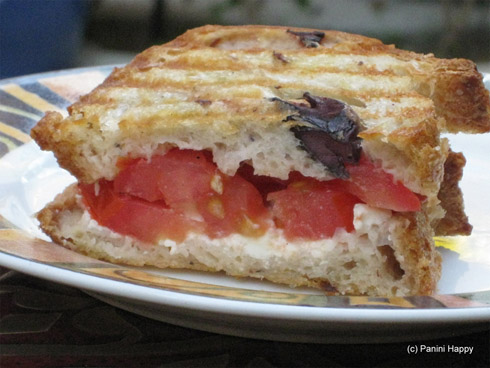 It's time for another panini idea from the On Your Grill vault! As you may recall, I launched the On Your Grill series last month to showcase reader-submitted panini (click here to submit one!). Today's idea comes from my friend Eleni from Beverly Hills, California by way of Greece! She writes:
Here's a Greek panini you can try…Two slices of olive bread, feta cheese (make sure it's Greek!), a couple slices of tomato, oregano and a drizzle of extra virgin olive oil. Let me know what you think!
Sounded great to me! A little like the caprese panini I made a few weeks ago, but with somewhat tangy-er flavors. Eleni and I met in business school almost 8 years ago and trust me when I say she has impeccable taste, not to mention she's incredibly creative (she even made her own unique wedding invitations by hand!). So it was without trepidation that I picked up the necessary ingredients last weekend and gave Eleni's Greek panini a try.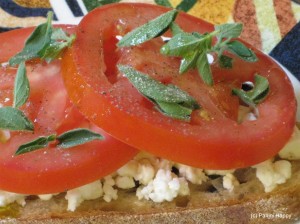 I had two questions in my mind as I began to prepare this sandwich: 1) how was I going to corral the feta (as advised, I double-checked to be sure it was Greek!) to stay on the bread and 2) how much oregano was Eleni talking about? As for the feta, it's been my experience that it can sometimes be a little challenging to deal with crumbly cheeses. I successfully manipulated crumbled blue cheese in my Buffalo chicken panini, but that was helped in part by using a folded pita for bread – it was easier to keep it all inside. With the olive bread, the sides would be wide open for all my crumbled feta to come tumbling out. I looked for feta in block form, but to no avail. So my compromise was to go ahead and use the crumbled feta but I placed it on the bottom of the sandwich rather than on the top, as I usually do. I'm happy to report that the little white crumblies did, in fact, stay put!
As for the oregano – well, to be honest, I'd never worked with fresh oregano before. At least not outside of something like a sauce. So I wasn't sure whether the flavor would be really strong, like sage, or something milder I could appetizingly incorporate rather liberally, like basil or mint. I decided to "go big" and sprinkled about 15-20 little oregano leaves on top of my tomatoes.
One final consideration was – once again – the soggy bread issue, since I was dealing with tomatoes as the main ingredient. Of course, as always, I removed the seeds – that's straight out of Panini 101. But I felt like I still needed a little extra buffer between the tomatoes and the bread. I decided to brush on a little extra-virgin olive oil on the inside of the top slice of olive bread. And it worked. The olive oil formed a nice little (and flavorful!) barrier, keeping the tomato juices from seeping into the olive bread.
Great idea, Eleni – this was delicious! All of the flavors really worked well together: the sweet, juicy (although not too juicy!) tomatoes, the tangy feta and the zesty fresh oregano. It was also an excellent suggestion to use olive bread – a great way to incorporate even more bold flavor, yet one that still complemented the rest of the sandwich. Once grilled, the feta didn't really melt per se, but its softer texture was a comforting contrast to the crispy artisan bread. This sandwich would pair really well with a tomato-based soup, like a minestrone or a nice tomato bisque.
Tomato, Feta & Oregano Panini
1 sandwich
INGREDIENTS:
2 slices olive bread
Olive oil
Greek feta cheese
2 slices tomato, seeds removed
Fresh oregano leaves
Salt and pepper
DIRECTIONS:
Preheat panini grill to medium-high heat (375 degrees).
Brush a little olive oil onto the outer side of the bottom bread slice and on both sides of the top slice. On the inside of the bottom slice, add enough feta to cover the bread. Add tomatoes. Drizzle tomatoes with olive oil and season with salt and pepper. Add oregano leaves to taste. Top with top bread slice.
Grill for 3-4 minutes until feta softens and golden grill marks appear. Serve immediately and enjoy!