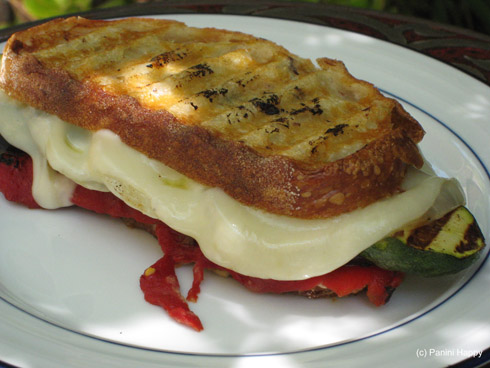 Where have grilled vegetables been all my life? It's my absolute favorite way to eat them (roasted is a close second) – they're quick and have far better texture and flavor than the boiled "mixed vegetable medley" of my youth. I'm definitely a meat-eater and often have to consciously encourage myself to eat veggies every day. Now that I've discovered they only take 2-3 minutes on the panini grill – gotta love that double heat source – I'm out of excuses!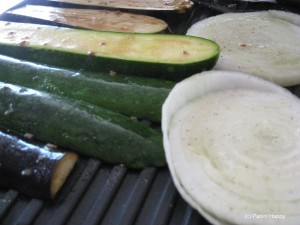 To make my Grilled Vegetable Panini, I chose some of my favorites: zucchini, eggplant, onions and sundried tomatoes. Since zucchini and eggplant soak up marinades so well, I decided to let them bathe in a balsamic vinaigrette for about an hour ahead of time. I was a little bummed to discover that I actually didn't have any sundried tomatoes in my fridge as I'd thought (what happens when I go on memory rather than just opening the fridge and checking!), but fortunately I did have some roasted red peppers on hand. So I still got that bright red color and sweet flavor in the sandwich.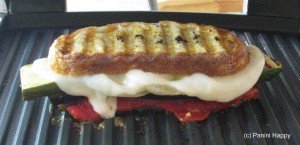 The vegetables on their own would make an excellent side dish, but I wanted to include a few more supporting characters as I turned them into panini. Since balsamic-marinated vegetables, to me, evoke a Mediterranean feel I went for some nice, garlicky hummus to complement the flavors. On that same theme, I chose an Italian cheese – provolone – and some fresh artisan olive bread to round out the sandwich.
This carnivore will be eating her veggies a lot more often! This sandwich had lots of zesty flavors, from the marinated vegetables to the kalamatas in the olive bread. The only slight issue I ran into was a little excess moisture from the roasted red peppers. I initially layered them near the bottom of the sandwich, which resulted in a lot of soggy bread. But the second time around, I moved the peppers to the middle of the sandwich and it made a world of difference. If I was feeling like being a little healthier, I could have used a little less provolone, but I generally like my panini to be really cheesy. Feta might also work well too!
Grilled Vegetable Panini
2 servings
INGREDIENTS:
Balsamic vinaigrette
1 Japanese eggplant, sliced lengthwise into 1/4″ strips
1 zucchini, sliced lengthwise into 1/4″ strips
1 yellow onion, sliced into 1/4″ rings
Extra-virgin olive oil
4 slices olive bread
Hummus
2 roasted red peppers
4 slices provolone cheese
Salt and pepper
DIRECTIONS:
Place eggplant and zucchini in a plastic bag with enough balsamic vinaigrette to coat the vegetables. Seal and marinate in the refrigerator for 1 hour.
Preheat panini grill to medium-high heat (375 degrees). Brush olive oil on both sides of onions, season with salt and pepper and place on the grill. Remove eggplant and zucchini from marinade (discard remaining marinade) and place onto the grill as well. Close the lid and grill vegetables for 3-4 minutes until cooked through.
Brush olive oil onto the outer sides of each slice of olive bread. On the bottom bread slices (oil side down), spread a layer of hummus. Top with slices of zucchini, eggplant, red pepper, onion, cheese and top bread slice (oil side up).
Grill 3-4 minutes until cheese is melted and golden grill marks appear. Serve immediately and enjoy!