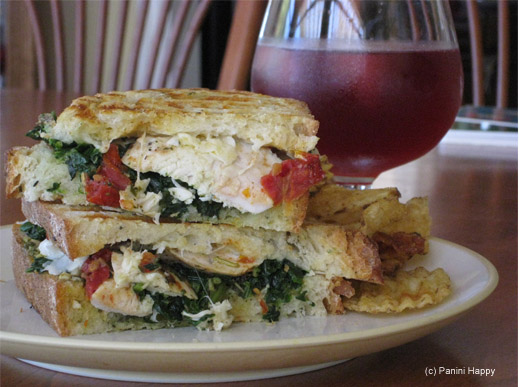 I've gone mobile! It was my good friend Karen's birthday and another good friend, Gillian, and I decided to prepare lunch for her to celebrate. So I packed up my Breville, a bunch of tupperware full of fixins and my 6 month old and transported Panini Happy up to the OC.
As supermom to four active-yet-endearing kiddies ages 5, 3, 2 and 4 months (she writes a most humorous blog, recounting the darndest things that happen around their house!), Karen deserved some "grown up" flavors for a change. My solution: Florentine-style chicken panini with lemon-herb grilled chicken, spinach, sun-dried tomatoes and Parmesan cheese on rosemary and olive oil bread. Robust and zesty, it was sure to be a welcome departure from chicken fingers and tater tots. Admittedly, the sandwiches looked a touch more rustic than some of my past panini, but hey, what's a little imperfection among friends?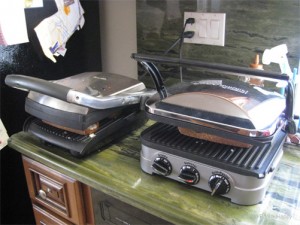 To digress for a moment, I don't often think of the singer Beck, but I just couldn't get "…two turntables and a microphoooone…" out of my head as I set up my Breville and Gillian's Cuisinart Griddler side-by-side over at Karen's. "Two panini presses and a spatulaaaaa…"
Usually when I make panini, I think them through to a certain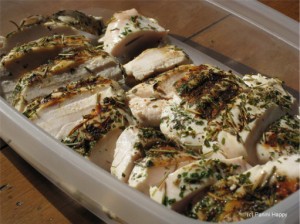 extent but I leave a lot of the details up to experimentation once I'm at the grill. But when you're traveling and need to tote all your ingredients and you know you're going to need to cook as fast as possible because your baby daughter is going through a stranger anxiety stage and isn't going to want you to leave her side, well…you gotta think things through pretty well. And I finished a lot of the prep just before leaving the house – grilled the chicken breasts, cooked the spinach, sliced the bread. My good ol' Breville grilled the chicken breasts to perfection in under 7 minutes – can I say enough about how much I love this wonder machine?!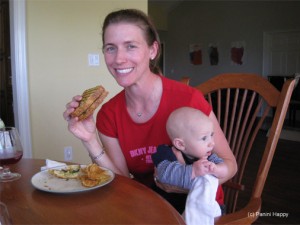 The verdict from the birthday girl? "YUMMY!" she exclaimed. This was definitely a flavor-packed sandwich, from the lemon-herb kick on the chicken to the zesty pesto and sun-dried tomatoes. Karen, Gillian and I, each with our respective infants on our laps, enjoyed our panini with a side of lightly salted kettle chips (addictive!) and some nice sparkling pomegranate juice. Good food, good friends – what more can you ask for?
Lemon-Herb Chicken & Spinach Panini Recipe
Serves 3
INGREDIENTS:
1/2 lb. boneless, skinless chicken breasts
8 oz. frozen chopped spinach, prepared according to package directions and drained thoroughly
1/4 teaspoon salt
1/8 teaspoon black pepper
1/4 teaspoon dried thyme
1/2 teaspoon dried parsley
1/2 teaspoon dried rosemary
1 lemon
Olive oil (for brushing)
6 slices rosemary & olive oil bread – or – ciabatta
Pesto spread
Sundried tomatoes in olive oil, drained and julienned
Parmesan cheese, shaved or shredded
DIRECTIONS:
Preheat panini grill to medium-high heat (375 degrees).
In a small bowl, combine salt, pepper, thyme, parsley and rosemary. Press herb rub into both sides of chicken breasts. Squeeze juice from lemon over the chicken breasts. Grill chicken on the panini grill for 6-7 minutes until cooked through. Remove chicken from grill, unplug grill and clean grill thoroughly. Reheat grill to medium-high heat (375 degrees).
Repeat for each sandwich: Brush a little olive oil onto the outer sides of 2 slices of bread. On one slice (oil side down), spread a thin layer of pesto. Top with enough spinach to cover the bread (ensure as much moisture as possible has been drained from the spinach). Slice chicken breasts into strips and lay 4-5 strips on top of the spinach. Scatter sundried tomatoes and sprinkle a generous amount of parmesan on top of the chicken. Close sandwich with the other slice of bread (oil side up).
Grill 5-6 minutes until parmesan is melted and golden grill marks appear. Serve immediately and enjoy!