If any of you remember The Jetsons Meet the Flintstones from the '80s the idea of bringing my two blogging worlds together for this post will be familiar to you. Here's how it all transpired.
I was enticed by my sister's suggestion to add walnuts to the Brie & Dried Apricot Panini I was conjuring up. Then I remembered that I'd just seen a recipe for walnut bread on the back of a bag of King Arthur flour. It was too perfect! I'd bake the bread for my new blog that features on-the-package recipes, Cooking On the Side, and turn it into panini on Panini Happy. Unexpected, yet fortunate blog synergy in action.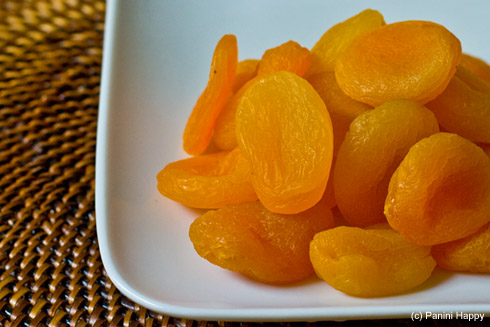 You don't often see dried fruit in sandwiches, but dried fruit, with its intense flavor, goes so well with cheese. Take, for instance, baked Brie: the cheese becomes irresistible all melted inside puff pastry and engulfed in dried fruit and nuts. This panini recipe was an attempt to capture the essence of baked Brie in sandwich form. It was a hit with my husband and visiting in-laws this weekend.
The White Whole Wheat Walnut Bread was a wonderfully nutty complement to the Brie and dried apricots. Since Brie is rich and the bread is relatively dense it worked best as a smaller sandwich. I cut the slices a little thinner than usual and halved the apricots lengthwise to balance everything out so none of the flavors overpowered any of the others in each bite.  I served the panini with a simple herb salad with red wine vinaigrette, but some folks might even enjoy it as dessert.
I don't really remember if the Jetsons and Flintstones adapted well to each other's worlds in that TV movie but Panini Happy and Cooking On the Side are proving to get along just fine!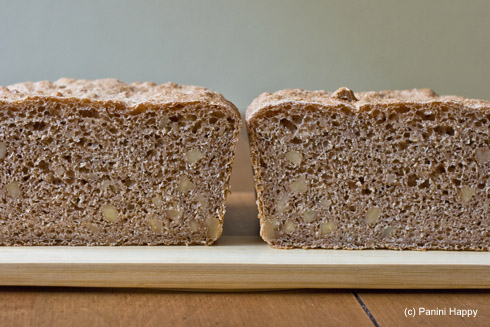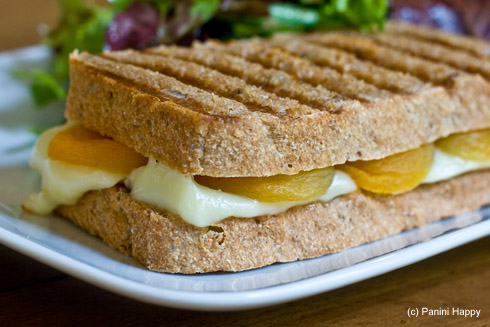 Brie & Dried Apricot Panini on Walnut Bread
Serves 4
INGREDIENTS:
8 slices White Whole Wheat Walnut Bread, thinly sliced, about 3/8″ thick (you can also often find nut breads in grocery store bakery departments)
1 tablespoon unsalted butter, melted
4 ounces Brie, thinly sliced (remove rind if desired)
12 dried apricots, halved lengthwise
DIRECTIONS:
Preheat the panini grill to medium-high heat.
For each sandwich: Brush a thin layer of melted butter onto the outer sides of two slices of bread. Inside one slice place a single layer each of Brie and dried apricot halves. Close the sandwich with the other slice of bread, buttered side up.
Grill for 2 to 3 minutes until the cheese is melted and dark grill marks appear. Serve immediately and enjoy!