I was so glad to see that so many of us are intrigued by the idea of cheesemaking! There really is nothing like making things on your own from scratch. Before I announce the winner of the 30 Minute Mozzarella & Ricotta Cheesemaking Kit, I wanted to introduce you to a new website that's dedicated to preserving this and other "old-school domestic arts".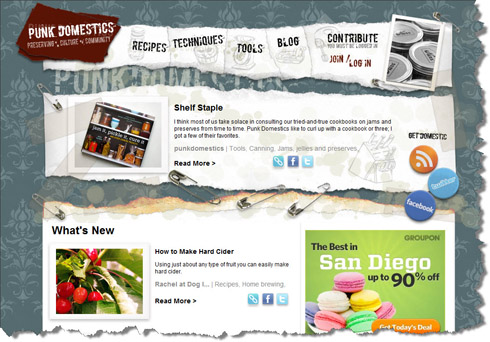 Punk Domestics, according to the site's founder, my friend Sean Timberlake (of Hedonia), is "designed to be equal parts content aggregation and community for the growing segment of people (like me) who are obsessed with, er, interested in the old-school domestic arts, like canning, pickling and so forth." I'm definitely among this segment too and I think this concept is fabulous. Now that I'm learning how to make my own cheese, it's going to be great to have a resource and community of others who enjoy the same. Plus, maybe I'll once and for all conquer my fear of canning!
You can submit teasers and links back to content on your own blog (if you have one) or just browse the site and interact with other "punk domestics". If you like DIY cooking projects, definitely check it out.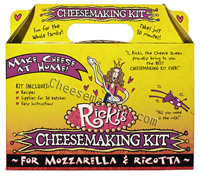 And now for the winner of last week's cheesemaking kit giveaway…
Random.org has selected entrant #41: Victoria
Here's Victoria's favorite dish using fresh mozzarella:
"It's tough to pick just one favorite dish using mozzarella cheese, but perhaps I'll go with a yummy New York style Margherita pizza! Like the one at Lombardi's with San Marzano tomatoes and fresh basil fired in their coal oven. Oy!"
Congratulations, Victoria! Happy cheesemaking!