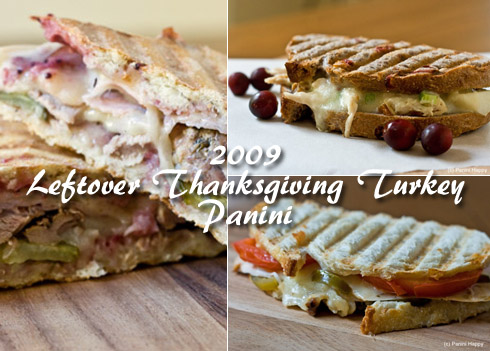 As promised, I've got three more leftover Thanksgiving turkey panini ideas for you! I say "three more" because they are in addition to the three I brought you last year:
It was a bit of a challenge to come up with new ideas, but I think you're going to like these. The first recipe I'll share this year is for Turkey-Apple Salad Melt Panini.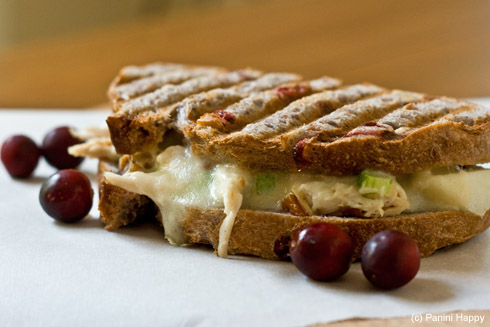 I end up making turkey salad pretty much every day-after-Thanksgiving but this year I thought I'd dress things up a little by grilling it with some Swiss cheese on that festive cranberry walnut bread I always see in the bakery section at this time of year (not the cakey kind, but the yeast bread). I loved having the tartness of the cranberries and the nuts in the bread to support the sweet and savory sandwich fillings. If you can't find such a loaf near you, this would be just as good on multigrain bread with some dried cranberries mixed into the salad. It's simple to make and you definitely get the flavors of autumn in there!
Stay tuned for the next Leftover Turkey Panini: Turkey Cubans!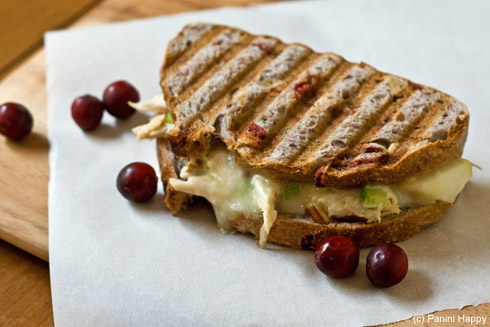 Turkey-Apple Salad Melt Panini
Serves 4

INGREDIENTS:
2 cups roasted turkey, shredded or chopped
2 tablespoons celery, minced
1/2 Granny Smith apple, cored and diced
2 tablespoons chopped pecans
2 tablespoons mayonnaise
Salt and pepper
8 slices cranberry walnut yeast bread (can often find this during the holidays in grocery stores' specialty bread section)
4 slices Swiss cheese
DIRECTIONS:
Combine turkey, celery, apples, pecans and mayonnaise in a medium bowl. Season with salt and pepper to taste.
Preheat the panini grill to medium-high heat.

For each sandwich: Spread 1/4 of the turkey-apple salad onto one slice of cranberry walnut bread. Add a slice of cheese on top and close the sandwich with a second slice of bread.
Grill 3 to 4 minutes until the cheese is melted and the bread is toasted. Serve immediately and enjoy!