I hope you had a wonderful Thanksgiving!
My second of three panini ideas to use up that leftover turkey – Turkey Cuban Panini –  was actually inspired by Bobby Flay, my off-and-on chef crush. I had the chance to meet him about seven years ago on a visit to Mesa Grill in New York City. When he came out onto the floor in his chef whites with his name embroidered on the chest I was definitely reduced to giggling schoolgirl status. I remember he asked me where I liked to eat in Los Angeles (I was living there at the time) and I quickly debated in my head whether to try and impress him with a fine dining-type place or just go with a neighborhood favorite. I went with the latter, The Gardens of Taxco in West Hollywood. If he ever did go, I'm sure he got a kick of out of "the best moleeeeeee in towwwwwnnn…" (folks who've been there know what I'm referring to :-)).
These days I imagine it's a bit harder to run into Bobby at Mesa Grill, with five more restaurants now open, the TV shows, cookbooks, product lines…and a recent partnership with Best Foods (east of the Rockies you know it as Hellmann's). His Turkey Cuban sandwich recipe was actually one he created for Best Foods – I first saw it in a magazine ad, but you can also find it here. In addition to leftover turkey he also parlayed leftover cranberry sauce into a cranberry-Dijon mayonnaise condiment, which I thought was creative. I usually find the roast pork to be one of the best parts of a traditional Cuban sandwich, but I have to say that turkey does make a good substitute. And between the cranberry-Dijon mayo, ham and pickles the sandwiches are definitely not lacking in flavor.
Since Bobby's recipe was for a mayonnaise company, you can believe mayo featured rather prominently in it – even spread on the outside of the sandwich! In my version, I opted to leave that step out and still enjoyed the panini immensely.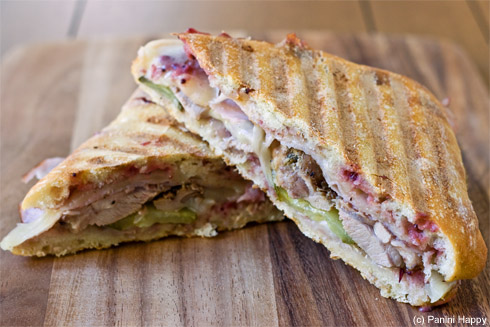 [print_this]
Turkey Cuban Panini
Adapted from the Turkey Cuban Sandwich recipe on BestFoods.com
Serves 2
INGREDIENTS:
2 tablespoons mayonnaise
2 tablespoons Dijon mustard
2 tablespoons leftover cranberry sauce
Salt and freshly ground black pepper
4 slices good quality Italian bread (I used ciabatta rolls)
4 slices Swiss cheese
2 slices cooked ham
6 slices leftover cooked turkey
8 dill pickle slices
DIRECTIONS:
Preheat the panini grill to medium-high heat.
In a small bowl, whisk together mayonnaise, Dijon mustard and cranberry sauce. Season with salt and pepper.
For each sandwich: Spread cranberry-Dijon mayonnaise inside two slices of bread (or each half of a sliced roll). To one bread slice add cheese, ham, turkey, pickles and a second slice of cheese. Close the sandwich with the other slice of bread.
Grill for 6 or 7 minutes until the cheese is melted and the bread is toasted. Cut in half, serve immediately and enjoy!
[/print_this]