For today's third and final installment of my Leftover Thanksgiving Turkey Sandwiches series, I bring to you Pulled Turkey Cranberry BBQ Sliders – shredded turkey with a homemade cranberry barbecue sauce (made from leftover Thanksgiving cranberry sauce!) and piled onto fluffy Hawaiian dinner rolls.
The idea for cranberry barbecue sauce was inspired by fellow food bloggers Peef and Lo of BURP! Where Food Happens and the bluberry barbecue sauce they created this past summer.  I thought this was such a fabulous idea, so I adapted their recipe to accommodate the sweet-tartness of prepared whole berry cranberry sauce.  The sweet heat from the sauce is positively addictive.  Almost made me want to grill some turkey legs so I could baste some sauce onto 'em.  Next time for sure!
In case you missed them, be sure to check out the first two installments in my Leftover Thanksgiving Turkey Sandwiches series: Turkey, Cranberry & Havarti Panini and Prosciutto-Wrapped Turkey, Avocado & Swiss Panini.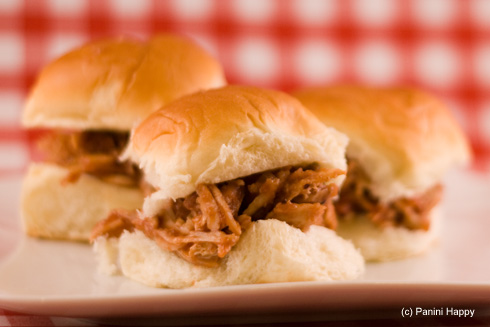 Pulled Turkey Cranberry BBQ Sliders
(Cranberry BBQ Sauce adapted from BURP! Where Food Happens)
INGREDIENTS:
1 tablespoon canola oil
1/2 cup yellow onion, finely chopped
1 tablespoon, jalapeño pepper, finely chopped, seeds removed
1 clove garlic, minced
1-1/2 cup whole berry cranberry sauce
1/2 cup ketchup
1 tablespoon prepared mustard
Roast turkey, shredded
Hawaiian dinner rolls, halved lengthwise
DIRECTIONS:
Heat the oil in a medium saucepan. Add onions and jalapeño and cook over medium heat until the onions have softened. Add garlic and continue to cook for approximately one minute. Add cranberry sauce, ketchup and mustard and simmer for about 15 minutes, stirring often to prevent burning. Remove from heat.
Toss the turkey with enough sauce to coat. Pile the turkey onto the dinner rolls to form little sandwich sliders. Serve immediately and enjoy!