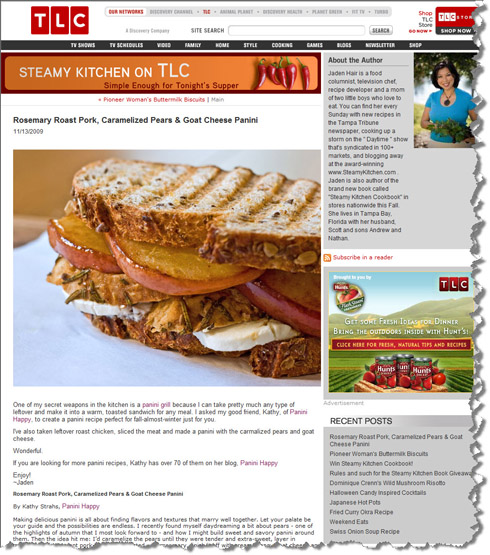 Li'l ol' Panini Happy made it onto TLC.com!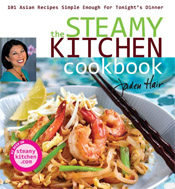 As you may know, Jaden Hair from Steamy Kitchen recently launched a new blog on the TLC website – Steamy Kitchen on TLC. Between this and the launch of her fabulous new cookbook last month, The Steamy Kitchen Cookbook
, she's quite the busy lady these days!  Jaden's new blog provides the voice of simple, delicious cooking on TLC. So when she approached me about creating a panini recipe for her readers I, of course, was more than happy to oblige.
So, what did I make? Something sweet and savory and a little bit indulgent – Rosemary Roast Pork, Caramelized Pears & Goat Cheese Panini. Here's what I said about them:
"I recently found myself daydreaming a bit about pears – one of the highlights of autumn that I most look forward to – and how I might build sweet and savory panini around them. Then the idea hit me: I'd caramelize the pears until they were tender and extra-sweet, layer in medallions of succulent pork tenderloin roasted with rosemary, finish it off with creamy-tangy goat cheese and grill it all on nutty multigrain country bread.  Trust me when I tell you the taste reality was better than any daydream."
Ready to dig in? You can find the recipe here on Steamy Kitchen on TLC.
Next week: You know I'll have some leftover Thanksgiving turkey panini ideas for you!