Merry Christmas to all! This is always one of my favorite posts  — the one where I get to reflect back on My Best Panini Press Recipes of the Year. Whether you've been keeping up with me for years or you're just finding me for the first time today I hope you'll enjoy this little throwback to some of my tastiest grilled bites of 2013.
HEY, NEW READERS! Get the most out of your new panini press — get on my Panini Happy Email List and you won't miss any of my new panini press recipes, tips, giveaways. My new cookbook, The Ultimate Panini Press Cookbook, is also a fabulous companion for your new press! Publishers Weekly says, "Fans of grilled sandwiches might have just found their new Bible."  Get it on Amazon or your local Barnes & Noble.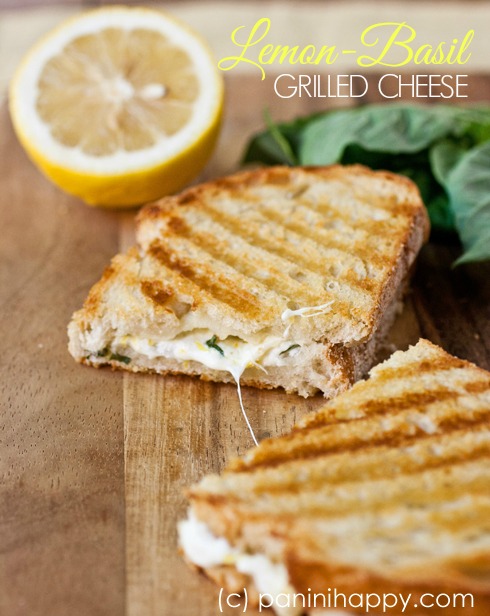 1. Lemon-Basil Grilled Cheese Panini ~ (12/2/13)
Lemon zest and fresh basil make these about the most fresh-tasting grilled cheese sandwiches you're going to find.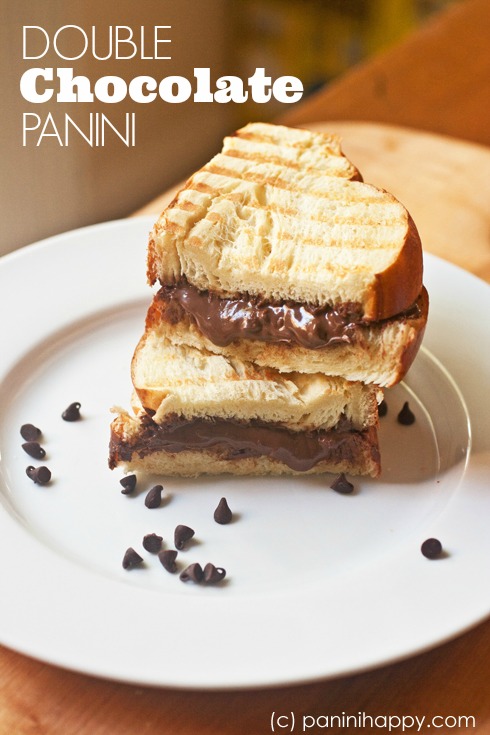 2. Double Chocolate Panini ~ (12/10/13)
Nutella and mini chocolate chips on grilled challah isn't quite an everyday sandwich in our house. But as a special sweet treat every once in a blue moon? Yeah, I'll go there.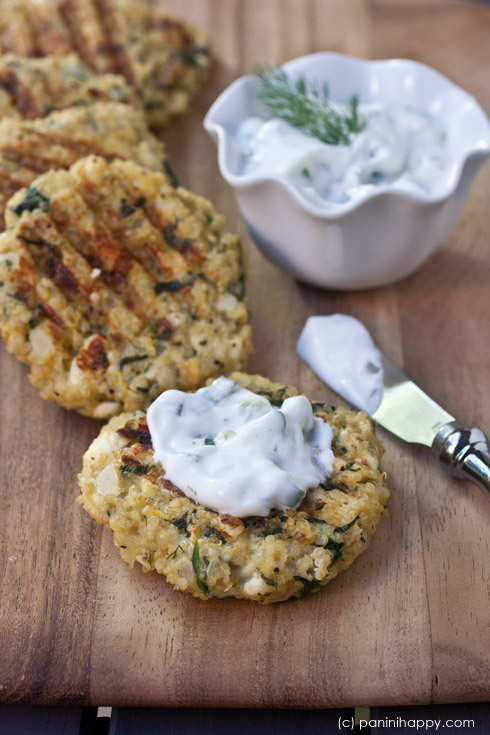 3. Spinach-Feta Quinoa Cakes with Lemon-Dill Yogurt Sauce ~ (2/5/13)
This is one of many healthy dinners I'm able to pull together in about 35 minutes with the help of my panini press. These savory grilled quinoa cakes take on the zesty flavors of a classic Greek spanakopita. Add a few dollops of cool lemon-dill yogurt sauce and you've got a tasty light meal.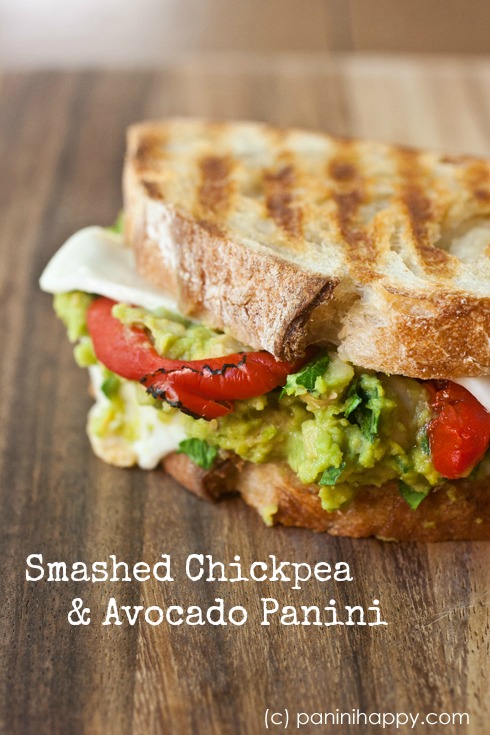 4. Smashed Chickpea and Avocado Panini ~ (8/26/13)
I spread basil pesto on Italian bread, layered smashed chickpea salad in with roasted red bell peppers and some sharp, nutty Asiago cheese and grilled it. Talk about some crave-worthy vegetarian panini!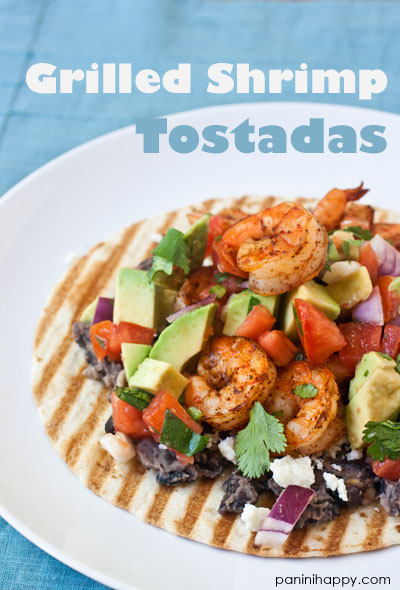 5. Grilled Shrimp Tostadas with Mashed Black Beans and Avocado Salsa Fresca ~ (1/3/13)
You can grill half a pound of shrimp on the panini press in about 90 seconds. That is reason alone to have panini-grilled shrimp in your regular weeknight dinner rotation, don't you think?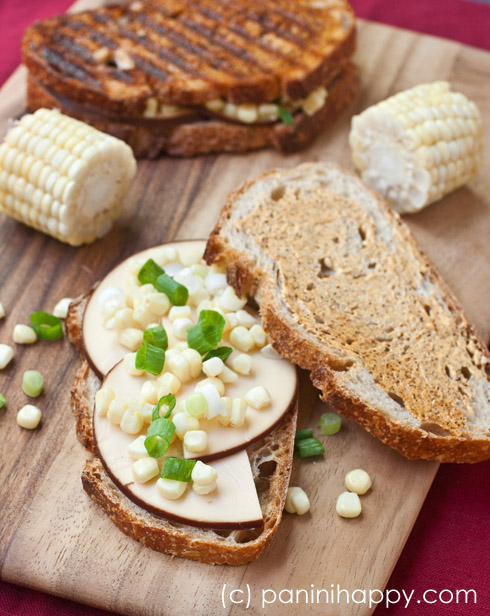 6. Sweet Corn Grilled Cheese with Smoked Gouda, Scallions and Chile Butter ~ (4/3/13)
Raise your hand if you've ever put corn in a grilled cheese sandwich…anyone? Yeah, I hadn't either until this past summer. Now, I'm in love with it. Think hot, sweet, and smoky corn chowder in sandwich form, surrounded by chile-buttered and grilled sourdough.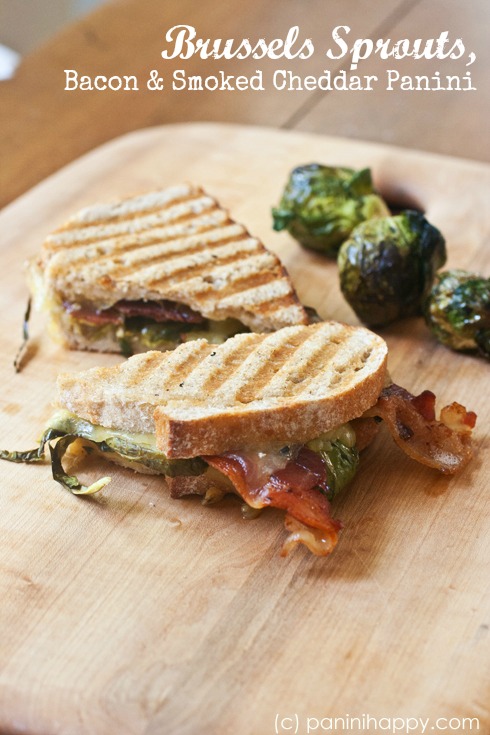 7. Brussels Sprouts, Bacon and Smoked Cheddar Panini ~ (11/13/13)
Brussels sprouts and smoky flavor go so well together, I knew these would be amazing. The next time you roast sprouts, make extra so you'll have leftovers to make these sandwiches!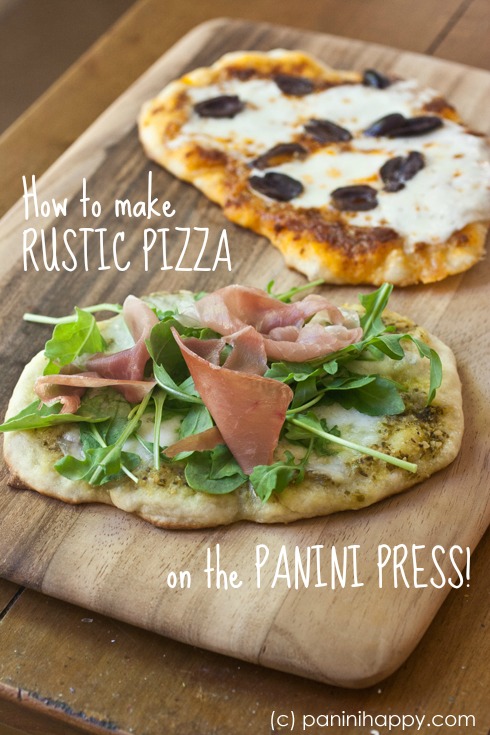 8. How to Make Pizza on the Panini Press ~ (4/13/13)
College students, this one is for you! And for anyone else who finds themselves improvising a bit when it comes to cooking without a traditional kitchen (e.g., the office). In 6 to 8 minutes, you'll have a hot, bubbling, homemade pizza – ready to slice! And – if you're in a dorm or office – probably a crowd of lookie-loos, eager for a taste.