It starts around 4:45 PM in my house. First it's, "Can I have crackers?" About ten minutes later, "I need yellow cheese." And then soon after, a breaking point is reached.
"WHEN ARE WE HAVING DINNER?!!"

Spinach-Feta Quinoa Cakes with Lemon-Dill Yogurt Sauce is one of many healthy dinners I'm able to pull together in about 35 minutes with the help of my panini press. These savory grilled quinoa cakes take on the zesty flavors of a classic Greek spanakopita. Quinoa, as you may know, is a high protein "superfood," so these cakes are just as good for you as they are delicious. They crisp up well on the grill, so there's no need to sauté them in oil. Add a few dollops of cool lemon-dill yogurt sauce and you've got a tasty light meal.
My panini press is my secret to getting quick meals on the table several  times a week. It's stationed right on my kitchen counter most days, ready to quickly grill meats, seafood and vegetables. As we know, the panini press – or any tabletop grill – heats food from both the top and bottom at the same time, so it usually takes less time to cook than other methods. Also, many presses (including the ones that I use) come with a drip tray, so when I grill the excess fat drains away.
I've got the recipe for Spinach-Feta Quinoa Cakes for you at the end of this post. Here are five more delicious dinner options you can prepare quickly on a panini press (besides, of course, panini):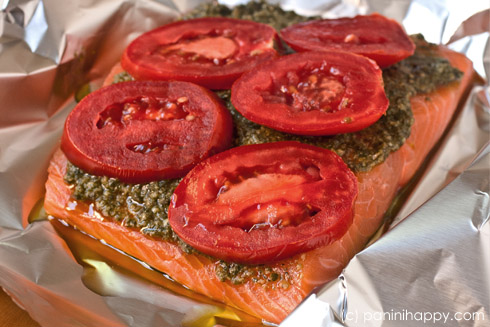 Not only is Foil-Grilled Salmon with Pesto and Tomatoes a quick meal – the salmon grills in just 10 minutes – but since you grill it in a foil packet there's also virtually nothing to clean up. Definitely one of my favorites!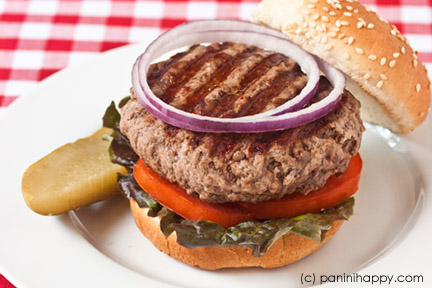 In the wintertime, when it's too cold to barbecue, use your panini press to grill juicy Hamburgers. The excess fat drains away and you don't even need to flip them. Win-win!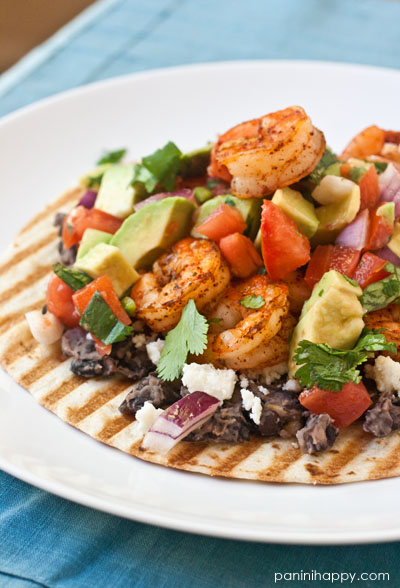 Shrimp is one of my best weeknight dinner secrets, whether or not I'm cooking with a panini press. You can grill half a pound of shrimp on the panini press in about 90 seconds! Hence, I always keep a bag of them in the freezer – ready to make Grilled Shrimp Tostadas with Avocado Salsa Fresca at any time.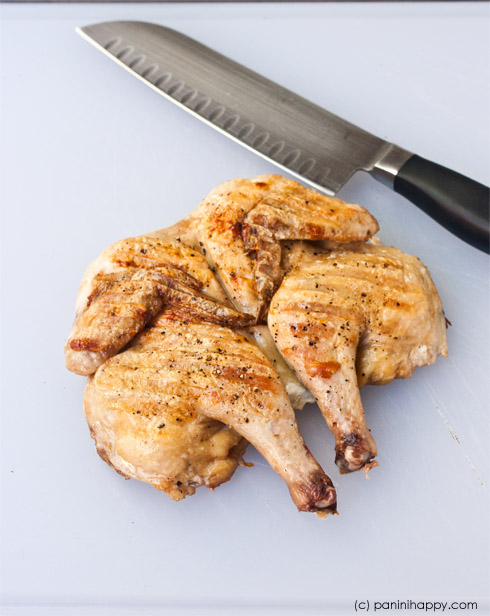 You can even grill a whole chicken on the panini press, if the chicken is a Cornish game hen and you butterfly it to lay flat (aka, spatchcock). With heat from both sides on the press, you can grill Spatchcocked Game Hen in about half the time it would take to roast it, under 20 minutes.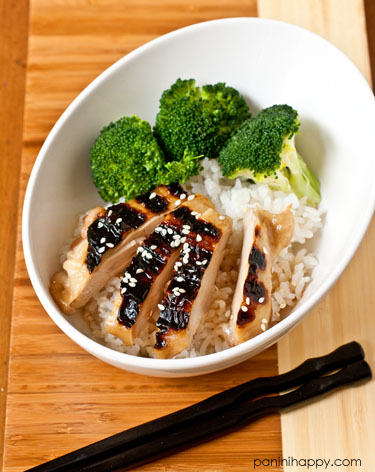 Let boneless, skinless chicken thighs soak in a sweet and salty marinade, and put rice on to cook while you attend to other things around the house. Then, once it's time to grill, Chicken Teriyaki takes just minutes on the panini press.
These are just a handful of ways that your panini press or tabletop grill can help you get weeknight dinner on the table quickly. If you can roast, fry or bake it, chances are you can grill it on the panini press – quicker and maybe even healthier.
[print_this]
Spinach-Feta Quinoa Cakes with Lemon-Dill Yogurt Sauce
Recipe by Kathy Strahs, PaniniHappy.com
Prep time: 25 minutes | Cook time: 10 minutes | Total time: 35 minutes
Yield: 8 to 10 patties
INGREDIENTS:
Lemon-Dill Yogurt Sauce:
1/2 cup

plain Greek yogurt, reduced-fat or whole

2 tablespoons

finely chopped scallions

2 teaspoons

freshly squeezed lemon juice

2 teaspoons

chopped fresh dill

Coarse salt and freshly ground black pepper
Quinoa Cakes:
1 tablespoon

extra-virgin olive oil

1/2 cup

finely chopped onion

2

garlic cloves, finely chopped

5 ounces

chopped baby spinach

2

large eggs, beaten

1 1/4 cups

cooked quinoa

2 ounces

crumbled feta cheese

1 tablespoon

chopped fresh dill

1/4 teaspoon

grated lemon zest

1/4 teaspoon

freshly ground black pepper

1/2 cup

bread crumbs
DIRECTIONS:
Lemon-Dill Yogurt Sauce:
Whisk together the yogurt, scallions, lemon juice, and dill in a small bowl. Season to taste with salt and pepper. Cover and refrigerate the sauce for at least 1 hour to allow the flavors to meld.
Quinoa Cakes:
Heat the olive oil in a large skillet over medium heat. Add the onion and garlic and cook, stirring often, until softened, about 4 minutes. Add the spinach and cook, stirring often, until wilted, about 3 minutes. Transfer the mixture to a medium-size bowl.
Add the eggs, quinoa, feta, dill, lemon zest, and black pepper and mix well. Mix in the bread crumbs and let the mixture sit for a few minutes to allow the bread crumbs to absorb some of the moisture.
Heat the panini press to medium-high heat.
Form quinoa patties about 2 1/2 inches in diameter and 1/2 inch thick. Place the patties on the grill, in batches if necessary, and close the lid. Grill the patties until they're cooked through and browned on the outside, 4 to 5 minutes. Serve warm with lemon-dill yogurt sauce.
[/print_this]

This post is part of BlogHer's Dinner, Faster editorial series, made possible by Land o' Lakes.