In working through all the pesto in our house I had the idea to use some in a grilled salmon recipe. Once I came across my friend Kalyn's recipe for Foil-Baked Salmon with Basil Pesto and Tomatoes, I just had to see if packet grilling would work on a panini maker.
(Before I continue…just a heads up that these photos (except for the last one) were taken on my iPhone out of convenience. Start to finish, I made this dish – with avocado rice on the side – and photographed it in 30 minutes while keeping watch over two toddlers who were waiting for dinner. Let's view the graininess and bizarre lighting as "artistic", yes?)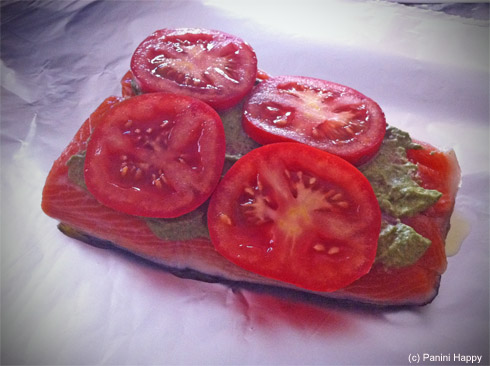 So…packet grilling. If you're not familiar with the term, it just means grilling food inside of a packet, in this case a packet made of aluminum foil. It's an easy, efficient way to steam a number of items all at once, allow their flavors to meld and retain the food's moisture. The technique works in an oven or on the grill, but on a panini maker with direct grate contact on both sides? I wasn't so sure how this would go.
I followed Kalyn's recipe pretty closely, drizzling some olive oil onto a sheet of foil before adding my salmon and then the pesto and tomatoes. I happened to have bought a skin-on piece of salmon, which provided a little extra insulation between the fish and the grill grates. The tomatoes on top also served as a kind of heat buffer, preventing the salmon from scorching too easily.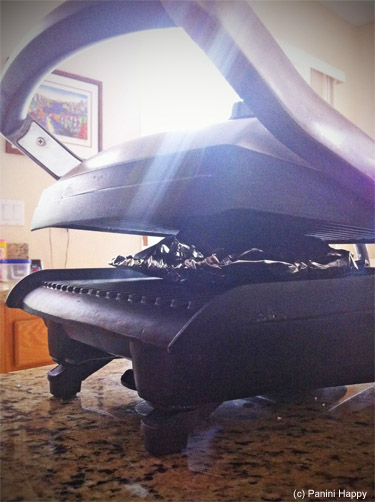 Just the thought of all that basil and garlic flavor seeping into the salmon and tomatoes…it was a long ten minutes of waiting to see how this all came out!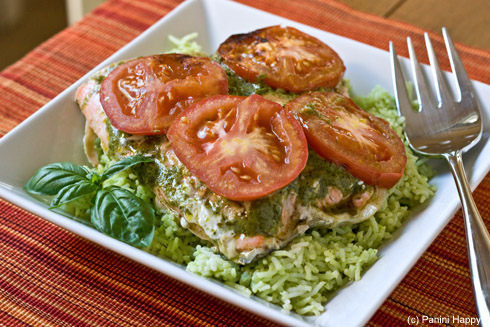 It may not be the most photogenic dish in the world, but you know this tasted amazing. When I cracked open that little foil packet I knew we had a winner. The fish was cooked through, but not overdone and definitely very moist. The basil pesto had slithered its way down into the fish like a marinade. The tomatoes took on a bit of caramelization on top, adding to their sweetness. I served this over a bed of fluffy Green Goddess Rice and I'll tell you what – even my little kids cleaned their plates!
[print_this]
Foil-Grilled Salmon with Pesto and Tomatoes
Adapted from the Foil-Baked Salmon with Basil Pesto and Tomatoes recipe on Kalyn's Kitchen
Prep time: 5 min | Cook time: 15 min | Total time: 20 min
Yield: 2-3 servings
INGREDIENTS:
1 lb.

center-cut salmon filet, skin on

2 teaspoons

olive oil

2-3 tablespoons

basil pesto (store-bought or homemade)

1

medium tomato, sliced about 1/4″ thick
DIRECTIONS:
Preheat the panini grill to high heat (on my grill that is about 440°F).
Drizzle olive oil in the center of a piece of foil large enough to wrap the salmon with some overlapping. Lay the salmon on top of the oil. Spread pesto all over the top of the salmon. Arrange sliced tomatoes over the pesto so they cover the top of the salmon.
Wrap the salmon securely in the foil, doubling over the seam and ends several times. Place the salmon packet on the panini grill. Close the lid so that the grates make contact with the packet without pressing it. Grill for 10 minutes.
Remove from the grill and let sit for 2-3 minutes before carefully opening the packet. Serve immediately.
[/print_this]