{Originally posted February 1, 2009 – now updated with a new photo and an improved recipe!}
"You're gonna WHAT??!"
I got more than a few shocked looks and snickers when I told family and friends I was going to spatchcock a game hen this weekend on the panini grill.  There's no escaping the chuckles – it's a funny word.  Go ahead…get it out of your system.
OK, ready?
I was first introduced to spatchcocking (a verb?) in these posts on ruhlman.com.  Basically, you flatten poultry by removing the backbone and breastbone so that it can be grilled quickly and evenly.  And when I read that Alton Brown had performed this feat on a panini press I knew the spatchcock would most definitely have to make an appearance on Panini Happy before long.
Flattening the bird wasn't too difficult – I think I did a decent job for my first time.  The folks at Cookthink recently put together a really helpful step-by-step photo tutorial that made it rather easy.  The tutorial is for a regular chicken but it's the same steps for the game hens.  Just littler.
On a panini press, with heat from both sides, you can grill a game hen in under 20 minutes—about half the time it would take to roast it.  Game hens are often sold frozen, so be sure to allow plenty of time for yours to defrost in the refrigerator (it may take more than a day) This recipe is a very simple preparation, but you should always feel free to experiment with your favorite seasonings and spice rubs
Who's ready to spatchcock?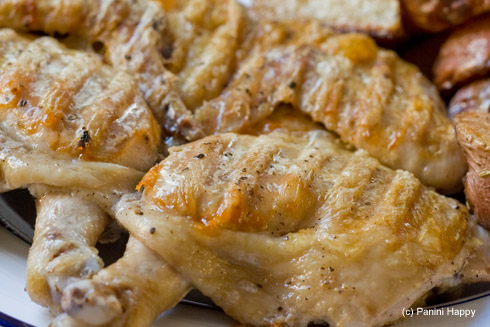 [print_this]
Spatchcocked Game Hen
By Kathy Strahs, PaniniHappy.com
Prep time: 10 minutes | Cook time: 20 minutes | Total time: 30 minutes
Yield: 2 servings
INGREDIENTS:
1

Cornish game hen (11?2 to 2 pounds)

1 tablespoon

extra-virgin olive oil

1/2 teaspoon

coarse salt

1/4 teaspoon

freshly ground black pepper
DIRECTIONS:
Heat the panini press to medium-high heat. If your panini press comes with a removable drip tray, make sure it is in place.
Lay the game hen, breast side down, on a cutting board. With sturdy kitchen shears, cut through the ribs along both sides of the backbone, from tail to neck, to remove it (discard the backbone or save it to make chicken stock).
Open the hen out flat, still breast side down. Using a small paring knife, make a slice down the middle of the keel bone (the diamond-shaped white bone between the two breasts). Next, carefully cut around the thin, oblong strip of cartilage that runs down the middle of the hen. Once you've separated the cartilage from the flesh, reach in with your hands and lift it out and discard it. Don't worry if you're not able to do this as cleanly as you'd like—no one will notice.
Pat the hen dry and rub olive oil all over the bird. Season the hen on all sides with salt and pepper.
Carefully transfer the hen to the grill, skin side up, and close the lid. Grill the hen until it is cooked to an internal temperature of 165°F, 18 to 20 minutes.
[/print_this]