It's taken me all week to pull together this post – I've got lots of great stuff to share! First, there's the incredible two-day blogger excursion through Oregon I went on last month, hosted by Tillamook. I've been eager to show you what I got to see and do in Portland, at the Tillamook factory, along the Oregon coast and on the farm. And, of course, I've got a recipe that was inspired by my experience – Brussels Sprouts, Bacon and Smoked Cheddar Panini, which I made with Tillamook's Smoked Black Pepper White Cheddar.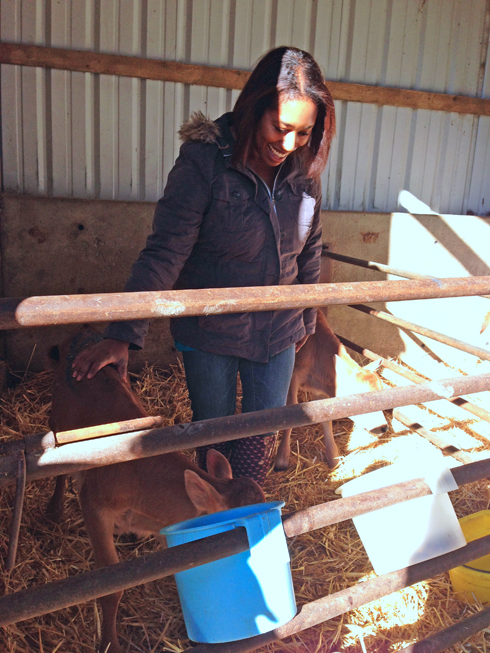 That's me with a Tillamook farmer's baby calves. 🙂 But we're jumping ahead of things – let's back up to where everything started, Portland.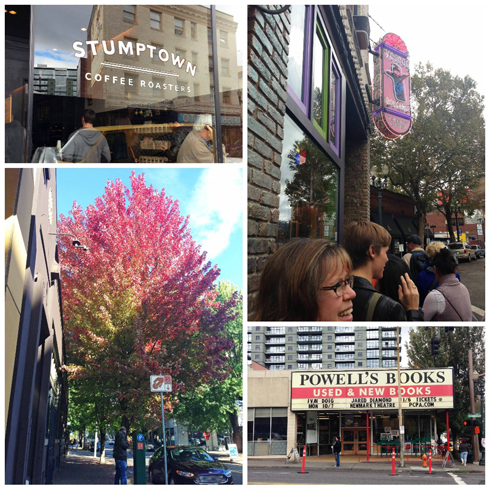 I arrived in Portland early on the first day, which gave me ample time to explore this amazing city. First order of business was, of course, a cup of Stumptown coffee. From there, I meandered in and out of eclectic shops in the Pearl District. I was marching out to Voodoo Doughnut (maple bacon bars were calling) when my friend Carrian from Oh Sweet Basil texted me to meet for lunch at the food carts. Portland boasts more than 600 food carts, and there was a "pod" of them not too far from our hotel (the Hotel deLuxe, which was a wonderful place to stay).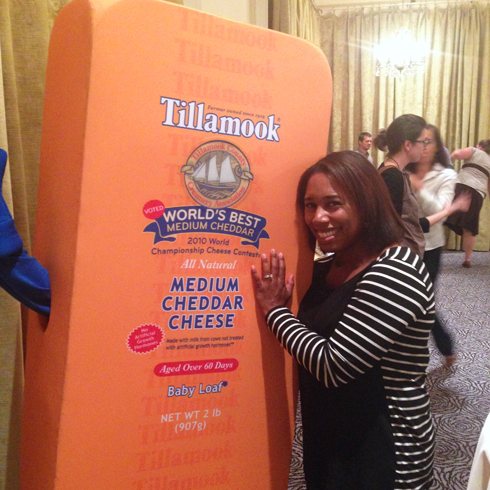 By evening, the whole group of bloggers had arrived in Portland and there was a nice reception for us back at the hotel (my old friend Loafy made an appearance!). It was a good thing we called it an early night because we had a full day ahead of us!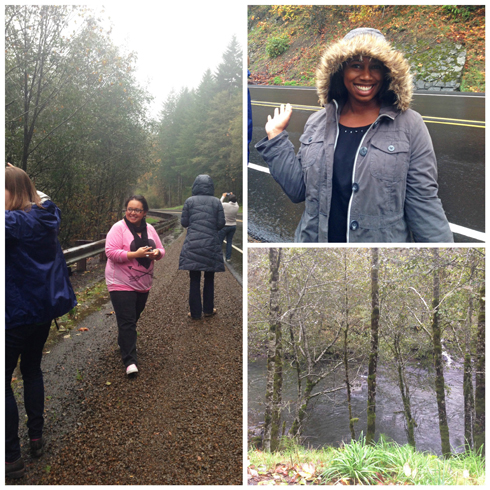 The next morning, we boarded the bus out to Tillamook, which is about two hours west of Portland, along the Oregon coast. The route winds along the Wilson River over the mountains, through the Tillamook State Forest. We stopped along the way to inhale the fresh mountain air and watch the river rush by.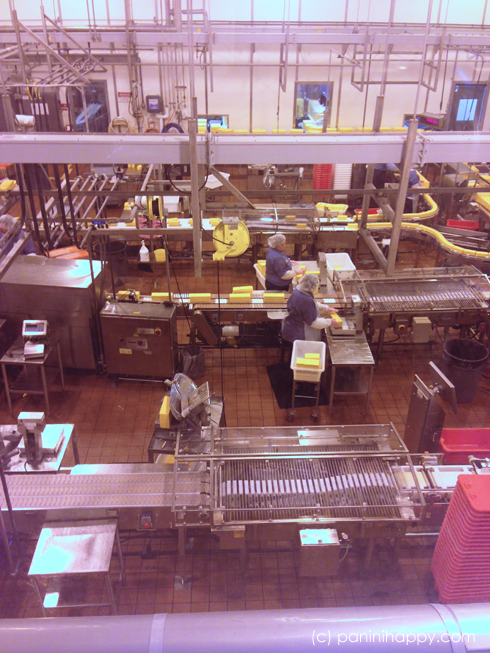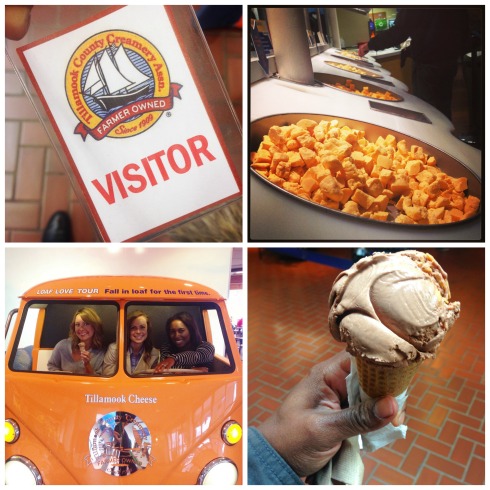 Out at the Tillamook factory, we were treated to a behind-the-scenes tour, we had the chance to meet the people who taste test the cheese and other products all day, and of course we did plenty of taste testing ourselves!
I promise that ice cream was not all mine!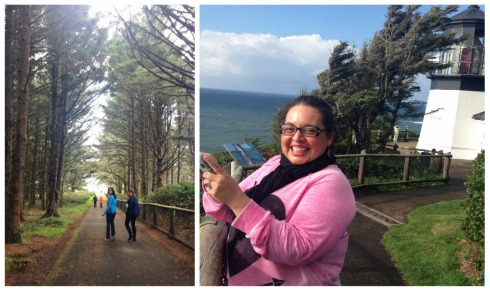 Our day was far from over after the factory. On the way out to our inn on the coast, we made a quick stop at the Cape Meares Lighthouse. That was one of the things I really loved most about this trip – we had a schedule, but there was also the flexibility to take little detours and really enjoy our immensely beautiful surroundings.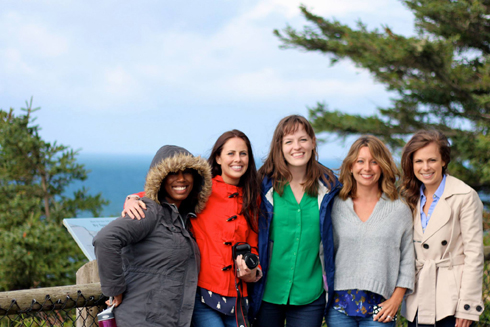 I can't help but notice how much more bundled up I am than everyone else in this picture! Oh well, I blame it on nine years living in San Diego. 🙂 The lovely, less-bundled-up ladies in this picture are Carrian, Katie from Tillamook, and Dyan and Kelly from Soda Pop PR. (Thanks to Jennifer from Real Posh Mom for sharing the pic with me!)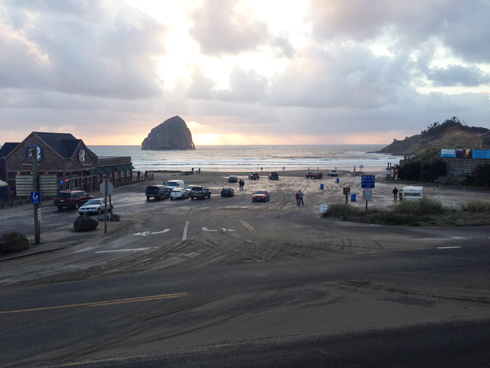 This incredible view was waiting for us when we arrived at the Inn at Cape Kiwanda in Pacific City. I took this photo from my balcony. I only wish we could have stayed there for more than one night (I made a mental note to definitely come back with my family!). We had a rather entertaining dinner that night at the restaurant you see at the lower left, the Pelican Pub & Brewery, where I enjoyed a very delicious smoked oyster pizza.

Last, but not least, we had the chance to visit one of the ninety-nine farms that comprise the dairy cooperative that supplies all the milk for Tillamook. Out of respect for their privacy, we didn't take pictures of the pastoral scenery of the farm but, trust me, it was truly picturesque.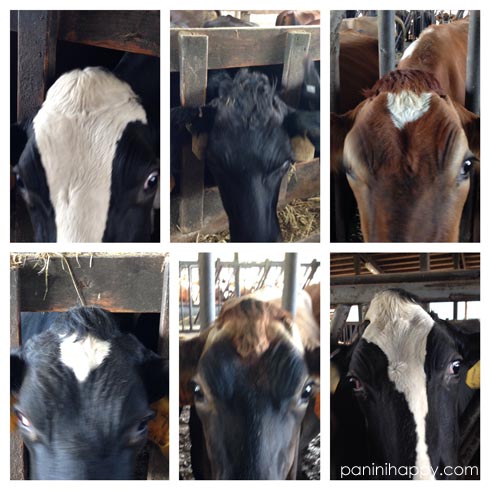 We learned a lot about what it's like to be a dairy farmer (it's a lot harder than I ever knew), what the cows do all day, and the qualities Tillamook looks for in the milk to make their cheese and other dairy products. One of the quirkier tidbits I learned about cows is that they have "hairstyles"! They each do that little tuft of hair on top of their head in their own way. Who knew?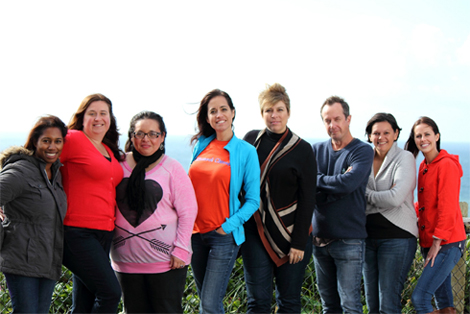 Not only were there were so many memorable moments from the trip, but there were also memorable people. Most of us didn't know each other before the trip, but we bonded well over the two days. What a great group!
Tillamook sent us home with plenty of cheese. 🙂 As I mentioned earlier, I made these Brussels Sprouts, Bacon and Smoked Cheddar Panini to show off one of my favorite Tillamook cheeses, their Smoked Black Pepper White Cheddar. Brussels sprouts and smoky flavor go so well together, I knew these would be amazing. The next time you roast sprouts (which happens a lot in our house, especially at this time of year), make extra so you'll have leftovers to make these sandwiches!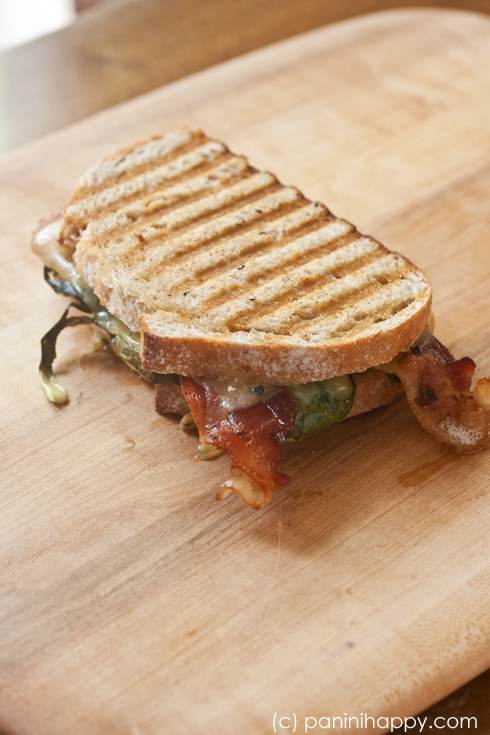 [print_this]
Brussels Sprouts, Bacon and Smoked Cheddar Panini
Prep time: 15 minutes | Cook time: 10 minutes | Total time: 25 minutes
Yield: 4 panini
INGREDIENTS:
4 tablespoons (1/2 stick)

butter, at room temperature

8 slices

sourdough or other rustic white bread, sliced from a dense bakery loaf

8 ounces

smoked cheddar, sliced (I used Tillamook Smoked Black Pepper White Cheddar)

3/4 cup

cooked, sliced Brussels sprouts

8 slices

cooked bacon
DIRECTIONS:
Heat the panini press to medium-high heat.
For each sandwich: Spread butter on two slices of bread to flavor the outside of the sandwich. Flip over one slice and top the other side with cheese, Brussels sprouts, bacon and more cheese. Close the sandwich with the other slice of bread, buttered side up.
Grill two panini at a time, with the lid closed, until the cheese is melted and the bread is toasted, 4 to 5 minutes.
[/print_this]