Earlier this month, at a test kitchen in a quiet office park on the outskirts of Milwaukee, Wisconsin, I sat at a table and tasted of upwards of 30 different grilled cheese sandwiches over the course of four hours. I was one of four judges for the Great Midwest "I Love Grilled Cheese" Recipe Contest in which cooks from all over the country had submitted their best savory, spicy or sweet recipes using Great Midwest cheeses. Read on to find out what I look for in grilled cheese and for my Kimchi Grilled Cheese recipe!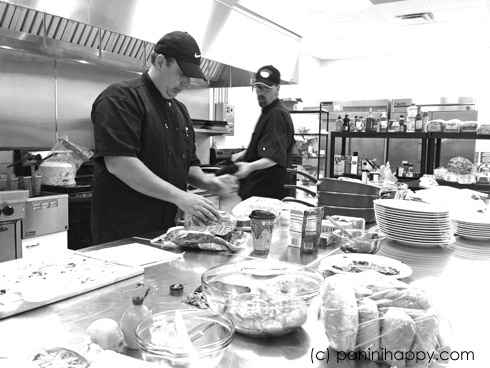 Two very busy chefs prepared each of the finalists' recipes – one by one, sandwiches emerged from the kitchen to be judged and photographed. The ones I liked the most were:
Simple: Coco Chanel said, "Before you leave the house, look in the mirror and take one thing off." I'd say the same holds true for preparing food – sometimes more is just more. I don't mind if there are three ingredients or thirteen, as long as those ingredients are all working in harmony toward an overall straightforward taste experience. (Sounds like I'm overanalyzing, but after 30 tastes in a row your preferences become clear!)
Balanced: Cheese is rich – sandwiches that included acidic and/or spicy ingredients which helped cut the richness tended to emerge among my favorites. Examples of such ingredients include pickles, horseradish, watercress, radishes and so on.
Non-soggy: This often goes back to what I said about keeping things simple. It's really easy to get carried away with a lot of ingredients that you know will taste amazing together BUT the weight and moisture level of it all just might saturate your bread. Sogginess can often be mitigated by 1) minimizing the use of wet ingredients (e.g., remove the seeds and pulp from tomatoes), 2) positioning wetter ingredients toward the middle of the sandwich and creating a bread "barrier" with cheese or 3) choosing denser breads (e.g., baguette or ciabatta) that can accommodate moisture better than lighter breads.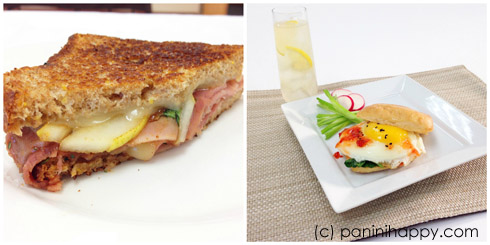 One of the contest sandwiches I liked the most was the Bibimbap Grilled Cheese Sandwich (above-right), largely because of its use of kimchi (aka, Korean fermented cabbage). It's one of those ingredients I mentioned above that cut through the richness and pair rather well with certain cheeses, such as cheddar. I first made Kimchi Grilled Cheese Panini last year, and this bibimbap sandwich reminded me to share the recipe with you. If you're ready for a fabulous flavor ride, give these panini a try (see the recipe below).
The winners of the "I Love Grilled Cheese" contest will be announced this week on the Great Midwest Facebook page and you can check out all of the finalists' recipes on the Great Midwest website and Pinterest page.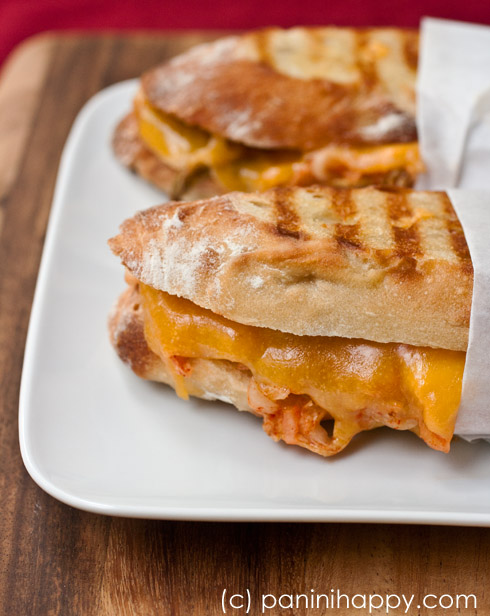 [print_this]
Kimchi Grilled Cheese Panini
Prep time: 10 minutes | Cook time: 14 minutes | Total time: 24 minutes
Yield: 4 panini
INGREDIENTS:
1

French baguette, cut into 4 portions, or 4 mini baguettes

8 ounces

sharp cheddar cheese, sliced

1 cup

kimchi, hot or mild (see Note)
DIRECTIONS:
Heat the panini press to medium-high heat.
For each sandwich: Slice off the domed top of a baguette portion to create a flat grilling surface. Split the baguette to create top and bottom halves. On the bottom half layer cheese, kimchi, and more cheese. Close the sandwich with the top baguette half.
Grill two panini at a time, with the lid closed, until the cheese is melted and the baguettes are toasted, 5 to 7 minutes.
NOTE: Look for jarred kimchi in the refrigerated section of Asian grocery stores.
[/print_this]
Thanks to Great Midwest Cheese for the opportunity to take part in their grilled cheese contest and for sponsoring today's post!