It's something I've learned from my kids, but I've found it works on me too – food suddenly becomes much more appealing when it's heart-shaped.
Of course, it hardly takes any convincing at all to get most of us to try a sandwich filled with dark chocolate spread. Dark Chocolate Sweetheart Panini are my homage to Valentine's Day this year, along with a "sweet" giveaway: one lucky winner will receive a trio of Nudo Italia Dark Chocolate Spreads. Read on to see how I pulled together these panini and to enter the chocolate spread giveaway!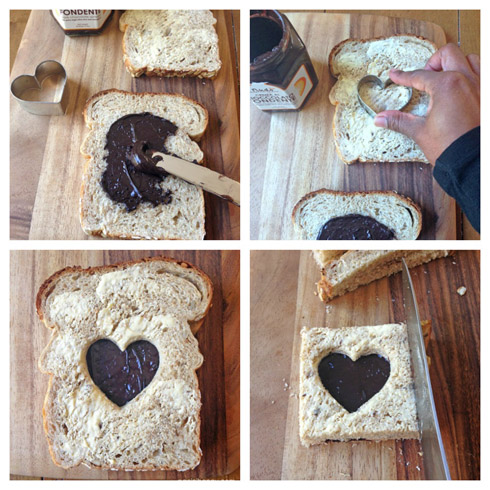 My inspiration for these panini came from a pin I saw on Pinterest from a German blog called der Design & Food Blog, featuring the cutest little sandwich with a heart cutout that had been filled in with colorful sprinkles. I made (and instagrammed) those sandwiches about 10 minutes later to the great delight of my two little kids.
As you can see, they're incredibly easy to make – just spread your chocolate on a slice of bread, butter another slice of bread (for extra-nice grill marks), punch out a heart and assemble your sandwich. I opted to trim the crusts on mine because I liked how the square panini looked, but that's completely up to you. Then it's just a few minutes on the panini press to toast the bread and you're done.
The Nudo Italia spreads remind me a lot of Nutella, but they're olive oil-based (yes, chocolate and olive oil are a match made in heaven!), made with dark cocoa and come in several different flavors. They're almost mousse-like in texture and are perfect for adding a deep, rich chocolaty finish to panini like the ones I'm sharing today, as a crepe filling or even a dip for strawberries.
And now for the chance to WIN some…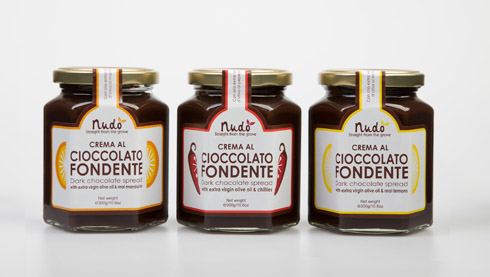 ** Win a Nudo Italia Dark Chocolate Spread Trio!! **
Nudo Italia would love to send one Panini Happy reader their Trio of Chocolate Crema (mandarin, chili and lemon flavors).
Here are four ways to enter, you can do any or all of them for a maximum of four entries (please leave separate comments for each entry):

The giveaway will close on Friday, February 15 at 5:00 PM PST. I will use random.org to select one winner and announce the winner in this post. I will contact the winner via e-mail – if I don't receive a response within 5 days I will draw another name. My apologies to international readers, the prize can only be shipped to U.S. addresses.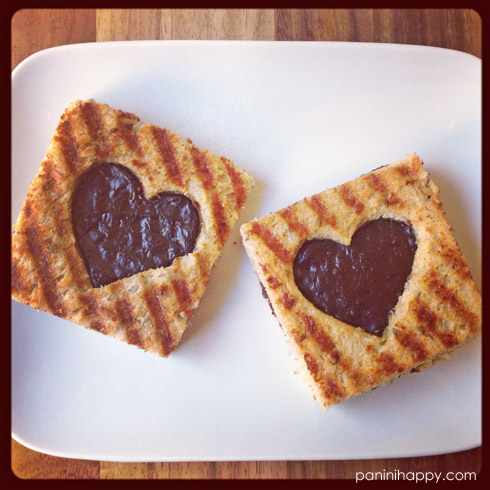 [print_this]
Dark Chocolate Sweetheart Panini
Prep time: 10 minutes | Cook time: 8 minutes | Total time: 18 minutes
Yield: 4 panini
INGREDIENTS:
2 tablespoons

butter, at room temperature

8 slices

rustic white or wheat bread, sliced from a dense bakery loaf

4 to 8 tablespoons

chocolate spread, such as Nudo Italia or Nutella
DIRECTIONS:
Heat the panini press to medium-high heat.
For each sandwich: Spread butter on one slice bread, then flip it over and spread 1 to 2 tablespoons of chocolate spread on the other side (if you're planning to trim the crusts, it isn't necessary to spread the chocolate all the way to the edges of the bread). Butter a second slice of bread; with a heart-shaped cookie cutter, punch a heart out of the center of the bread. Position the bread slice with the heart "window" on top of the first bread slice, creating a sandwich, so that the chocolate spread appears through the heart. If you'd like, trim away the bread crusts.
Grill two panini at a time until the bread is toasted, 3 to 4 minutes.
[/print_this]
Thanks to Nudo Italia for providing chocolate spreads for this giveaway.