As I looked over my list of recipes to photograph last weekend for my panini press cookbook that's coming out next year, the Chicken Teriyaki recipe jumped up in my priority order. I was still craving Japanese food after an amazing date night dinner Mike and I had at Katsuya in San Diego's Gaslamp District. The swanky Japanese fusion restaurant, which opened earlier this year in the Andaz boutique hotel, treated us to a variety of their signature dishes. Here are a few of my favorites I was able to capture before the sun went down (if raw seafood isn't your thing, feel free to skip down to the end to get to the cooked stuff and my Chicken Teriyaki recipe :-)).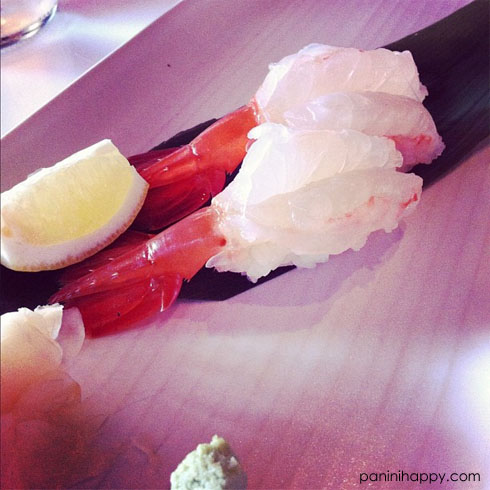 The sweet ebi they brought out first could not have been any fresher. Just look at how translucent that shrimp was! Oh my goodness, it was practically still pulsing. And, true to its name, it was sweet as well. Mike always orders the sweet ebi when we go for Japanese, it's his favorite – this was a real treat for him and I loved it too.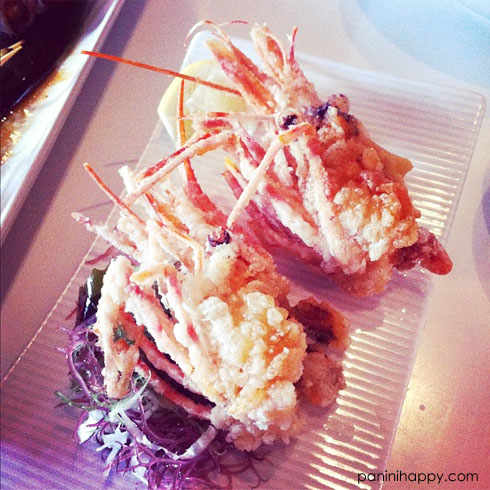 I wasn't kidding when I said the shrimp was fresh. These fried goodies are…er…were their heads. They were dipped in potato starch and deep fried – so light and crunchy! The server likened the experience to eating softshell crab and I agree. You squeeze a little lemon on top and they're just incredible. Between the raw sweet ebi and these fried heads I don't think I've ever derived this much enjoyment out of a single shrimp!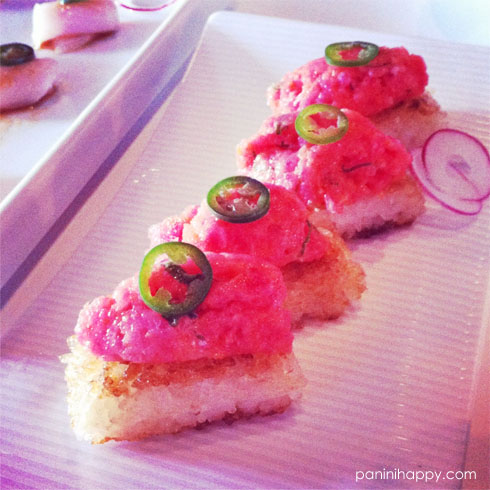 Katsuya is especially known for its Crispy Rice with Spicy Tuna appetizer (pictured above). The rice base has a lightly crisp caramelized crust on it which makes for a chewy/sweet contrast to the pillow of spicy tuna on top. I wish I knew how to make these – they would really wow at a potluck!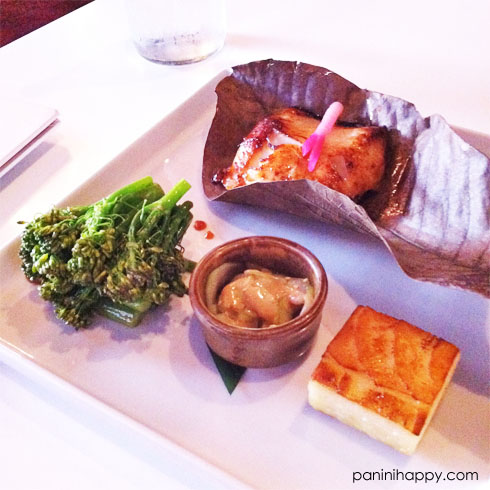 Let me show you just one more dish – my favorite of the night – the Miso-Marinated Black Cod. Miso marinade is my all-time favorite fish preparation, and at Katsuya they marinate the fish for 2 days! Suffice it to say it was sweet to the point of being almost like dessert, along with subtle savory flavor creeping in to make the fish just irresistible. When chef Adam Cho came out from the kitchen to greet us I had the chance to pay him my compliments in person. Thanks so much, Katsuya, for a fabulous night!
Back at home, I craved Japanese food for days. Fortunately, I had a panini-grilled Chicken Teriyaki recipe on my cookbook photo shoot list. I moved it right to the top! I especially appreciate this recipe, which I adapted from the beautifully simple and authentic approach on NoRecipes.com, on weeknights. Boneless chicken cooks incredibly fast on the panini maker and you can set it in its sweet and salty brine ahead of time. In the recipe I suggest garnishing the dish with chopped scallions, but this time around I had broccoli on hand instead. 🙂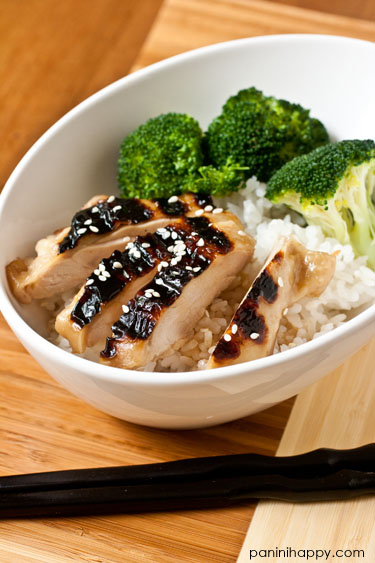 [print_this]
Chicken Teriyaki
Adapted from NoRecipes.com
Prep time: 1 hour 5 minutes | Cook time: 8 minutes | Total time: 1 hour 13 minutes
INGREDIENTS:
Chicken:
2 tablespoons

sake

2 tablespoons

soy sauce

2 tablespoons

dark brown sugar

2 tablespoons

mirin

4

boneless, skin-on chicken thighs
Teriyaki Sauce:
2 tablespoon

sake

2 tablespoons

soy sauce

2 tablespoons

honey

2 tablespoons

mirin

Toasted sesame seeds and chopped scallions for garnish
DIRECTIONS:
Mix the sake, soy sauce, brown sugar and mirin together in a small bowl until the sugar dissolves. Place the chicken in a resealable plastic bag and pour the brine over the chicken. Seal the bag and roll the chicken around in the brine to coat it. Let the chicken marinate in the brine in the refrigerator for 1 hour.
Meanwhile, prepare the teriyaki sauce. Combine all of the ingredients in a small saucepan and bring them to a boil over medium heat. Allow the sauce to simmer and reduce for a few minutes until it thickens slightly (it will not become especially thick). Remove it from the heat.
Heat the panini maker to medium-high heat.
Remove the chicken from the brine (discard the remaining brine) and pat it dry with paper towels. Grill the chicken until it's cooked through to an internal temperature of 165°F and the skin is crispy, 6 to 8 minutes. Transfer the chicken to a serving plate and ladle teriyaki sauce over the top. Garnish with toasted sesame seeds and chopped green onions and serve with steamed rice.
[/print_this]